High Precision Liquid Injection Molding Silicon Lens Manufacturing for LED Lighting
Silicon lenses are a type of optical lens that is made from liquid optical silicone, which is processed by liquid injection molding. These lenses are known for their exceptional quality and durability, as they are made from an unbreakable optically clear silicone rubber that is both safe and reliable. YEJIA specializes in producing silicone lenses in a variety of sizes. Our largest lens measures up to 575mm, while our smallest lens is just 1mm. No matter what your specific needs may be, we have the expertise and technology to deliver the highest quality silicone lenses on the market.

LED Lighting Silicon Lenses Manufactured by YEJIA
LED Lighting Silicon Lens Applications
Silicon lenses are highly suitable for aerospace lighting lenses, mining lamps, and special lamps and lanterns used in flammable, explosive, and harsh conditions. They are also ideal for industrial lighting, indoor and outdoor LED lighting, automotive headlights, and LED displays.
The unique properties of silicon lenses make them highly desirable in these applications. They are resistant to high temperatures, corrosion, and wear and tear, making them highly durable. They also offer superior light transmission and can withstand high levels of stress without compromising on performance.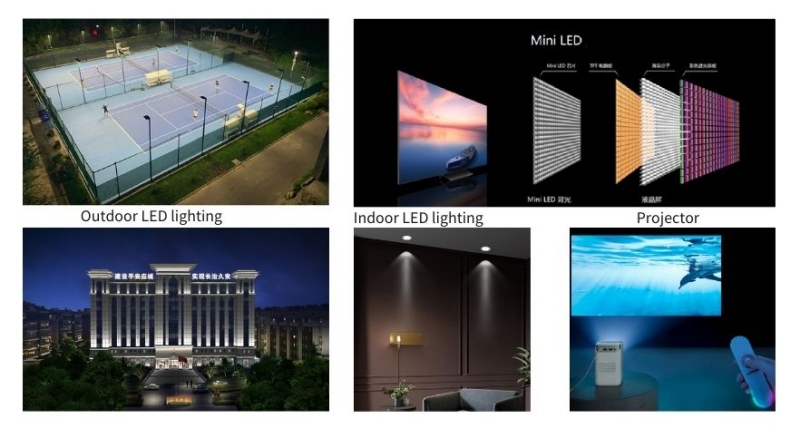 Advantages and Disadvantages of Silicon Lenses
One of the key benefits of silicone lenses is their high light transmission, which ensures that there is no residual stress or yellowing. This results in an excellent visual effect that is free from fatigue and dispersion.
Compared to PMMA or PC lenses, silicon lenses have a higher light transmission rate of about 94%, making them suitable for high-grade optical applications. The optical efficiency of silicon lenses is also higher than PMMA and PC lenses, with better consistency and more accurate light angles, and their anti-UV properties are superior to both PC and PMMA.
In addition to their optical properties, silicone lenses are also highly resistant to water, temperature fluctuations, weathering, and UV radiations. They have a high temperature resistance of up to 200℃, making them ideal for applications where COB temperature is a concern. They also have a long service life, which means that they can be used for extended periods without the need for frequent replacements.

Silicon lenses also have several advantages over traditional glass lenses. Silicon lenses are lighter and more durable, reducing the cost of mounting parts, installation, and maintenance.



DOWSIL

Moldable

Optical Silicone

PC
PMMA
Glass
Light Transmittance (%)
94%
88-90%
93%
95%
Refractive Index (RI)
1.42
1.58
1.49
1.52
UV Resistance
High
Low
Medium
High
Chemical Resistance
Medium
Medium
Low
High
Temperature Resistance (℃)
> 200
120
90
>200
Yellowing★
Low
High
High
Low
Micro Details Replication
High
Low
Medium
Low


Ability to Mold Large&

Thick Parts

High
Low
Low
Medium
Minimum Thickness★★
<0.5mm
2mm
2mm
-

Draft Angle (Manufacturing)★★
<0°
1 to 2°
1 to 2°
-
Weight
Low
Medium
Medium
High
Flexible Material- Integration
High
Low
Low
Low
However, there are some disadvantages to using silicon lenses. Firstly, the cost of raw materials is higher than that of PC lenses, which can increase the overall cost of manufacturing. Additionally, the injection molding technology for silicon lenses is not yet mature, which can further increase the cost of manufacturing.
Silicon Lens Manufacturing
Silicon lens manufacturing involves a complex process that requires careful attention to detail. The process starts with liquid injection molding, which is different from traditional plastic injection molding. The resulting material is a two-component liquid silicone that requires thermal polymerization.
To ensure quality, every cavity of the silicon lens light guides must be 100% inspected. If any defects are detected, the injection process must be stopped immediately to remove the mold cavities and readjust the injection process. After inspection, the silicone lenses undergo post-curing to remove unreacted silicon monomers. The curing time can range from 4 to 20 hours, depending on the type of silicone material.
The mold design must also consider the shrinkage rate of the silicon lens during the curing process. Once the shrinkage rate is determined, the curing process cannot be changed without affecting the final size of the part. Therefore, it is crucial to calculate the shrinkage rate accurately before designing a mass production mold.
Why Choose YEJIA to Make LED Lighting Silicon Lens?
YEJIA is the ideal partner for precision liquid injection molding of silicon lenses. With a team of technical engineering experts from China, Japan, Korea, and Taiwan, we bring over 30 years of experience to every project. Our team of experts is committed to producing durable and effective optical products using only the highest quality materials and state-of-the-art manufacturing techniques. Our in-house mold making department is equipped with advanced imported equipment and inspection instruments to ensure the highest quality results. We ensure that our lenses meet the strictest standards of quality and performance, whether you require a single lens or a large-scale production run.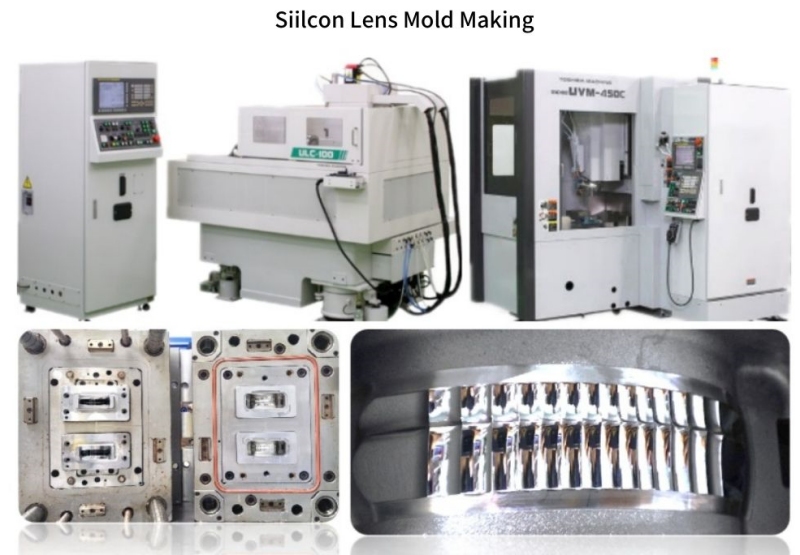 We specialize in solving the challenges of silicone molding technology in optics and maximizing the advantages of silicone materials over PMMA, PC, and glass in terms of technology and material properties. Our optical design is forward-thinking and adaptable to a wide range of applications, including street lights, high-pole lights, flood lights, industrial and mining lights, oil station lights, downlights, and various optical angle needs. Trust YEJIA to deliver exceptional results for your precision liquid injection molding silicon lens needs.
We take pride in our production environment, which includes a class 100,000 clean production workshop and a class 10,000 inspection cleanroom. Our production equipment includes SUMITOMO and ARBURG horizontal liquid silicone injection molding machines, and our inspection equipment features Mitaka non-contact measuring instruments, Zeiss 3D optical metrology, Goniophotometers, UV Vis-spectrophotometers, blue light scanners and so on.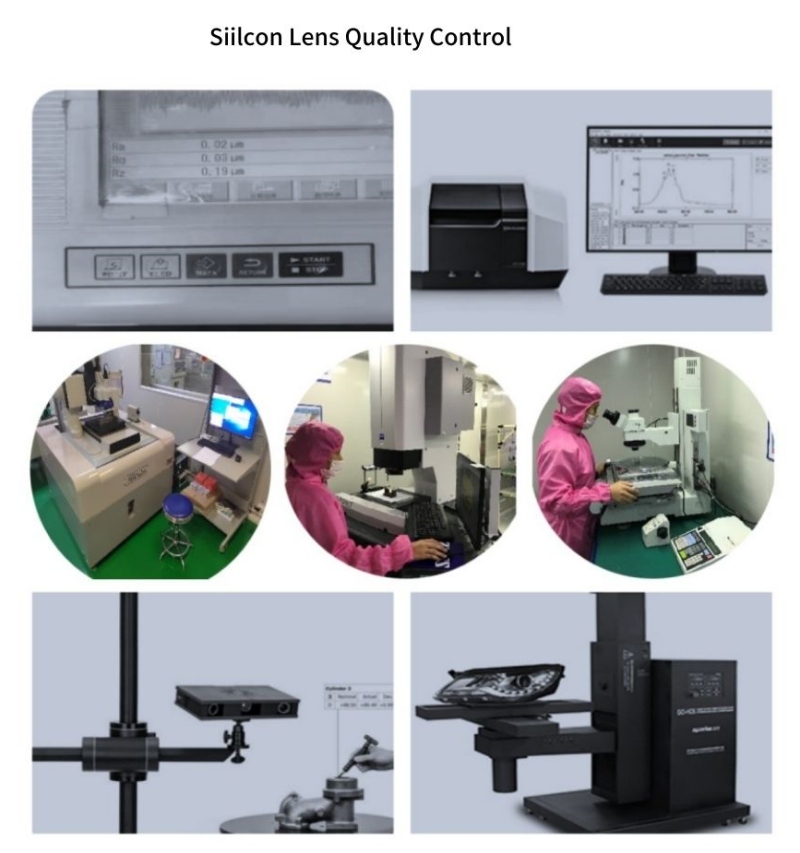 The application of LED lighting is rapidly expanding, and with it comes the demand for high-quality silicone lenses. At Yejia, we understand the importance of providing lenses that meet the demands of optical designers who are shaping the future of LED lighting. Our custom silicone lenses are designed to offer the perfect combination of processing characteristics, optical properties, and hardness.
We work closely with our clients to understand their unique requirements and provide personalized service that exceeds their expectations. If you're looking for custom silicone lenses for LED lights, we invite you to contact us today to learn more about our products and services. Let us help you take your LED lighting to the next level!