Automobile Warning Light Silicon Lens
1. Model No.: YJ-88

2. Material: Optical Liquid Silicone+ PCB

3. Technology: LSR Overmolding Injection

4. Machine: Arburg Liquid Injection Molding Machine

5. Workshop: 100K Class Clean Production Workshop

6. Feature: Anti-shock& High Temperature Resistance Silicon Lens

Product Description
Automobile Warning Light Silicon Lens, LSR Overmolding Optical Silicon Lens Manufacturer
Our factory is the top manufacturer for custom optical silicon lenses for automobile headlights in China, for over a decade, we've supplied various silicone lenses to different brands, from 3 light guides to 84 light guides. For custom optical silicone lens, welcome to contact us.

Product Information
The warning light silicon lens is made of high quality and ultra transparent liquid optical silicone and PCB raw materials, imported from South Korea. This optical led silicon lens is processed by LSR overmolding injection, our factory is experienced in silicone overmolded with plastic, for over a decade, we've supplied many kinds of silicon lenses to many Fortune 500 enterprises. If you're looking for optical silicone injection molding factory, welcome to contact us.
| | |
| --- | --- |
| Item No.: | YJ-88 |
| Item Name: | LSR Injection Molding Automobile Silicon Lens |
| Material: | Optical Liquid Silicone+ PCB |
| Material Brand: | KCC |
| Color: | Crystal Clear |
| Workshop: | 100K Class Clean Production Workshop, 10K Class Light Performance Inspection Room |
| Process: | LSR Overmolding Injection- Deflashing- Inspection- Packing- Shipping |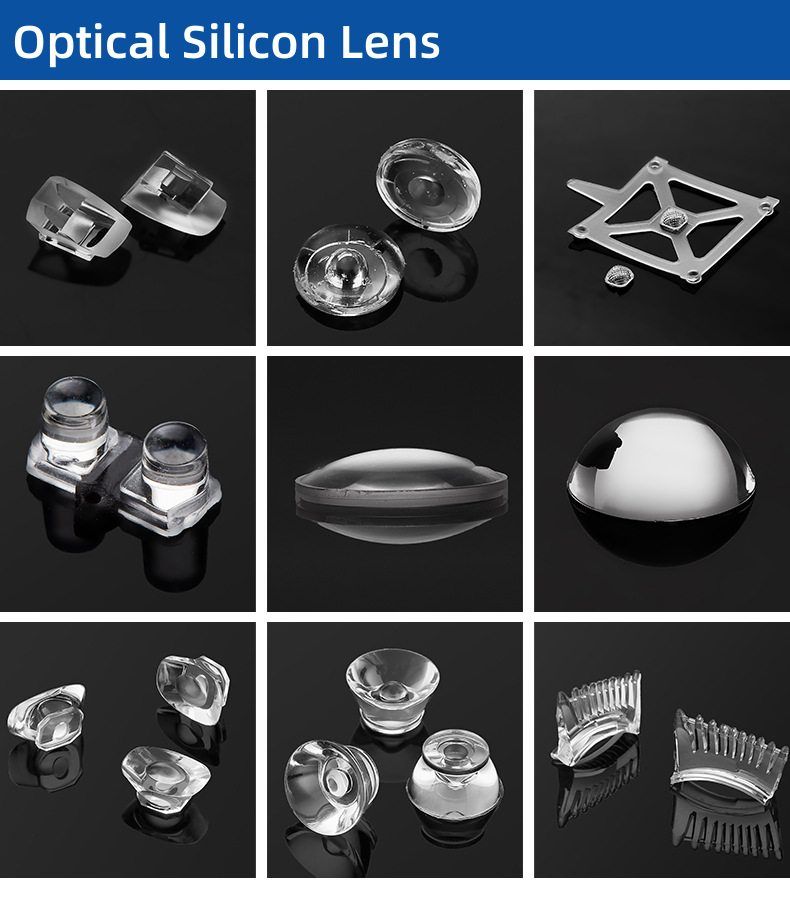 LED Silicon Lens Optical Performance
| | |
| --- | --- |
| Light Transmittance | 94% |
| Temperature Resistance | -40 to 150℃ |
| Refractive Ratio | 1.41 |
| UV Resistance (Anti-Yellowing) | Double 85 test, 3000 hours, no changing |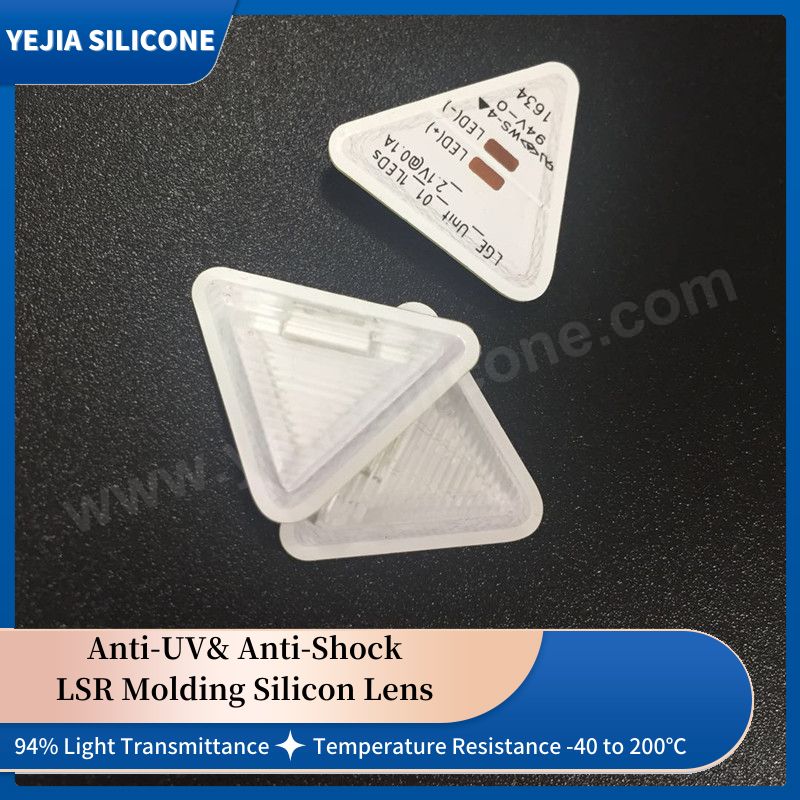 Our Advantage
Yejia silicone, as the top manufacturer of LSR molding silicon lenses, for over a decade, our factory specializes in R&D and production for silicone molding products, 8 Japanese engineers, with over 30 years of experience in mold design and molding making, professional engineering team to provide DFM report to avoid potential risk while in mass production. With over 10,000 square meters silicone molding workshops, 3 kinds of class 100,000 clean production workshops, we highly welcome custom made optical LED silicon lenses.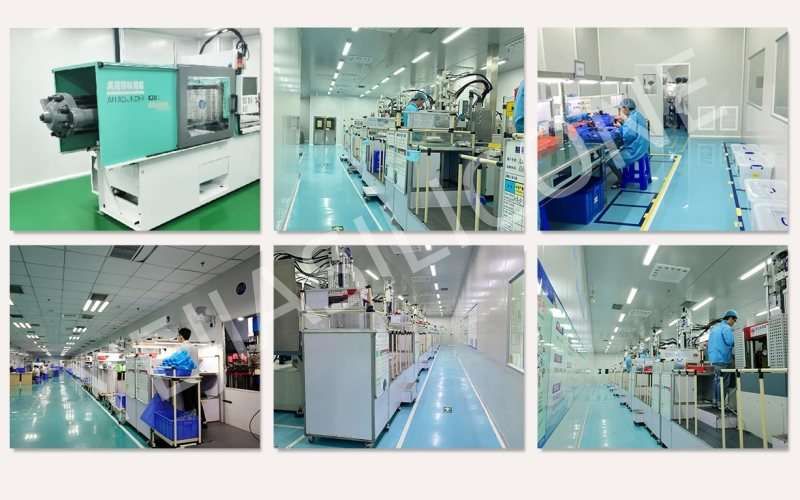 In-plant Mold Making Department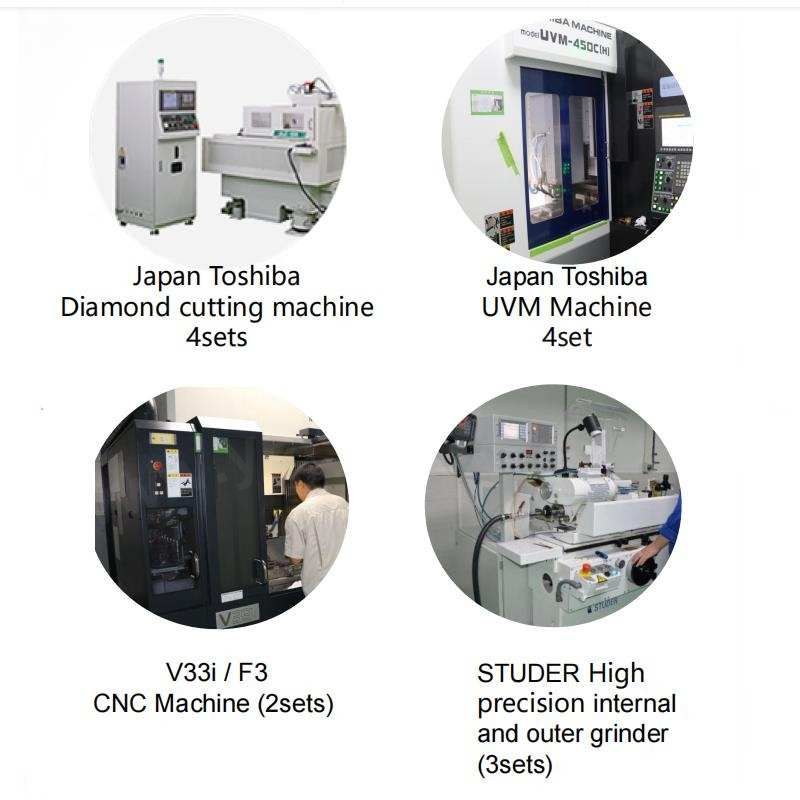 Quality Inspection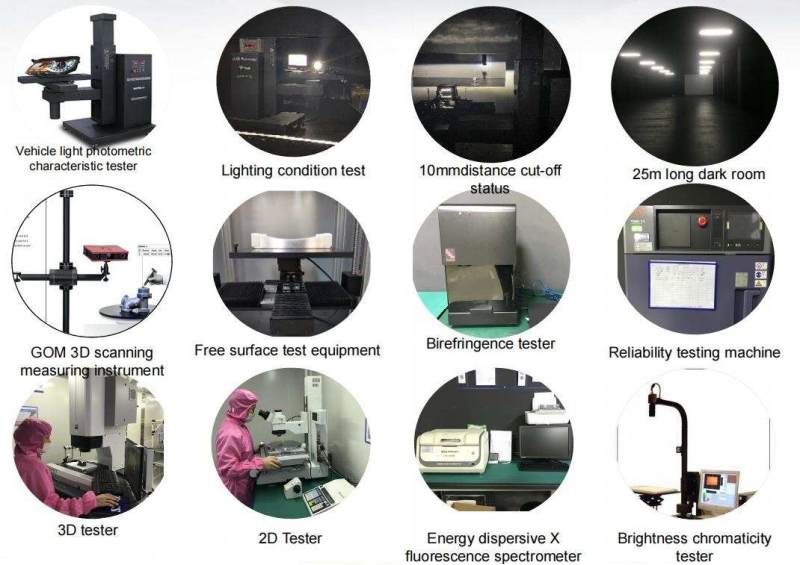 Case Study
This silicon lens for LED headlight is for end customer Geely LYNK&CO 09 Series, because of the 84 light guides, we also call it 84-light-guide silicon lens, the difficulties are as below:
1. Complex Structure: 84 multi-directional optical light guides structure
2. Flash: No Flash
3. Optical Requirements: Surface RA 0.02um
4. Luminance: 100LUX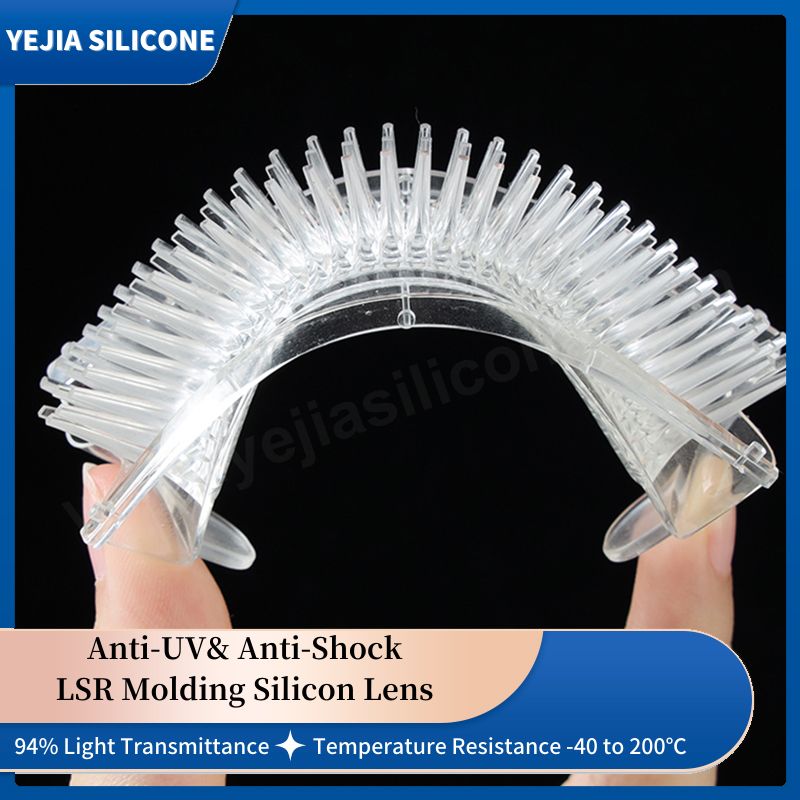 How did we help customer make this product out?

1. Profession engineering team+ project team
2. In-plant high precision molding making team
3. Imported LSR injection molding machine
4. Class 100,000 clean production workshop
5. Advanced quality inspection instruments
FAQ
Q: Can I get free samples of this automobile warning light LED silicon lens?
A: For LSR molding optical silicon lens, we can provide public mold samples for quality checking, for customized silicone lenses, we regret that we can't provide.
Q: Can you do the product design for optical LED silicon lens?
A: We regret that our factory mainly do OEM service.
Q: What should be offered to customize a LED silicon lens?
A: Please provide us the 3D drawing and 2D drawing with specific requirements.
Q: What's the lead time for developing a LSR molding silicon lens?
A: The lead time for prototype mold is around 15-30 days, for mass production mold is 35-45 days.
Q: Can I talk to your engineers?
A: Yes, we can set up the meeting by Google Meet or Teams, so you can discuss with our engineers directly.
Q: Can I visit your factory?
A: Yes, as the top manufacturer of LSR injection molding silicone products, we highly welcome to visit our factory, contact us to arrange the visiting.