Discover High-Quality Silicone Umbrella Valves by YEJIA - Your Trusted Fluid Flow Control Silicone Valves Manufacturer
When it comes to leak proof or fluid control, silicone valves play a crucial role in preventing leakage or regulating the flow of fluids in different applications. One of the most commonly used valves is the silicone umbrella valve. Silicone umbrella valve is a type of one-way valve that uses a flexible silicone diaphragm to regulate the flow of fluids. The diaphragm is shaped like an umbrella, hence the name "umbrella valve." It is designed to open and close in response to changes in pressure, allowing the fluid to flow in one direction only.

Silicone Umbrella Valves
YEJIA has been certified by ISO13485, ISO14001& ISO9001, for now, we mainly manufactures silicone umbrella valves used for consumer products, such as, coffee makers, water filters or humidifiers, and medical devices, for example, respiratory equipment. Welcome custom silicone umbrella valves.
Work Principle of Silicone Umbrella Valves
Silicone umbrella valves are an essential component in fluid control systems across various industries. Their versatility, durability, and efficiency make them a popular choice for many applications. Understanding the work principle and advantages of silicone umbrella valves can help you make an informed decision when choosing a valve for your specific application.
The work principle of a silicone umbrella valve is relatively simple. When there is no pressure difference across the valve, the diaphragm remains closed, preventing fluid from passing through. However, when there is a pressure difference, the diaphragm flexes open, allowing the fluid to pass through the valve. The flexibility of the silicone diaphragm allows it to respond quickly to changes in pressure, making it an efficient and reliable valve for fluid control.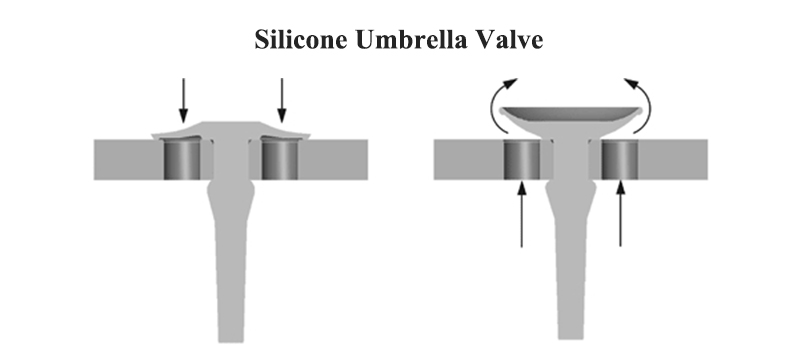 Silicone Umbrella Valves Manufacturer
YEJIA is a leading OEM manufacturer of silicone umbrella valves, providing high-quality custom silicone products and silicone molding services to customers worldwide.
Mold Desig
n
YEJIA's mold design process is meticulous and precise, ensuring that each silicone valve is manufactured to the highest standards. Our experienced engineers work closely with customers to understand their specific needs and requirements, then use advanced software to create 3D models of the mold, which allows for accurate simulations and testing before production begins. This ensures that any potential issues are identified and addressed before the mold is created, saving both time and money.

Mold Making
YEJIA's state-of-the-art mold making facilities are equipped with the latest technology and equipment, allowing us to produce high-quality silicone molds quickly and efficiently. Our skilled technicians use advanced mold polishing techniques and materials to ensure that each mold is accurate, durable, and capable of producing consistent results.

Silicone Molding
YEJIA's mass production process is designed to ensure that customers receive their silicone umbrella valves on time, every time. With both compression molding machines and LSR injection molding machines vary from different tons, allowing us to produce both small order quantities or large quantities of premium quality custom silicone products quickly and efficiently.

Quality Control
YEJIA employs a team of highly skilled quality control engineers who are responsible for ensuring that each product meets the highest standards of quality. We also use various precision instruments to test the performance and durability of custom silicone valves.
YEJIA implements a rigorous process to ensure consistent quality. From raw material selection to finished product inspection, every step of the manufacturing process is closely monitored and controlled. Whats more, we also conducts regular training programs for our employees and raw materials suppliers to maintain high levels of quality and efficiency.

Customer Service
YEJIA is committed to providing exceptional customer service, from initial contact through to after-sales support. Our knowledgeable and experienced staff are always available to answer questions and provide guidance, ensuring that customers receive the information and support they need to make informed decisions.

Custom Silicone Umbrella Valves
YEJIA is a leading manufacturer of silicone umbrella valves, with a commitment to excellence in every aspect of its operations. From mold design to mass production, quality control, and customer service, whether you are looking for a reliable supplier of silicone umbrella valves or need assistance with a specific project of custom silicone products, YEJIA is the partner you can trust.