LSR Molding LED Optics
1. Model No.: YJ-82R1

2. Light Transmittance: 94%

3. Feature: UV resistant, Non-yellowing, Anti-shock

4. Temperature Resistance: -40 to 200℃

5. Machine: ARBURG LSR Injection Molding Machine

6. Mold: Customized

7. MOQ: 1000pcs
Product Description
LSR Molding LED Optics Made of Optical Clear Silicone, LED Lighting Silicon Optics
Silicone LED optics are becoming increasingly popular in the lighting industry due to their unique properties and benefits. These LED optics are made from optical clear silicone, a synthetic polymer that is renowned for its resilience, adaptability, and ability to withstand extreme temperatures. The versatility of silicone LED optics makes them ideal for a wide range of applications, including automotive lighting, street lighting, and architectural lighting. As a result, they have become increasingly popular in the industry and are expected to continue to be a preferred choice for LED lighting solutions. As the top manufacturer of LSR molding led optics, YEJIA has supplied various customized silicone optics to many famous brands and automotive headlights makers. If you're looking for custom led optics, please contact us.

Product Specification
The led optics is made of high quality, environment friendly and ultra transparent optical liquid silicone raw materials, processed by LSR molding, which is a highly efficient and effective method for manufacturing high-quality LED optics. With its ability to produce consistent and clear parts, as well as its flexibility in design, LSR molding has become a popular choice for a wide range of applications. This process involves injecting liquid silicone rubber into a mold and curing it to create durable optics. The precise control over the shape and size of the part, along with the ability to create complex geometries, makes LSR molding an ideal method for producing LED optics. Its benefits include excellent optical clarity, consistent quality, and design flexibility, making it a top choice for high-quality silicone LED optics production. To ensure the product quality, we've set up the class 10,000 light performance inspection clean room.
| | |
| --- | --- |
| Item No.: | YJ-82R1 |
| Item Name: | Silicone LED Optics |
| Material: | Dow Corning MS1002 |
| Hardness: | 72 Shore A |
| Color: | Original |
| Process: | LSR Molding- Deflashing- Post Curing- Inspection- Packing- Delivering |
| Light Transmittance: | 94% |
| Refractive Rate | 1.41 |
| Anti-Yellowing | 5000 Hours, Double 85 Aging Test, No Changing |
| Advantage: | UV Resistant, No Yellowing, High Temperature Resistant, high efficiency in light distribution |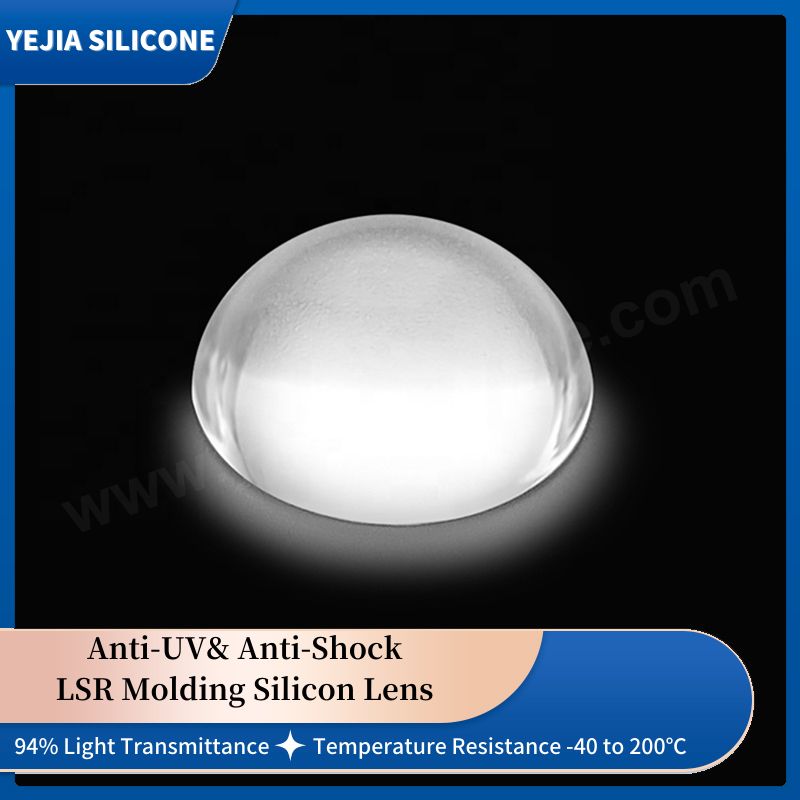 LED Optics Materials Comparison

Made of high light transmittance and low refractive rate optical silicone, the led optics is no yellowing and no melting under high temperature and high humidity. The optical silicone rubber is super flexible, which makes it possible to design with undercut, and the optical silicon lens can be overmolded with other materials, so to minimize the light loss.
Optical Properties

Dowcorning

MS4002

Silicone

Momentive

LSR7180

Silicone

Wacker

LR7601/80

Silicone

DONESON

DSA-7180

Silicone

PC

PMMA

Glass

Light Transmittance

(%)

94

94

94

94

86-89

89-92

95

Refractive ratio

1.41

1.41

1.41

1.41

1.59

1.49

1.5-1.6

Haze

-

<1

-

-

1-3

2-4

-

Abbe

48

50

50

49-51

34

57

35-59

Yellowness Index

-

<1

-

-

1-3

1-3

-
★ Above values are quoted from material supplier testing data, for reference only.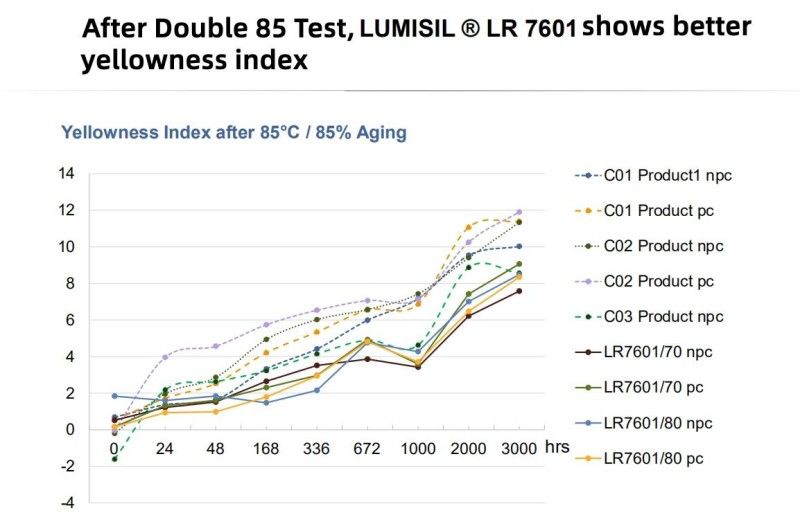 Silicone LED Optics Advantage

Silicone LED optics is able to withstand harsh environmental conditions, including exposure to UV radiation, extreme temperatures, and shock, sets them apart from traditional plastic optics. This durability ensures that they will maintain their performance over time, providing reliable lighting solutions in even the most challenging environments.
Silicone is a highly flexible material that can be molded into a variety of shapes and sizes, making it ideal for creating customized optics that can be tailored to specific lighting needs. This flexibility also makes silicone LED optics lightweight and easy to handle, which is particularly beneficial for large-scale lighting projects.
In addition to their durability and flexibility, silicone LED optics are also highly efficient at directing light in a specific direction. This results in increased light output and reduced energy consumption, making them a cost-effective lighting solution for a range of applications.
Furthermore, silicone is a non-toxic material that can be recycled, making it an environmentally friendly choice for companies looking to reduce their environmental impact. This sustainability factor is increasingly important in today's world, and the use of silicone LED optics can help companies meet their sustainability goals while still providing high-quality lighting solutions.
LSR Molding LED Optics Manufacturer
Silicone LED optics offer numerous benefits that make them an attractive option for the lighting industry. As demand for sustainable lighting solutions continues to grow, YEJIA, the top manufacturer of silicon LED optics in China, is experienced in LSR molding and has an in-house molding department as well as a class 100,000 clean silicone molding workshop. This allows us to offer custom LED optics made of optical silicone materials to our customers. Contact us today to learn more about our products and services.
FAQ
Q: What is optical silicone?
A: Optical silicone is a two-component liquid silicone rubber that boasts exceptional optical properties and flame resistance. It is capable of maintaining its color stability and optical clarity even when exposed to harsh environmental conditions such as high temperatures of up to 150 degrees Celsius or prolonged exposure to UV radiation. Its impressive processing capabilities allow for the creation of complex and micro-structure optical lenses with tight tolerances, which has opened up new possibilities for cutting-edge technology in LED high-powered automotive lighting and consumer electronics.
Q: What is a silicon LED optic?
A: Silicon LED optic is a lens made of silicon that is used to focus or diffuse light emitted by an LED (light-emitting diode).
Q: Can silicon LED optics be customized for specific applications?
A: Yes, silicon LED optics can be customized for specific applications by adjusting their shape, size, and material properties.