Silicone Optics
1. Model No.: YJ-97

2. Light Transmittance: 94%

3. Feature: UV resistant, no yellowing effect

4. Temperature Resistant: -40℃ to 200℃

5. Workshop: Class 100,000 clean silicone injection molding workshop

6. Mold Making: In-house mold design and mold making teams

Product Description
Heat Resistance and UV Resistance Silicone Optics| LSR Molding
Silicone optics are becoming increasingly popular in LED lighting applications due to their unique properties and benefits. Optical silicone is a highly versatile material that can be molded into various shapes and sizes, making it an ideal choice for creating customized optical designs. Additionally, optical silicone has excellent thermal stability, which allows it to withstand high temperatures without degrading or losing its optical properties. These properties make it an attractive alternative to traditional optical materials such as glass and plastic.

Product Specification
The silicone optics is made of imported optical liquid silicone, with light transmission to 94%. It's no yellowing, UV resistant and easy to demand to harsh environments, such as, high temperature, high humidity, high heat, etc. The manufacturing process of silicone optics is LSR molding, which is a precise and efficient method for producing high-quality optical components. This process involves the use of liquid silicone rubber (LSR) which is injected into a mold to create the desired shape of the optic. The optical liquid silicone rubber material is then cured using heat and pressure, resulting in a durable and optically clear silicone optics. LSR molding produces silicone optics with complex shapes and consistent quality.
| | |
| --- | --- |
| Item No.: | YJ-97 |
| Item Name: | Silicone Optics |
| Material: | Optical Liquid Silicone |
| Hardness: | Customized |
| Color | Crystal Clear |
| Process: | Liquid Injection Molding- Deflashing- Inspection- Post Curing- Packing- Shipping |
| Application: | LED Lighting |
| Packaging: | PE Film, Blister Tray, Carton |
| MOQ | 1000pcs/ size |
| Price Term | EXW, FOB, CFR, CIF |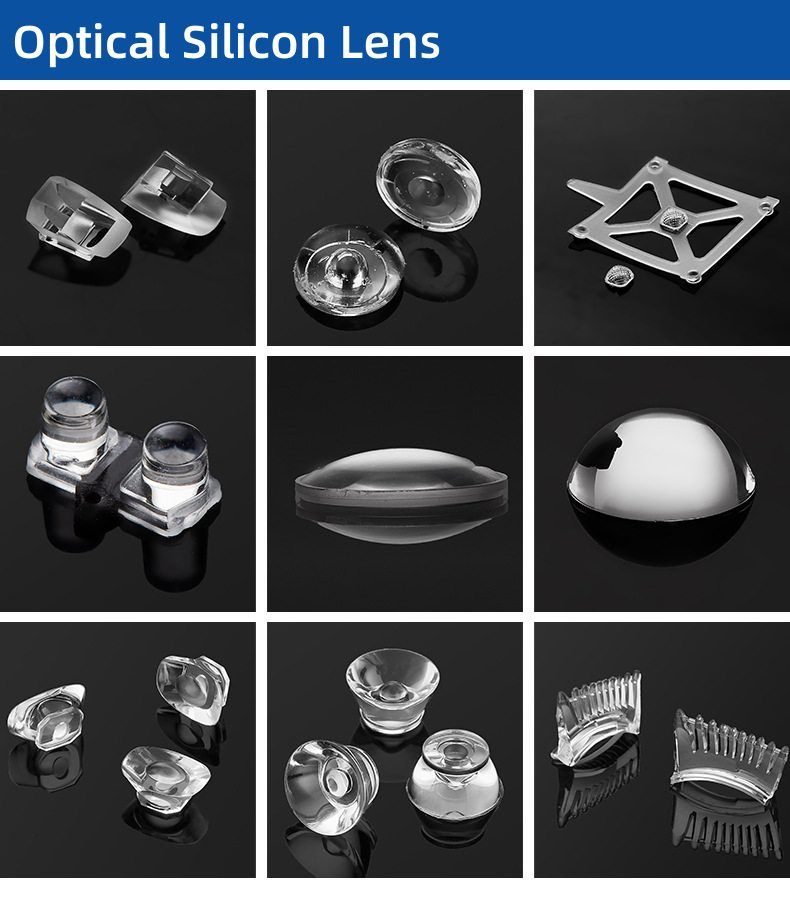 Benefits of Silicone Optics
High Light Transmittance& Low Refractive Rate

Silicone optics has high light transmission rate and low refractive index, which means that it allows light to pass through it with minimal loss. This makes it an ideal material for use in optical applications where maximum light transmission is required, such as in LED lighting systems.
Temperature Resistance
Silicone optics can withstand extreme temperatures. Optical silicone has a high thermal stability, which means that it can operate in environments with temperatures ranging from -40°C to 200°C. This makes it an ideal material for use in outdoor lighting or industrial lighting applications, where components must be able to withstand harsh environments.
UV Resistance
Silicone optics are also highly resistant to UV radiation and other forms of radiation. This makes them ideal for use in applications where exposure to radiation is a concern, such as in plants grow lights.
Scratch& Shock Resistance
Silicone optics are highly durable and resistant to scratches and abrasions. This makes them ideal for use in applications where components must be able to withstand wear and tear, such as in automotive headlights.

Applications of Silicone Optics
Silicone optics are customizable, allowing designers to create unique shapes and designs that meet specific application requirements. This flexibility makes silicone optics an ideal choice for a wide range of LED lighting applications, including automotive lighting, architectural lighting, and specialty lighting.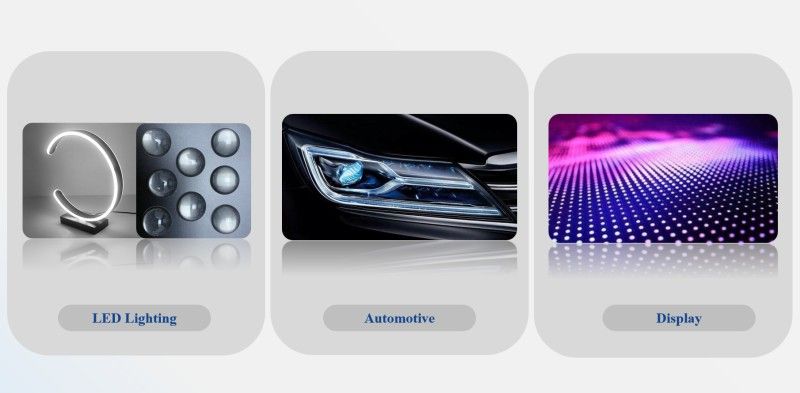 Silicone Optics Manufacturer
Silicone optics have emerged as a game-changer in the field of LED lighting applications, offering a wide range of advantages such as improved efficiency, durability, and customization options. As the demand for high-performance LED lighting continues to soar, silicone optics are poised to play an increasingly vital role in the industry. Thanks to their unique properties and remarkable versatility, silicone optics are paving the way for innovation and elevating the quality of LED lighting systems. At YEJIA, we take pride in manufacturing silicone optics that are distinguished by their exceptional precision and premium quality. Equipped with a cutting-edge class 100,000 clean silicone molding workshop and state-of-the-art Arburg LSR injection molding machines, we are fully equipped to meet the most demanding requirements. We extend a warm invitation to explore our custom silicone optics, as we stand ready to bring your vision to life.
How to Customize a Silicone Optics
1. Drawings/Samples Provided by Customers
2. Project Team Arrange Product Evaluation
3. Sales team Offer the Best Quotation and Project Plan
4. Start with the Prototype Mold
5. Samples to be Confirmed by Customers
6. Move Forward to the Production Mold
7. Arrange the Mass Production
8. Manage the Orders by MES and ERP systems
9. Goods Ready for Shipment
10. Aftersale Services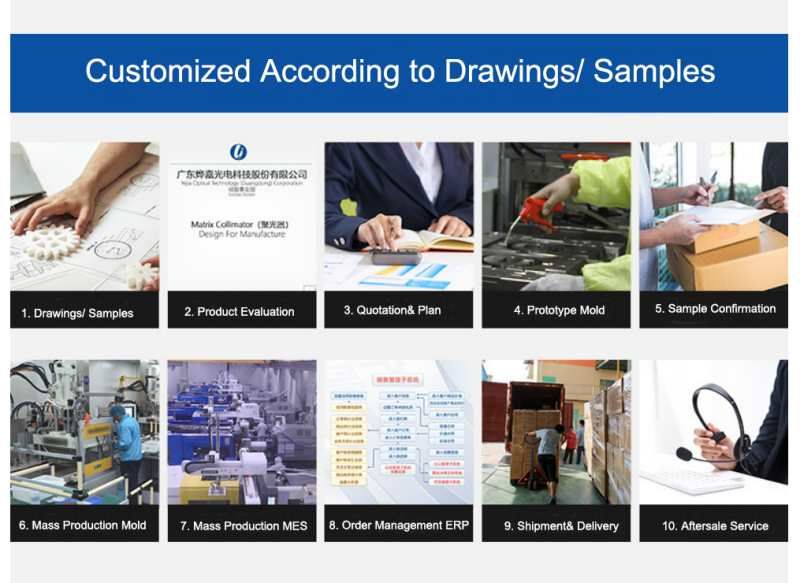 FAQ
Q: What is optical silicone?
A: Optical silicone is a bi-component ultra-transparent liquid silicone rubber material, with very good optical properties and flame resistance.
Q: What are silicone optics?
A: Silicone optics are optical components made from silicone, a synthetic polymer that is highly transparent and has excellent thermal stability and UV resistance.
Q: What is the level of your optical clean workshop?
A: Our optical clean workshop is class 100,000, with class 10,000 inspection clean room.
Q: What's the molding temperature of the LSR injection molding?
A: Normally, the LSR injection molding temperature is around 130±10℃
Q: How do silicone optics compare to glass optics?
A: Silicone optics offer several advantages over glass optics, including higher thermal stability, lower weight, and better shock resistance. They also have lower birefringence and can be molded into more complex shapes.