UV LED Lens
1. Model No.: YJ-84

2. Material: Dow Corning MS4002

3. Feature: UV Resistant, Impact Resistant

4. Technology: Liquid Injection Molding

5. Light Transmittance: 94%

6. Temperature Resistance: -40 to 150℃

7. MOQ: 1000pcs
Product Description
Introducing Liquid Injection Molding UV LED Lens Made of Optical Silicone
In the past few years, optical liquid silicone has become a highly sought-after material for UV LED lenses due to its exceptional characteristics. The lens is made from optical liquid silicone, which is processed through silicone injection molding, resulting in a sturdy and long-lasting product. This type of lens is ideal for a variety of industries that demand superior quality lenses for their equipment. Its unique properties make it an excellent solution for those seeking durability and longevity in their lenses. YEJIA has been the top manufacturer of optical silicone lenses in China, welcome custom UV led lenses.

Product Specification
The lens manufacturing industry has been revolutionized by the use of optical liquid silicone. This material possesses exceptional optical properties, allowing light to pass through with minimal distortion, making it an ideal choice for lenses that require clarity. The advanced manufacturing process of silicone injection molding is used to process the UV led lens. This process involves injecting liquid silicone into a mold and curing it to create the desired shape. The result is a lens that is highly uniform and consistent in its shape and dimensions, thanks to the precise control enabled by this process. The use of this technology has allowed for the production of lenses that are of superior quality, delivering excellent performance and reliability. With low density and high fluidity, the optical liquid silicone can achieve many lightweight, complex and micro-structure designs.
| | |
| --- | --- |
| Item No.: | YJ-84 |
| Item Name: | UV LED Lens |
| Material: | Dow Corning MS4002 |
| Hardness: | 84 Shore A |
| Impact Resistant: | Yes |
| Temperature Resistance: | -40 ℃ to 150 ℃ |
| Process: | Liquid Injection Molding- Deflashing- Inspection-Post Curing- Packing- Shipping |
| Application: | Indoor and Outdoor LED Lighting |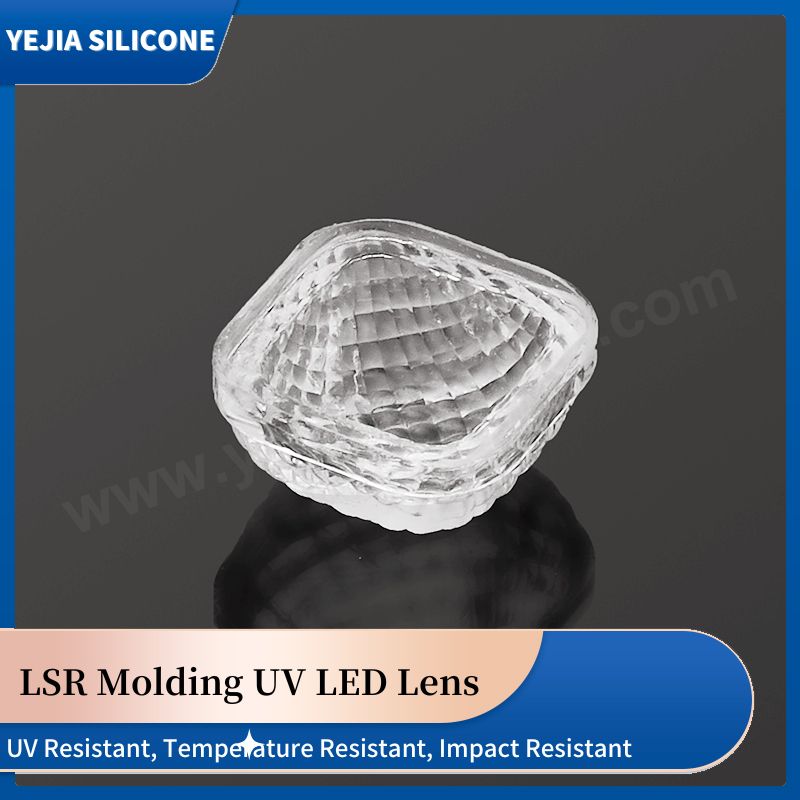 UV LED Lens Optical Performance
The light transmittance is over 94% and the refractive rate is only 1.41, which makes the silicon lens has less light loss than other materials, for example, PMMA. UV LED lens made of optical silicone also has many advantages, such as:
Temperature Resistant
In addition to UV resistance, optical silicone UV LED lenses also offer excellent temperature resistance. With the ability to withstand temperatures ranging from -40°C to 200°C, these lenses are suitable for use in a wide range of environments. This temperature resistance makes them a reliable choice for applications where other materials may fail due to thermal stress.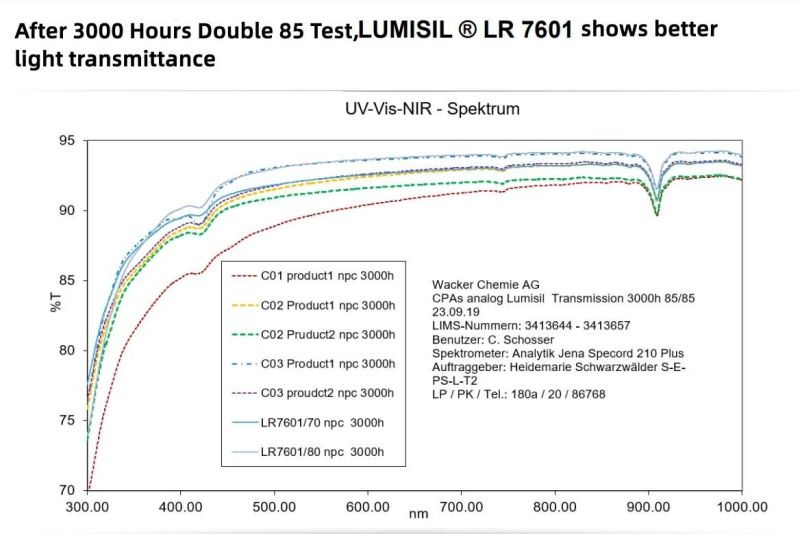 UV Resistant
UV light can be detrimental to many materials, causing degradation and shorter lifetimes. However, the use of optical silicone in UV LED lenses provides exceptional resistance to UV radiation, ensuring consistent performance over time. These lenses maintain their optical properties even after prolonged exposure to UV light, making them an ideal material for use in UV LED applications.
Explosion Proof
The explosion-proof nature of optical silicone UV led lens makes it an ideal choice for use in hazardous environments where explosions or fires may occur. This non-combustible material does not release toxic gases or smoke when exposed to high temperatures or flames, ensuring safety in critical situations.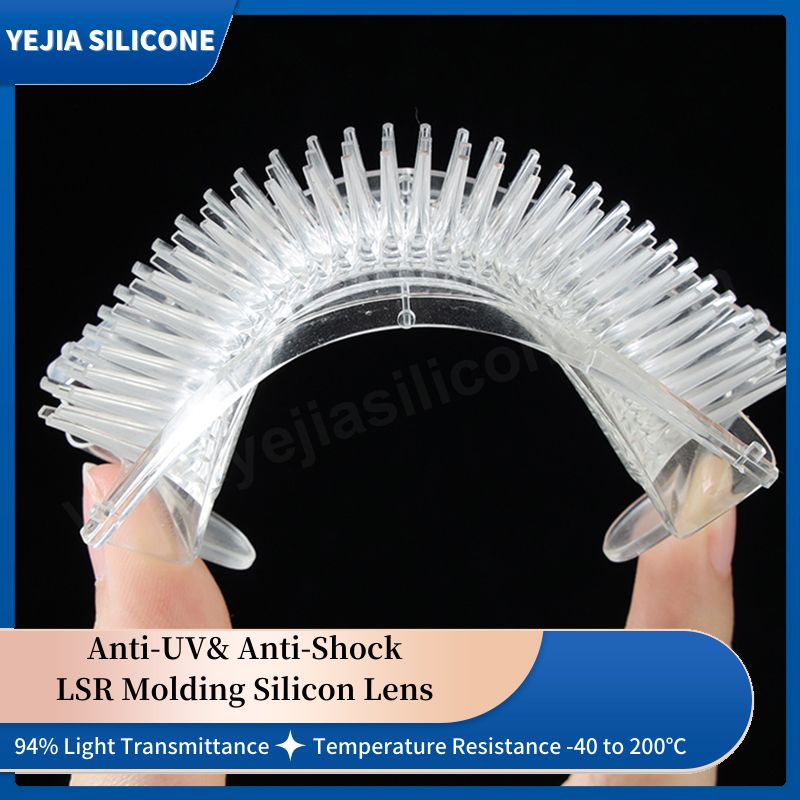 Optical UV LED Lens Manufacturer

UV LED lens is a highly durable and reliable option for a wide range of applications. With its UV resistance, temperature resistance, and explosion-proof properties, it offers unparalleled performance and safety. The lens's shape and dimensions can be precisely controlled through silicone injection molding, ensuring consistent and reliable performance over time. As the demand for UV LED applications continues to grow, silicone UV LED lenses are becoming an increasingly popular choice for lens manufacturers looking to maximize performance and durability. YEJIA is the professional top manufacturer of high quality optical UV led lenses in China, for over a decade, our factory focuses on R&D for optical grade liquid silicone injection molding products. For now, we have 9 sets Arburg (ALLROUNDER 420C/ 570C) horizontal LSR injection molding machines, over 10,000 square meters workshops, various class 100,000 clean production workshops, in-house mold making team and experienced LSR injection molding team. For custom silicon UV LED lens, please feel free to contact us.
FAQ
Q: What are UV LED lenses?
A: UV LED lenses are optical components that focus ultraviolet light emitted by LED sources into a specific area. They help to increase the intensity of the UV light and reduce the divergence angle.
Q: Can UV LED lenses be customized?
A: Yes, UV LED lenses can be customized to meet specific application requirements. Please provide us 2D and 3D drawings for evaluation.