LSR Overmolding Silicone Lens for Automotive Headlight
1. Made of ultra-transparent optical silicone

2. Class 100,000 clean silicone lens production workshop

3. IATF16949, ISO9001, ISO14001& ISO13485 certified


4. 9 Sets Arburg horizontal LSR injection molding machines

5. 1 set EVERFINE light distribution performance test system



Product Description
Anti-Yellowing, UV Resistance LSR Overmolding Custom Silicone Lens Manufacturer in China

The silicone lens is made of high quality, ultran transparent and flame resistance optical silicone materials, processed by ARBURG LSR injection molding machines in Class 100,000 clean production workshop. With 94% light transmittance, the optical silicone rubber has great fluidity and low viscocity, which can help to achieve complex designs. As a product designer, you may want to do a lightweight design, overmolding will be a very helpful technics, not only can lower the product weight, but also reduce the assembly processes.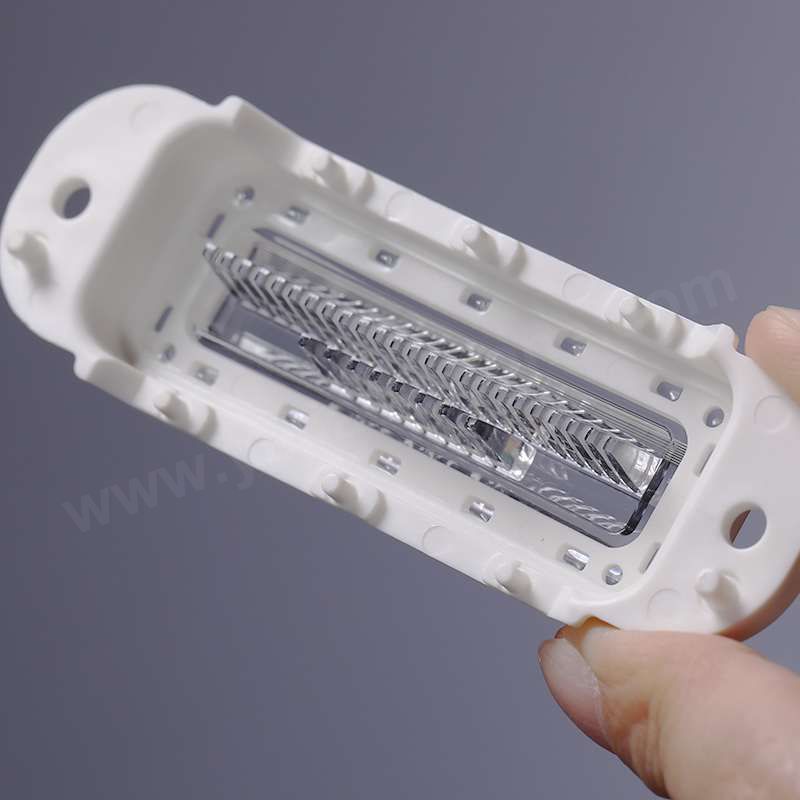 Product Specification
Yejia Silicone is the top manufacturer of LSR injection molding and overmolding silicone lenses in China, if you're looking for custom silicone lens, welcome to contact us.
| | |
| --- | --- |
| Item No.: | YJ-83 |
| Product Size | 80*25*10mm |
| Material: | Dow Corning 4002 |
| Process: | PC Surface Treatment-LSR Overmolding Injection-Deflashing-Full Inspection-Dust Removal-Packing-Delivery |
| Hardness: | 70 Shore A |
| Machine: | Arburg LSR Injection Molding Machine 420C |
| Machine tonnage: | 120T |
| Surface Polish: | A1 |
| Workshop: | 100K class clean optical production workshop |
| Application: | Automotive ADB Headlight |
| Intercoms: | EXW, FOB, CIF, DDP, or deliver to assembly China factories |
Overmolding Silicone Lens Optical Performance
The light transmittance for most optical silicone lenses are over 94%. The overmolding silicone lens has super excellent weatherability, under harsh conditions, the color keeps stable and the product is without any deform. It's UV resistance, anti-yellowing and flame resistance, after 3000 hours 85℃/ 85% aging testing, the silicone lens is no changing. Temperature resistance can be from -40 to 150 Celsius degrees. Becuase of these characteristics, the optical silicone lens is getting popular.
Optical Properties

Dowcorning MS4002

Silicone

Momentive LSR7180

Silicone

Wacker LR7601/80

Silicone

DONESON DSA-7180

Silicone

PC

PMMA

Glass

Light Transmittance (%)

94

94

94

94

86-89

89-92

95

Refractive ratio

1.41

1.41

1.41

1.41

1.59

1.49

1.5-1.6

Haze

-

<1

-

-

1-3

2-4

-

Abbe

48

50

50

49-51

34

57

35-59

Yellowness Index

-

<1

-

-

1-3

1-3

-

Our Advantage
Yejia silicone specializes in manufacturing high precision and premium quality silicone molding products for over 13 years, with professional engineering team to assess design feasibility and trial production stability for optical silicone lenses. We have many successful silicone molding lenses cases to ensure the project to move forward smoothly. We've supported many startup companies to growup rapidly, also have established the long term coopreation with many Fortune 500 enterprises.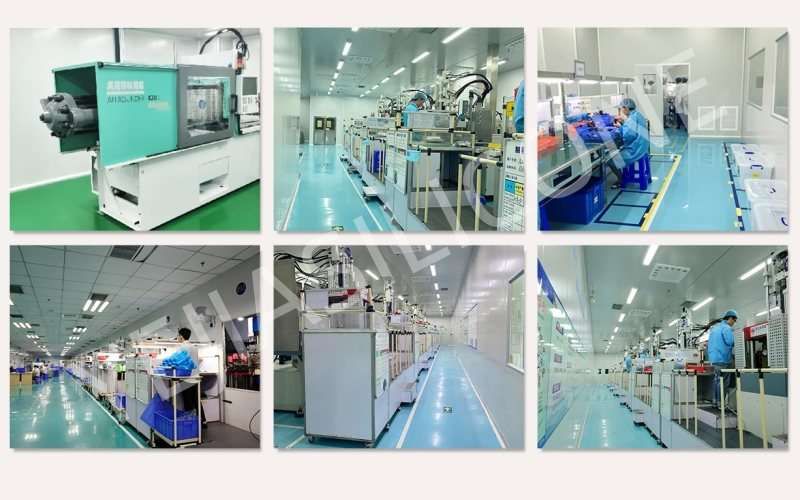 Class 100,000 Clean Production Workshop
Our factory has set up class 100000 cleanroom for optical silicon lens production, together with the class 10,000 clean inspection room for performance and apperance inspection. For now, we have 9 sets Arburg horizontal liquid injection molding machines, 30 sets vertical LSR injection molding machines and 6 sets compression molding machines.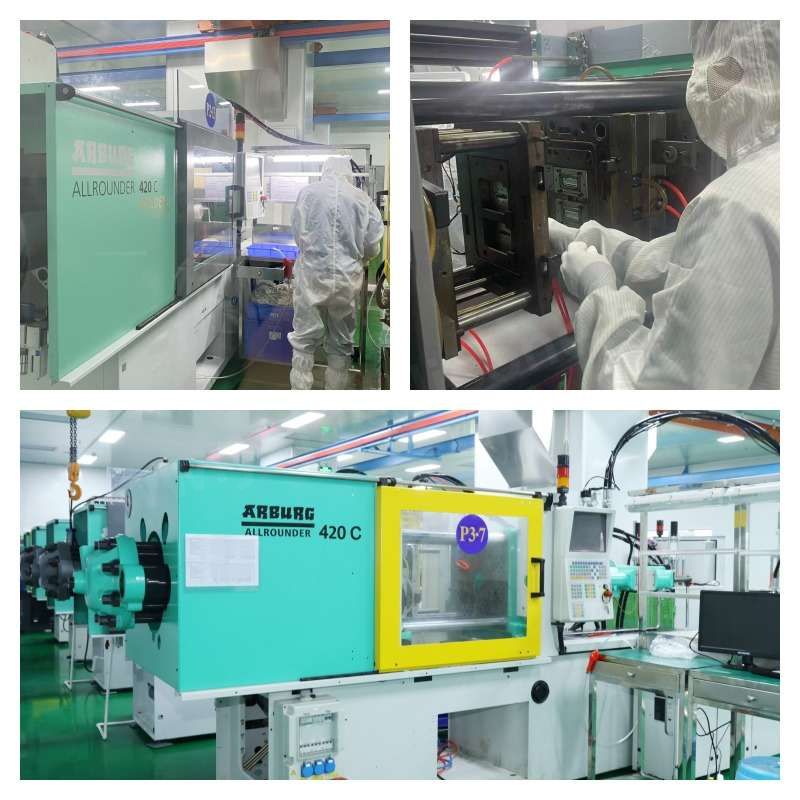 In-house Mold Making Department
To ensure the tight tolerance, our factory has established our own mold manufacturing department, form mold design, molding making, mold trial production to mold mass production, so to provide one-stop solution for custom silicone lense.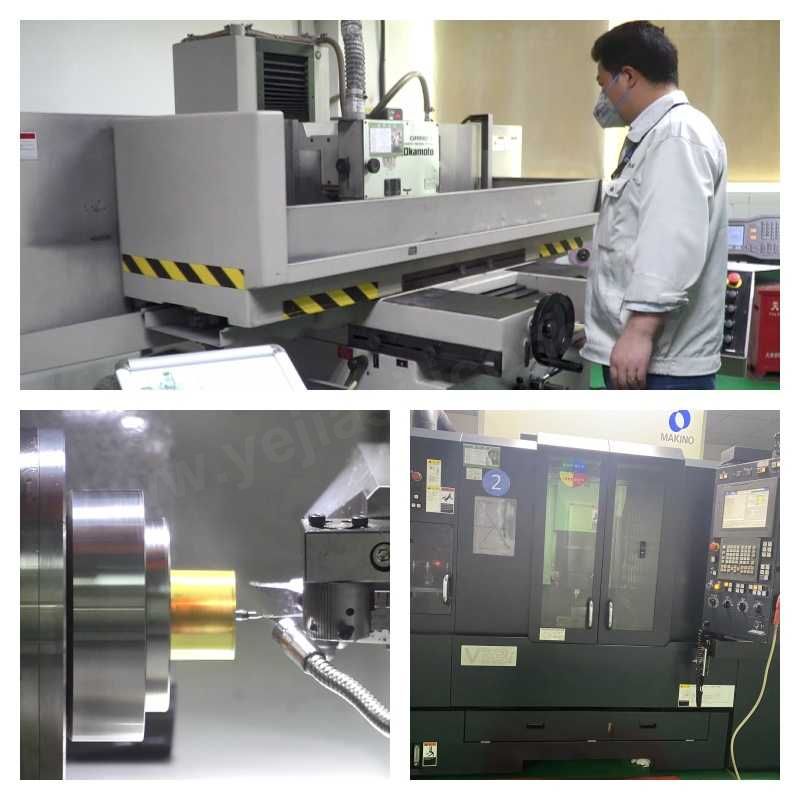 Quality Certifications
To ensure product quality, our factory has been certified by ISO9001, IATF16949, ISO14001 and ISO13485. Also, we've been authorized as SONY's Green Partner for supplying eco-friendly LSR injection molding VR silicone covers.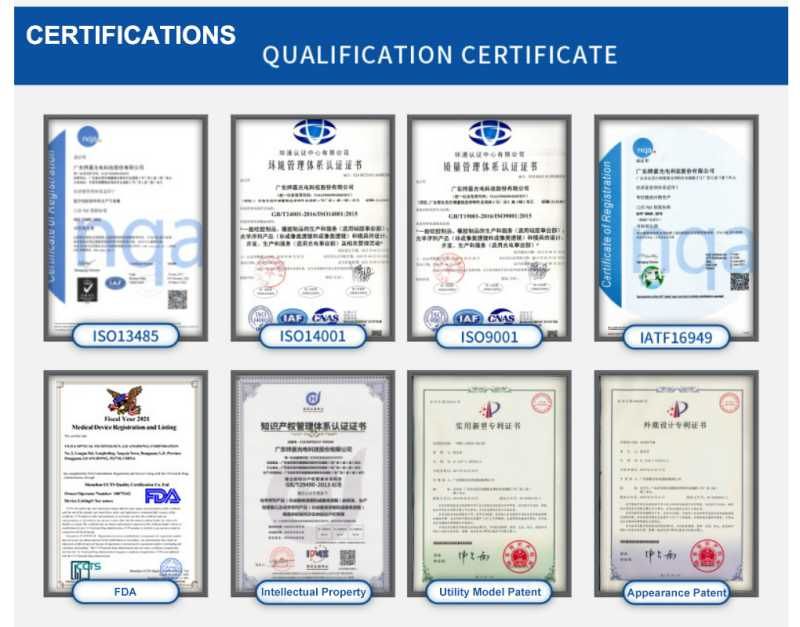 Case Study

The first time we saw this product, we know that few companies can make this product. With 84-pin light guide columns, and the height of each pin is too long to be fully filled with materials. What's more, it's flash free, and the optical surface requires to be RA0.02um, with luminance to be 100LUX. Yejia silicone team never say no to difficulties, with efforts from engineering team, molding making team and our production team, we've acheived the mass production for this automotive ADB headlight silicone lens.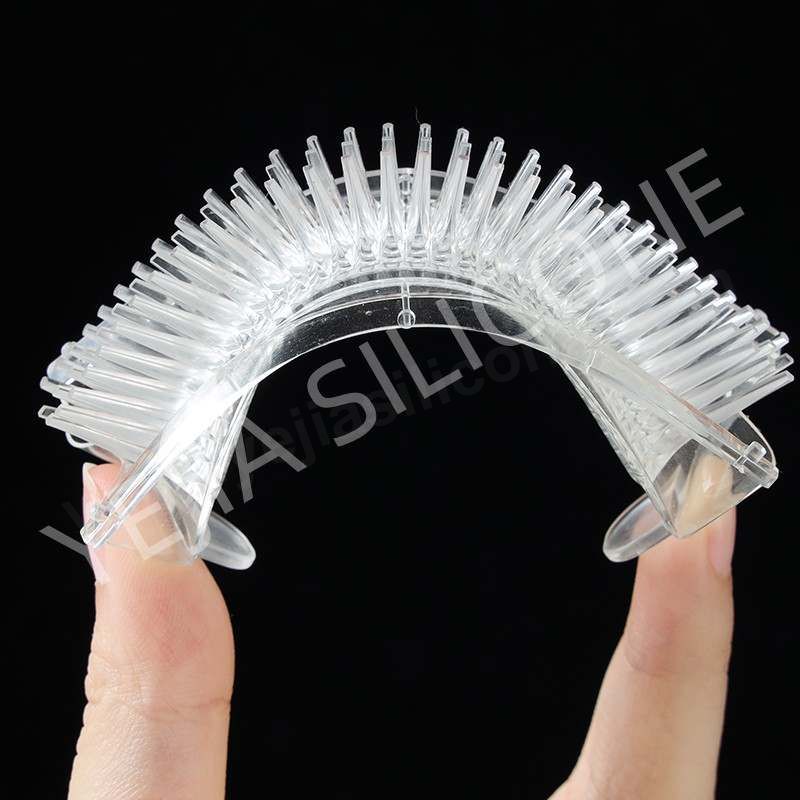 Customization Process
As a profession manufacturer of silicone molding optical lens, we highly welcome custom silicone lens. Here are the processes for your reference.
| | |
| --- | --- |
| 1. Drawings/ Samples | 2. Product Evaluation |
| 3. Quotation/ Plan (DFM Report) | 4. Prototype Mold |
| 5. Sample Confirmation | 6. Mass Production Mold |
| 7. Mass Production (MES) | 8. Order Management (ERP) |
| 9. Shipment& Delivery | 10 Aftersale Sevice |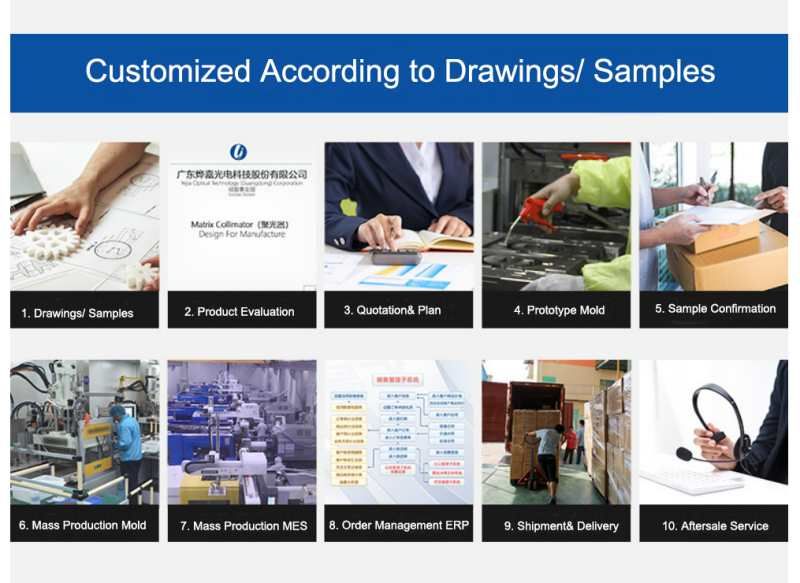 FAQ
Q: Why you should choose our factory to be your partner for LSR injection molding silicone lens?
A: With a professional optics doctors and masters to offer technical support, from the very beginning to evaluate the feasibility of your design to mass production. Also, our factory has many advanced and imported mold making equipment, silicone injection molding and performance inspection equipment.
Q: What's optical silicone?
A: Optical silicone is a bi-component ultra-transparent liquid silicone rubber material, with very good optical properties and flame resistance. Under long-term harsh environment, for example, under high temperature or UV radiation, the color keeps stable and the optical clarity maintains. In addition, the excellent processing properties enable it to be manufactured to tight tolerance complex or micro-structure optical parts, which brings new possibilities for cutting-edge technology in LED high-powered automotive lighting and electronics.
Q: What's the advantage to choose optical silicone to make silicone lens?
A: Comparing to Plastic, the properties of light transmittance, anti-yellowing and weathering resistance are better. Comparing to Glass, the optical liquid silicone is easy to shape, the fluidity makes the complex or micro-structure designs moldable.
Q: Can you design silicone lens?
A: For now, we just do OEM designs. Our team is unable to do the product design.
Q: What should I offer to custom silicone lens?
A: Please offer us 3D drawing and performance requests.
Q: Can I visit your factory?
A: Yes, should any interest, highly welcome to visit our factory.