18 Light Guides Silicon Lens
1. Model No.: YJ-100

2. Product Name: 18 Light Guides Silicon Lens

3. Material: Optical liquid silicone

4. Machine: ARBURG horizontal LSR injection molding machine

5. Feature: Anti-shock, anti-uv and high temperature resistance

6. Application: High beam automotive headlights

Product Description
Liquid Injection Molding UV Resistance 18 Light Guides Silicon Lens for High Beam Automotive Headlights
Light guide silicon lens is a type of lens made from optical liquid silicone that is designed to guide and direct light. This 18 light guides silicon lens is used for high beam ADB headlights. Processed by liquid injection molding in clean optical silicone molding workshop, the silicon lens mold is designed and manufactured by ourselves. Ever light guide has different angle for light distribution, YEJIA has been the top manufaturer of this kind of light guide silicon lens for automotive LED headlights. Welcome custom optical silicon lens with light guides.

Product Information






Model No.: YJ-100
Product Name: 18 Light Guides Silicon Lens
Material: Optical Liquid Silicone
Product Size: 63*29*9mm
Hardness: 80 Shore A
Process: Liquid Injection Molding

Optical Surface Finish: SPI A1
Light Transmittance: 94%
Refractive Index: 1.41
Temperature Resistance: -40 to 150℃
Applications: High Beam ADB Headlights
Benefits of Light Guide Silicone Lens



Light guide silicon lenses are getting popular in automotive applications, such as, head-up displays and ADB driving systems to provide clear and accurate information to drivers, brings more convenience and safety. Some of the benefits are as below.
- High transmission efficiency: Light guide silicon lenses have a high transmission efficiency, which means that they can transmit light over long distances with minimal loss.
- Low dispersion: These silicon lenses have low dispersion, which means that they can transmit light without causing any distortion or color fringing.
- Compact size: Light guide silicon lenses are typically small and lightweight, making them ideal for use in compact devices.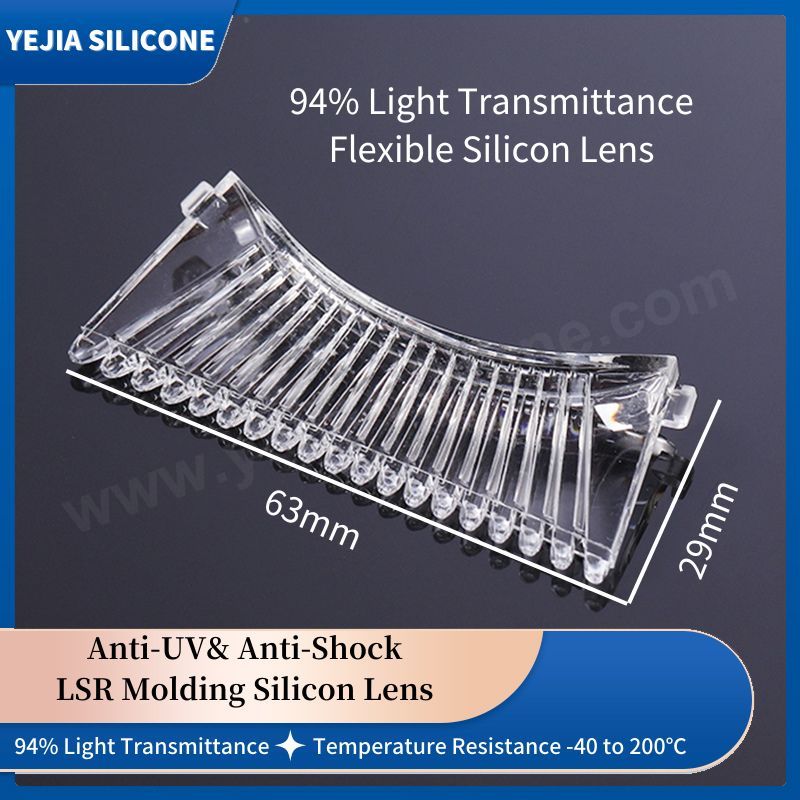 Liquid Injection Molding Silicon Lens Production Process
FAQ
Q: Can you provide samples of this 18 light guides silicon lens?
A: Yes, free samples can be provided, shipping costs is paid by customers.
Q: Can I order some of this liquid injection molding silicon lens?
A: We regret that the mold belongs to our customer's, we can't use it to arrange mass production for other customers.
Q: What is the advantage to choose liquid silicone to make light guide silicon lens?

A: Liquid silicone is optically clear nd has low absorption characteristics, and it can be molded into complex shapes with high precision, which is important for creating optical lenses that can efficiently guide and transmit light. Liquid silicone is highly durable material and can withstand harsh environment conditions, making it ideal for use in applications such as automotive lighting and outdoor displays.
Q: Can you design the light guide silicon lens?
A: We regret that we mainly do OEM service, for optical silicon lenses, you may have to do product design by yourselves.
Q: What shall be provided to customize a liquid silicon lens?
A: Please provide us 3D and 2D drawings for evaluation?
Q: What's the maximum light guides can you do for silicon matrix?
A: For now, the max. light guides we've produced is 84-pixel-module.
Q: Can I visit your factory?

A: Yes, highly welcome to visit us at your convenience.