84 Light Guides Silicon Matrix
1. Model No.: YJ-94

2. Product Name: 84 Light Guides Silicon Matrix


3. Material: Optical Silicone

4. Process: Liquid Injection Molding

5. Light Guides: 84 Pixel Module


6. Light Transmittance: 94%

7. Temperature Resistance: -40 to 150℃
Product Description
Explosion Proof High Temperature Resistance LSR Molding Light Guides Silicone Matrix
The 84 light guides silicon matrix is made of super transparent imported optical liquid silicone rubber, processed by LSR molding in class 100K clean optical production workshop. The light guide silicon matrix is designed to minimize the loss of light due to scattering or absorption, and to distribute the light evenly across the target area. The silicon matrix can be customized to achieve specific optical properties such as brightness, color uniformity, and contrast.

We have the optical engineering team to assess design feasibility and trial production stability, team working of experienced optical mold making team and silicone processing team, to ensure the success rate of the project. The flexible silicon matrix adopts cold injection molding runner and cold gate feeding, no holding pressure, no internal tension, there is no stress mark on the precision molded silicon matrix.
Product Information






Model No.: YJ-94
Product Name: 84 Light Guide Silicon Matrix
Material: Optical Liquid Silicone Rubber (Dow Corning MS4002)
Product Size: 88*38*30mm
Hardness: 80 Shore A
Process: LSR Molding

Optical Surface Finish: SPI A1
Light Transmittance: 94%
Refractive Index: 1.41
Temperature Resistance: -40 to 150℃
Applications: GEELY LYNK&CO 09 (High Beam& Low Beam 84 Pixel Module ADB Headlights)
Benefits of LSR Molding Silicon Matrix



Light guide silicon matrixes are commonly used in automotive lighting systems. They offer several advantages over traditional lighting systems, including improved energy efficiency, reduced heat generation, and greater design flexibility.
- Eco-friendly Material: Comparing to plastic, the optical silicone is environment friendly
- High Light Transmission: Over 94% light transmittance, higher than PC& PMMA LED Lens
- Low Refractive Index: 1.41 RI means less light loss while in light distribution
- UV Resistance: Anti-UV and non-yellowing, suitable for long term outdoor applications
- Excellent durability: Resistant to extreme temperatures
- High precision LSR injection molding: Silicon matrix with tight tolerances and complex geometries
- Cost-effective: For complex parts or overmolding products, it reduces the costs of assembly and installation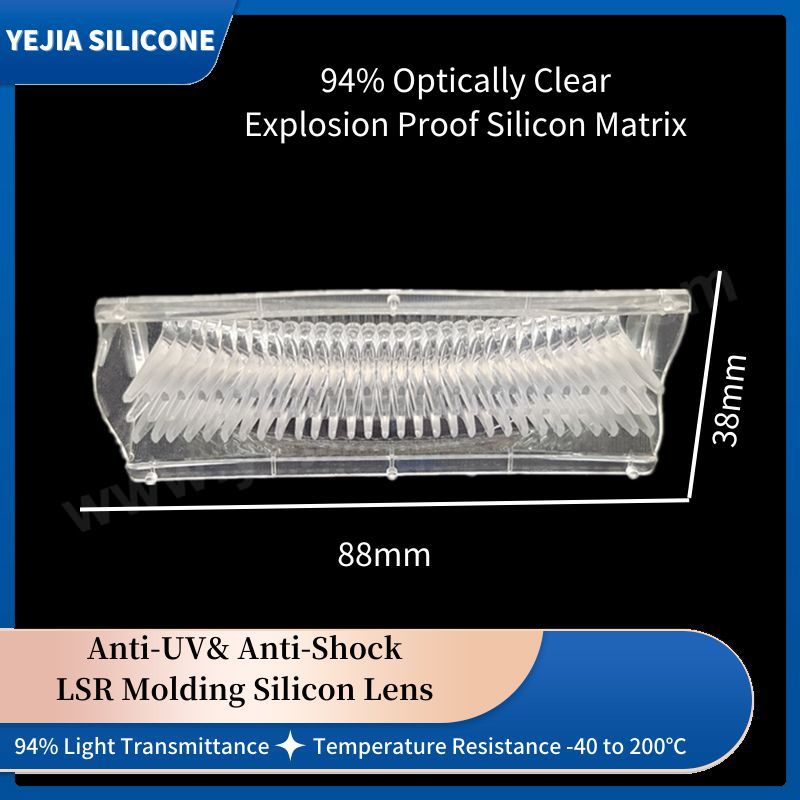 LSR Molding Silicon Matrix Production
FAQ
Q: Can you provide samples of this 84 light guides silicon matrix?
A: Yes, free samples can be provided, shipping costs is paid by customers.
Q: Can I order some of this LSR molding silicon matrix?
A: We regret that the mold belongs to our customer's, we can't use it to arrange mass production for other customers.
Q: What is the advantage to choose liquid silicone to make light guide silicon matrix?

A: Liquid silicone has great flexibility, it flows faster than plastic materials while in injection molding, therefore, it can achieve complex and sharp angles designs. Also, the density is lower than plastic and glass, the lightweight design save more energy for automotives.
Q: Can you design the light guide silicon matrix?
A: We regret that we mainly do OEM service, for optical silicon matrixs, you may have to do product design by yourselves.
Q: What shall be provided to customize a LSR molding silicon matrix?
A: Please provide us 3D and 2D drawings for evaluation?
Q: What's the maximum light guides can you do for silicon matrix?
A: For now, the max. light guides we've produced is 84pcs.
Q: What's your injection molding machine?
A: The LSR injection molding machine is ARBURG.