Liquid Injection Molding System is a new molding method, which is realized by using superior characteristic liquid silicone materials and by processing with high precision and stable liquid injection molding machines.
Raw materials of agent A and agent B is automatically calculated, from mixing to molding, all processes are finished automatically, which simplify the work, shorten the work time and makes the high quality products simplified.
Moreover, because of excellent features of liquid silicone materials, it has been widely used in electronics& electrics, auto parts, food& beverage and other industries. By the usage of LIMS, the productivity has been increased, the human costs has been decreased, and it makes work more efficiency.
It has a big advantage for a large amount of single color silicone products. The structure of the product is more flexible, and it can be used like plastic injection mold with slider or ejector mechanism.
It can also be used to overmold with plastic and metal, structure and plastic two-color products similar to the use of multiple advantages of silicone overmolded with other materials
.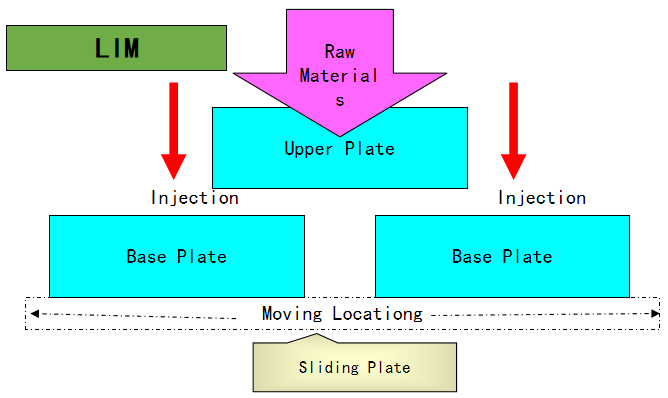 ● Since there are two base plates, when the one is vulcanized, we can take products out from the other base plate. So the cycle time is only for vulcanization+α (taking out products), comparing to the compression molding, it shorten the overall molding time a lot.
● The base plate moves left or right on the sliding plate.
● LIM is similar to plastic injection, the molding is done through the shot area of the upper plate.
The basis structure of LIM machine