Silicone Watch Bands
1. Model No.: YJ-72

2. Material: High quality solid silicone and temperature resistant PA

3. Process: Compression overmolding

4. Advantage: Custom silicone watch bands professional manufacturer in China

5. Workshop: 10,000 square meters silicone molding workshop

6. Mold: In-house mold making

7. MOQ: 3,000pcs
Product Description
Compression Overmolding Silicone Watch Bands, Silicone Molding Factory
Silicone watch bands have emerged as a popular choice for smartwatch users owing to their durability, flexibility, and affordability. These bands provide a comfortable fit and lend a modern and stylish look to your smartwatch. Their resistance to water and sweat makes them ideal for outdoor activities and exercise. Moreover, they are easy to clean and maintain, making them a practical option for daily wear. Silicone watch bands are not only long-lasting but also hypoallergenic, making them suitable for individuals with sensitive skin. Overall, silicone watch bands offer a perfect blend of functionality and style to enhance your smartwatch experience.


Product Information
The manufacturing process of these silicone watch bands involves a combination of silicone and plastic materials, which undergo compression overmolding. This technique requires the placement of a pre-formed piece of plastic into a mold cavity, followed by filling the cavity with silicone. The mold is then heated and pressure is applied, which results in the silicone bonding with the plastic to create a single, solid piece. The end product is a highly durable material that is resistant to wear and tear. This manufacturing process ensures that the watch bands are of top quality and can withstand daily use.






Model No.: YJ-72
Product Name: Silicone Watch Band
Process: Compression Overmolding
Material: Silicone+ Plastic
Hardness: 50 Shore A
Color: White, Blue (Pantone Number)
Mold: Customized
Size: As 2D& 3D Drawings
Surface Texture: Matt
MOQ: 3,000pcs

Silicone watch bands offer a myriad of benefits for individuals seeking to elevate the aesthetics and practicality of their smartwatch. Their durability, flexibility, affordability, and stylish designs make them a wise investment for anyone desiring to customize their smartwatch while ensuring optimal comfort and functionality. By opting for silicone watch bands, individuals can enjoy a long-lasting accessory that can withstand daily wear and tear. Additionally, the flexibility of silicone watch bands allows for a comfortable fit that conforms to the wearer's wrist. Furthermore, the affordability of silicone watch bands makes them an accessible option for anyone seeking to upgrade their smartwatch without breaking the bank. Finally, the stylish designs of silicone watch bands offer a wide range of options to personalize one's smartwatch, catering to various tastes and preferences. Overall, silicone watch bands are an excellent choice for those seeking to optimize their smartwatch experience.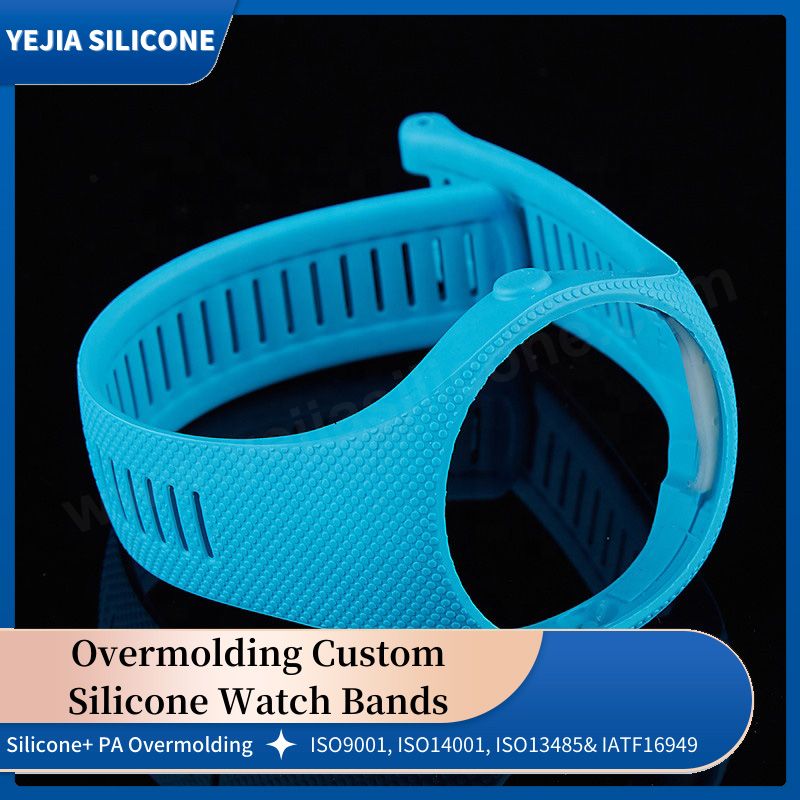 Silicone Watch Bands Manufacturer
YEJIA is a leading manufacturer of custom silicone watch bands, with over a decade of experience in silicone molding, particularly compression overmolding. Our silicone watch bands can be personalized with a wide range of colors and designs, enabling users to express their unique style and personality. Whether you prefer a classic black or white band, or a more vibrant and colorful option, our team can create a customized solution that meets your needs. With our expertise in silicone molding, we guarantee exceptional quality and durability in every product. Contact us today to learn more about our custom silicone watch bands.
People Also Ask
Q: What is silicone watch band made of?
A: Silicone watch band is made of a synthetic rubber material called silicone. This material is known for its durability, flexibility, and resistance to heat and water.
Q: How is the silicone watch band processed?
A: The silicone watch band is processed by compression overmolded, i.e., compressing a layer of silicone over a substrate, such as nylon or leather, to create a durable and comfortable watch band.
Q: Are silicone watch bands comfortable to wear?
A: Yes, silicone watch bands are very comfortable to wear. They are soft and flexible, and they conform to the shape of your wrist.
Q: Are silicone watch bands hypoallergenic?
A: Yes, silicone watch bands are hypoallergenic. They are unlikely to cause an allergic reaction, even in people with sensitive skin.
Q: Can silicone watch bands be adjusted?
A: Yes, silicone watch bands can be adjusted to fit your wrist. Most bands come with adjustable straps or buckles that allow you to adjust the size of the band.