Overmolding Silicone Buttons
1. Model No.: YJ-148

2. Material: Liquid Silicone+ Plastic

3. Process: Liquid Silicone Overmolding

4. Feature: Waterproof

5. Hardness: 30 Shore A

6. Mold: Customized

7. MOQ: 5,000pcs
Product Description
Overmolding Silicone Buttons, Liquid Silicone Overmolding Waterproof Buttons Manufacturer
Overmolding silicone buttons have become increasingly popular in the world of home cameras. These buttons are designed to provide a high level of protection against water damage, making them ideal for use in outdoor environments where the camera may be exposed to rain or other forms of moisture.

Product Information
The process of overmolding silicone buttons for home cameras is a crucial step in ensuring the longevity and dependability of these devices. Liquid silicone overmolding is utilized to produce a durable end product that can withstand even the harshest weather conditions. This method involves the use of two materials - a rigid plastic and a soft silicone rubber - that are combined to create a single component. The result is a button that is both easy to press and able to withstand repeated use. By utilizing this process, silicone overmolding manufacturers can produce buttons that are both functional and reliable, providing their customers with a high-quality product that will stand the test of time.






Model No.: YJ-148
Product Name: Overmolding Silicone Buttons
Material: Liquid Silicone+ Plastic
Hardness: 50 Shore A

Color: Clear
Feature: Waterproof
Application: Outdoor or Home Cameras
Process: Liquid Silicone Overmolding
Waterproof Level: IP67 or IP68

Mold: In-house Mold Making Department
The utilization of overmolding silicone buttons offers numerous benefits for manufacturers of home cameras. Overmolding silicone buttons creates a protective barrier against moisture, dust, and other environmental factors, which is crucial for devices that are often exposed to harsh conditions. This process ensures that the button is sealed, preventing water and other contaminants from entering the device. Additionally, customers can customize the button design to meet the specific needs of their customers. This level of customization can differentiate a product in a crowded market and make it more appealing to consumers. Moreover, overmolding silicone buttons is a cost-effective solution. By using two materials in one molding process, manufacturers can reduce the number of parts required for their devices. This simplifies the assembly process and reduces the overall cost of production. Overall, the benefits of silicone buttons make them a valuable choice for customers looking to enhance the functionality and appeal of their products.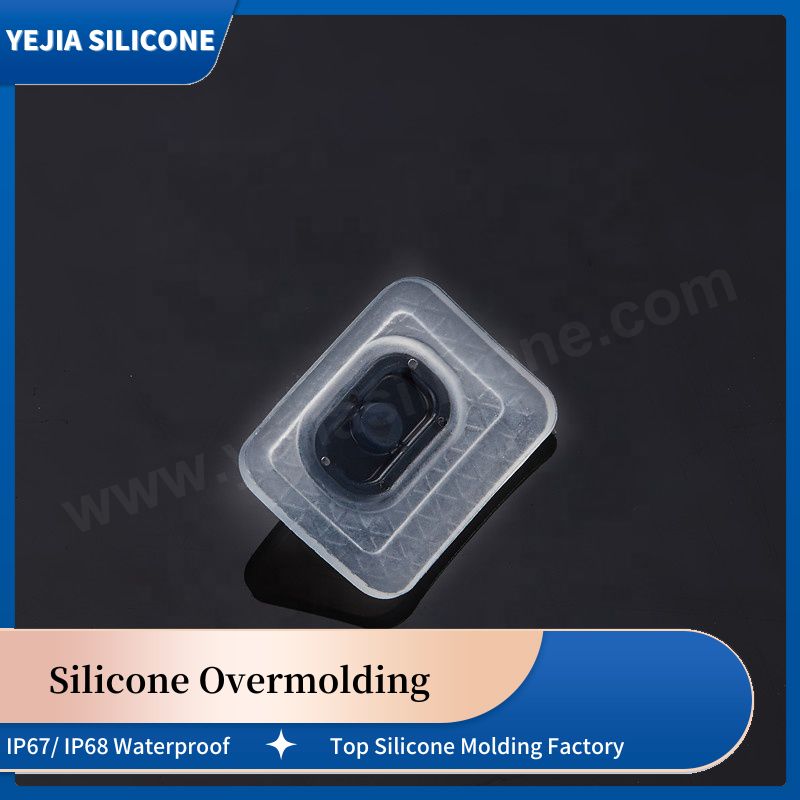 Overmolding Silicone Buttons Factory
YEJIA is a leading manufacturer of liquid silicone overmolding products, providing reliable performance over an extended period of time. With over 10 years of experience and over 10,000 square meter silicone molding workshops, our engineering team is highly skilled in silicone overmolding with other materials. If you're looking for custom overmolding silicone products, we invite you to contact us. We are committed to delivering high-quality solutions that meet your specific needs.
People Also Ask
Q: What is a overmolding silicone button?

A: Overmolding silicone button is a button or switch that is made by molding a layer of silicone rubber over a substrate, which can be a plastic or metal part. This process creates a durable and flexible button with a non-slip surface that can be used in various devices such as remote controls, medical equipment, and industrial machinery. The overmolding process also allows for customization of the button's shape, color, and texture.