Overmolding Silicone Toothbrush
1. Model No.: YJ-62

2. Material: Food grade liquid silicone& plastic raw materials

3. Workshop: 100,000 class clean production workshop

4. Feature: Antibacterial hands free auto dispensing liquid toothpaste U shape silicone toothbrush

5. Hardness: 70 Shore A

6. Mold: Customized

7. MOQ: 5,000pcs
Product Description
Get High-Quality LSR Overmolding U-Shape Silicone Toothbrush from Top Silicone Molding Manufacturer
U Shape silicone toothbrush is a revolutionary new product that is changing the way we think about oral hygiene. This innovative toothbrush is designed to provide a more effective and thorough cleaning experience, while also being gentle on your teeth and gums.

Product Information
The U Shape toothbrush is designed with utmost care to provide maximum coverage and cleaning of your teeth and gums. Its unique U-shaped head fits comfortably around your teeth and gums, ensuring that even the hard-to-reach areas are cleaned thoroughly. The silicone bristles are soft, flexible, and durable, effectively removing plaque and debris from your teeth. Made from a combination of liquid silicone and plastic, this toothbrush is not only long-lasting but also gentle on your teeth and gums. The silicone material used is non-toxic, hypoallergenic, and easy to clean, making it a safe and hygienic choice for oral care. The toothbrush is processed by LSR overmolding, which results in a soft, silicone grip that is comfortable to hold and provides a non-slip surface for brushing.






Model No.: YJ-62
Product Name: U Shape Silicone Toothbrush
Material: Liquid Silicone+ Plastic
Hardness: 70 Shore A

Color: White
Size: For Adults
Toothpaste Dispensing: In-built Channel
Process: LSR Overmolding Injection
Workshop: Class 100,000 Clean Room
Application: Personal Care
LSR overmolding process is a highly effective technique that involves injecting liquid silicone rubber into a mold that has already been partially or fully filled with another material, such as plastic. This process results in a strong and durable bond between the two materials, creating a seamless finish that is both aesthetically pleasing and hygienic. By eliminating seams and crevices where bacteria can accumulate, LSR overmolding ensures that the end product, such as a toothbrush, is not only visually appealing but also safe to use. This innovative process is a testament to the advancements in manufacturing technology, and its ability to produce high-quality products with superior performance and durability.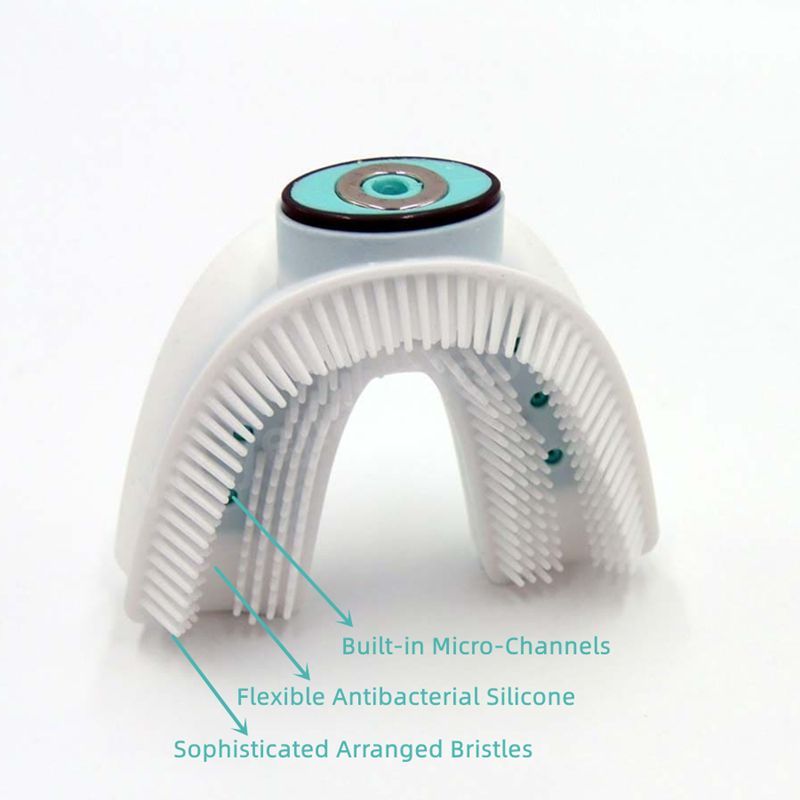 The U Shape Silicone Toothbrush boasts a unique design that enables it to effectively clean all areas of the mouth, including the front, back, and sides of the teeth. This feature ensures that every surface of the teeth is thoroughly cleaned, resulting in a brighter and healthier smile. Additionally, the toothbrush features a channel for toothpaste dispensing, which eliminates the need to worry about toothpaste falling off or getting messy. This feature also promotes good oral hygiene by ensuring that the right amount of toothpaste is used every time. The U Shape toothbrush is incredibly easy to use, simply apply toothpaste to the brush head, place it in the mouth, and gently move it back and forth along the teeth. The soft bristles effectively remove plaque and food particles from the teeth, while the U shape design ensures that every surface is cleaned.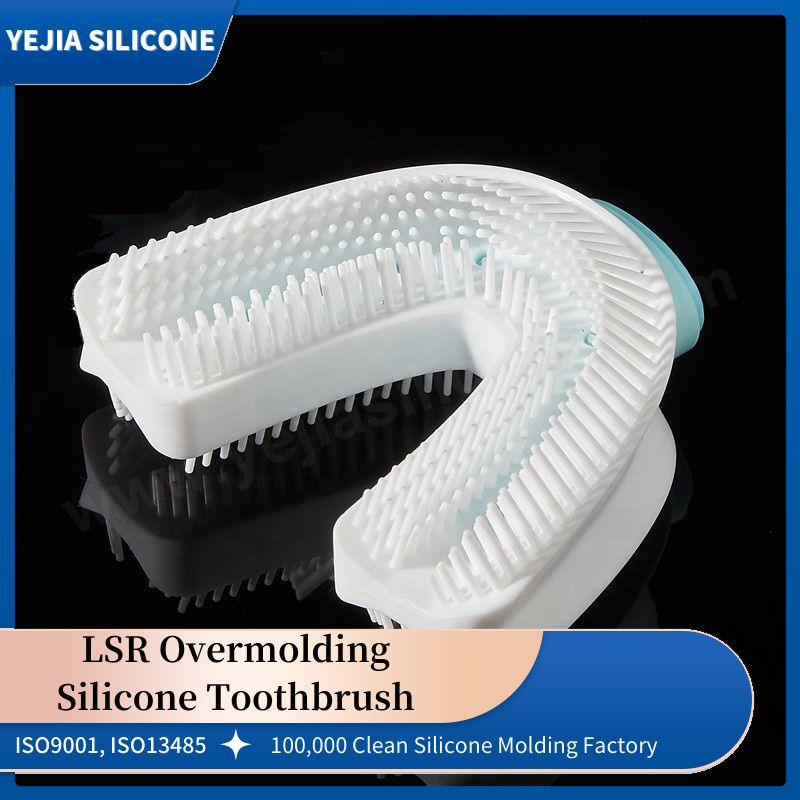 LSR Overmolding Silicone Toothbrush Factory
The U shape silicone toothbrush is an innovative and efficient solution for cleaning your teeth. With its unique design, it is capable of cleaning both the front and back of your teeth simultaneously, saving you time and ensuring a thorough clean. Simply bite down on the brush and move it back and forth along your teeth for a more efficient brushing experience. The ergonomic handle provides a secure grip, while the flexible head conforms to the shape of your mouth for a more comfortable brushing experience. If you are in need of a custom silicone toothbrush manufacturer, YEJIA has extensive experience in manufacturing LSR overmolding silicone toothbrushes. Contact us today to learn more about our capabilities.
People Also Ask
Q: What is silicone toothbrush?

A: Silicone toothbrush is a type of toothbrush made from soft, flexible silicone bristles rather than traditional nylon bristles.
Q: Are silicone toothbrushes hygienic?
A: Yes, silicone toothbrushes are hygienic because they are non-porous and do not harbor bacteria like traditional toothbrushes with nylon bristles.
Q: Are silicone toothbrushes more expensive than traditional toothbrushes?
A: Silicone toothbrushes may be slightly more expensive than traditional toothbrushes, but they last longer and are more hygienic, making them a worthwhile investment in your oral health.