20mm Silicone Check Valve
1. Model No.: YJ-18

2. Product Name: Silicone Check Valve


3. Material: Eco-friendly Solid Silicone

4. Process: Vacuum Silicone Compression Molding

5. Certifications: ISO9001, ISO13485, ISO14001& IATF16949

6. MOQ: 30,000pcs
Product Description
One-Stop Manufacturer for Reliable Silicone Check Valves, Cross Slit Valves
Silicone check valves are an essential component in liquid cleanser dispensing systems, such as the popular liquid dispensing dish brush. With a one-squeeze, one-dispensing mechanism, these valves ensure that the cleanser is dispensed smoothly without any leakage. Designed to fit a wide range of shapes and sizes, the silicone check valves are suitable for various dispensing systems. Silicone check valves are widely used in many industries, including medical, automotive, and food processing.
Product Information
Made of highly durable and long-lasting eco-friendly silicone material, silicone check valves are resistant to high temperature and cleaning chemicals. Silicone check valves can protect users' hands. Many liquid cleansers can be harsh and drying, which can lead to skin irritation and discomfort. By controlling the amount of cleanser that is dispensed, these valves help to minimize contact with the skin and reduce the risk of irritation.






Model No.: YJ-18
Product Name: Silicone Check Valve
Material: FDA Food Safe Silicone
Hardness: 50 Shore A
Color: Blue, Green
Outer Diameter: 20mm
Slit Type: 1.8*1.8mm
Slit Size: Cross Slit
Process: Silicone Compression Molding
Application: Liquid Dispensing Dish Brush
Silicone check valve prevents excess cleanser from being dispensed, also ensures the right amount of cleanser is dispensed, which can help to improve cleaning performance and save money for users, therefore, it's particularly useful for those who frequently wash dishes.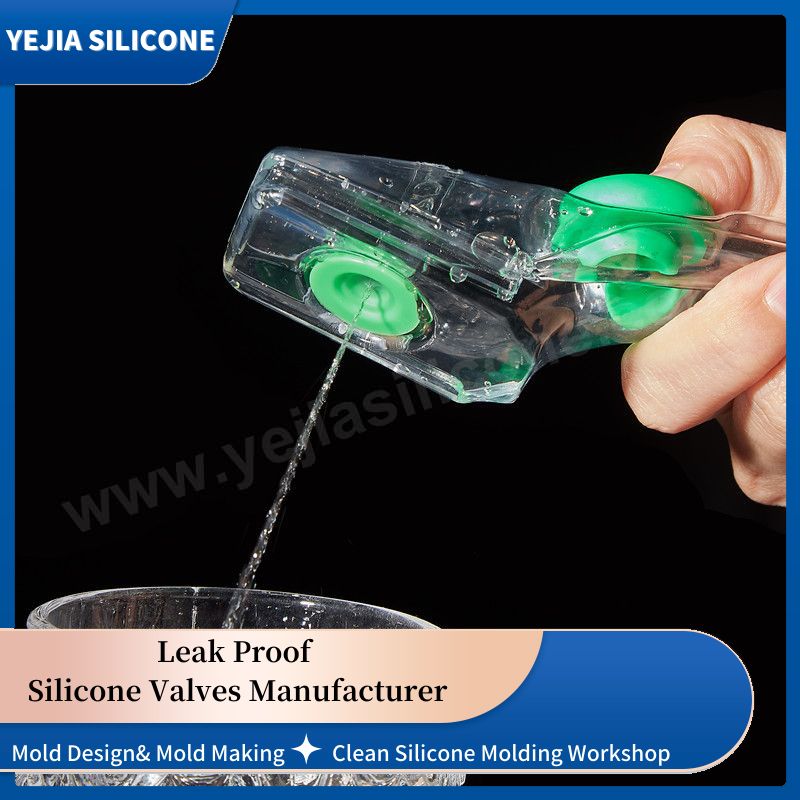 Silicone Check Valve Manufacturer
YEJIA has years of experience in producing custom silicone check valves, including one way check valves, umbrella check valves, duckbill check valves, and more. YEJIA uses only the best materials and adhere to strict quality control procedures to ensure that every valve we produce is of the highest standard. We also work closely with our clients throughout the manufacturing process to ensure that the final product meets their exact specifications. With the automatic punching equipment, we have the capacity to produce millions of valves each year, which makes us to be your ideal partner for businesses that require high volumes of valves on a regular basis. If you're looking for a reliable and experienced silicone check valve manufacturer, YEJIA is an excellent choice.
FAQ
Q: What is silicone check valve?
A: Silicone check valve is a type of valve that allows fluid to flow in only one direction. It is made of silicone material and is commonly used in applications where high purity and bio-compatibility are required.
Q: How do silicone check valves work?
A: Silicone check valves work by allowing fluid to flow in one direction, while preventing backflow. When pressure is applied to the inlet side of the valve, the valve opens and allows fluid to flow through. When pressure is removed, the valve closes and prevents backflow.
Q: Can I get free samples of these silicone check valves?
A: Yes, free samples can be provided, shipping costs to be freight collect.
Q: What shall I provide for customized silicone check valves?
A: Kindly provide us 2D and 3D drawings for evaluation.
Q: What's the lead time for custom silicone check valves?
A: For prototype tool, it's 7-10 working days, for mass production mold, it's 12-15 working days.
Q: Where can I customize silicone check valves?
A: YEJIA offers high-quality products and excellent customized service. If you're looking for custom silicone check valves, welcome to contact us.