Waterproof Plastic Pads
1. Model No.: YJ-149

2. Material: Liquid Silicone+ Plastic

3. Process: Liquid Silicone Rubber Overmolding

4. Feature: Waterproof

5. Hardness: 30 Shore A

6. Mold: In-house Mold Making

7. MOQ: 5,000pcs
Product Description
Liquid Silicone Rubber Overmolding Waterproof Plastic Pads, Silicone Overmolding with Plastic
In today's world, having a reliable internet connection is crucial for both personal and professional purposes. This is why having a home router is a necessity for many households. However, routers are not immune to damage and can be affected by various factors such as water spills or exposure to moisture. This is where waterproof plastic pads come in handy.

Product Information
A waterproof plastic pad is a protective cover made from silicone and plastic materials that is designed to keep your home router safe from water damage. The silicone used in the pad is a high-quality material that is known for its waterproof properties. It is also heat-resistant and can withstand extreme temperatures, making it ideal for use in a home environment. The plastic material used in the pad is also of high quality and is designed to provide additional protection to your router. The pad is processed using liquid silicone rubber overmolding, which is a process that involves injecting liquid silicone rubber into a mold that contains a pre-formed plastic substrate. This process ensures that the silicone adheres to the plastic substrate, creating a strong bond that is highly resistant to wear and tear.






Model No.: YJ-149
Product Name: Waterproof Plastic Pads
Material: Liquid Silicone+ Plastic
Hardness: 50 Shore A

Color: Black, White (Pantone Number)
Feature: Waterproof
Application: Home Router
Process: Liquid Silicone Rubber Overmolding
Waterproof Level: IP67 or IP68

Mold: Customized
Advantages of Waterproof Plastic Pads
Using a waterproof plastic pad for your home router has several advantages.
Firstly, it provides an additional layer of protection against water damage, which can occur due to various reasons such as accidental spills or flooding caused by severe weather conditions. By utilizing a waterproof pad, you can ensure that your router is shielded from such incidents and that it will continue to function properly.
Secondly, a waterproof pad can help extend the lifespan of your router. Over time, exposure to water and other liquids can cause damage to the internal components of your router, leading to malfunctions and other issues. By using a waterproof pad, you can prevent this type of damage from occurring and keep your router working efficiently for a longer period.
Moreover, a waterproof plastic pad can also keep your router clean and free from dust and debris. This is especially important if you reside in an area with high levels of dust or other airborne particles. By keeping your router clean, you can guarantee that it operates at peak efficiency and that you get the best possible performance from it.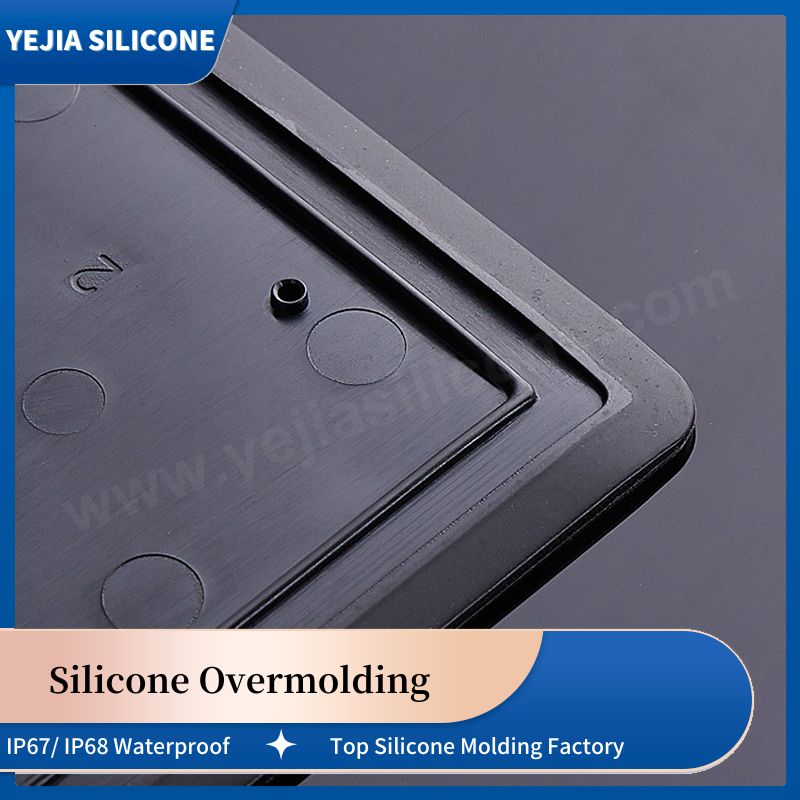 Liquid Silicone Rubber Overmolding Products Manufacturer
As consumers continue to demand products that are both functional and sustainable, liquid silicone rubber overmolding is sure to play an increasingly important role in the manufacturing industry. With its ability to create custom designs, withstand harsh conditions, and be environmentally friendly, it is quickly becoming the go-to choice for customers who are looking to create high-quality, durable products. YEJIA is experienced in liquid silicone rubber overmolding, and our factory has been certified by ISO9001, ISO14001, ISO13485 and IATF16949, with a professional engineering and manufacturing team, we highly welcome liquid silicone rubber overmolding products.
People Also Ask
Q: What is waterproof plastic pad for a home router?
A: Waterproof plastic pad is a protective cover that shields your home router from water damage. It is made of durable plastic and silicone materials that is resistant to water and other liquids.
Q: What are the benefits of using a waterproof plastic pad for a home router?
A: The benefits of using a waterproof plastic pad include protecting your router from water damage, extending the lifespan of your device, and ensuring uninterrupted internet connectivity.