What Is Silicone Overmolding?
To know what is silicone overmolding, we should know what is overmolding at first.
What is overmolding?
Overmolding means to do one more molding on the molded part, it can also be called insert molding or second injection molding.
What is silicone overmolding?
Silicone can be overmolded with other materials to do secondary molding, therefore we name it silicone overmolding. Since silicone can be divided into two forms, solid silicone and liquid silicone, for silicone overmolding, there are two kinds of technics, that is, compression overmolding and LSR injection overmolding.
What materials can be overmoled with silicone?
Due to the temperature limit of silicone overmolding, the overmolding materials should be able to withstand a certain temperature, usually, the materials can be overmolded with silicone are PC, PA, PEI, PPSU, fabric, SUS, steel, iron and so on. Also, if you want to achieved different hardnesses or colors, silicone can also be overmolded with silicone material.

| | | | |
| --- | --- | --- | --- |
| Plastic | Fabric | Metal | Silicone |


Why do you need to do silicone overmolding?

1. Silicone itself plays a sealing role, so to make products to be waterproof or leak-proof. While in assembling or inserting, since silicone is soft, so it needs to be processed in a certain interference, which makes it have to be supported with a hard part.
2. When we do assembly for a product, the more parts to be assembled, the more difficult to improve the capacity and quality stability, esp., for some tiny parts. With silicone overmolding process, it optimizes the assembly processes, and makes it more easier to assemble small parts.
3. Usually, a product with complicated assembly processes, the assembly costs will be much higher. If some parts can be done by silicone overmolding and become a united part, the assembly costs will be lower, also the assembly efficient will be more stable.
What kind of products are suitable to do silicone overmolding?
Silicone overmolding are widely used in various industries, the most common one is consumer electronics, such as connectors, mobile phones, smart watches, etc., as long as there are holes needed to be sealed, which is why we have produced many IP67 or IP68 waterproof silicone overmolded components for mobile phones and outdoore electornics. Nowadays, many products are in pursuit of premium quality, for example, beauty products, by silicone overmolding, the overall effect of the product will be more aesthetically, and easier to clean.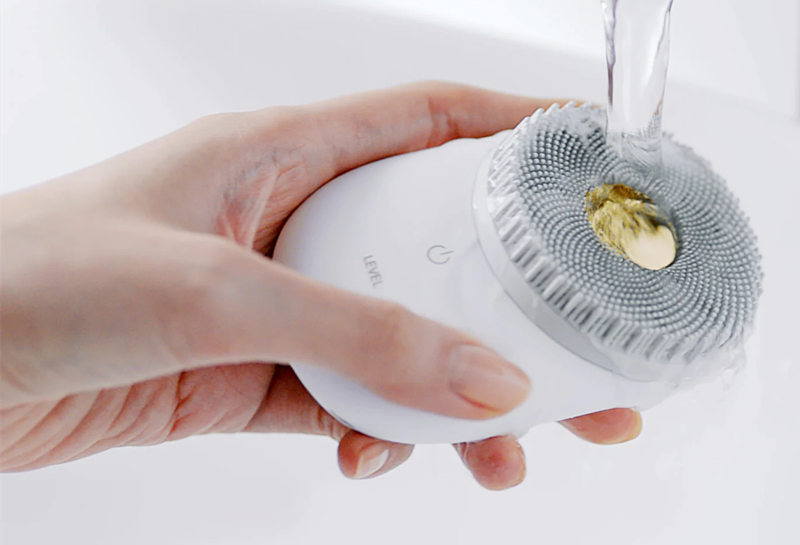 As you may know the physical properties of silicone are very stable, and if it needs to be overmolded with other materials, an adhesive agent is required. What kind of agents shall be choosed, positioning, temperature and injection pressure are also very important while in silicone overmolding, otherwise it will cause various defective products, such as, excessive burrs, lack of silicone material, air bubble, misalignment, etc. Our engineers are familiar with technical know-how of silicone overmolding, and are very familiar with the characteristics of silicone materials, and can precisely control the injection dose, molding pressure and temperature. Here we'd like to introduce some of the silicone overmolding products that we've manufactured.
The SIM card tray holder is made of aluminum, liquid silicone and plastic materials, processed by liquid silicone rubber overmolding injection, the waterproof level reaches to IP68.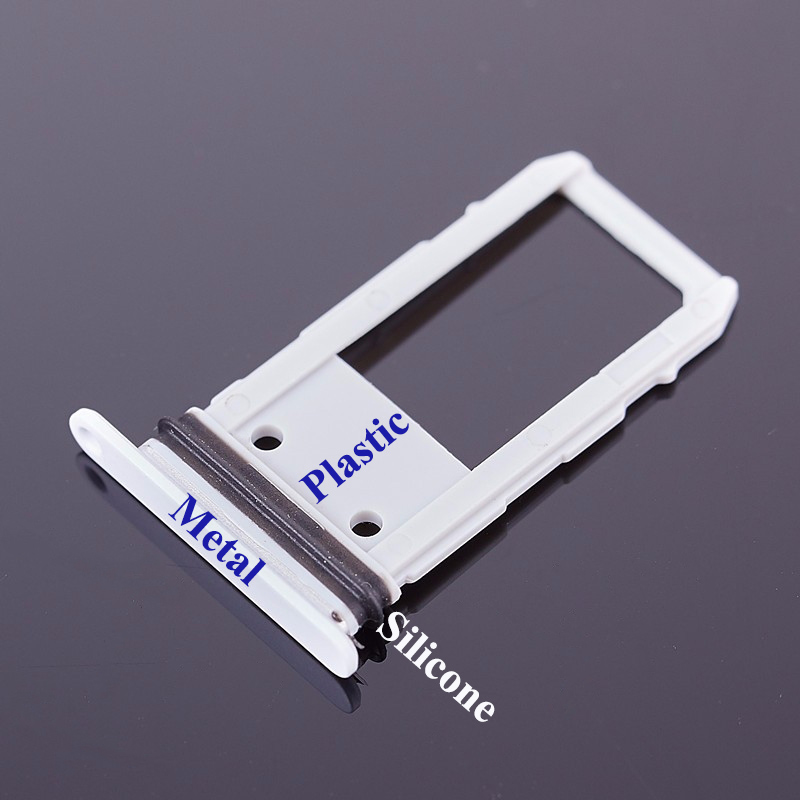 Safety comes first, outdoor monitoring is increasingly popular today, waterproof is a must function for all outdoor monitoring devices. This camera keypad is made of liquid silicone and plastic materials, and it's IP67 waterproof.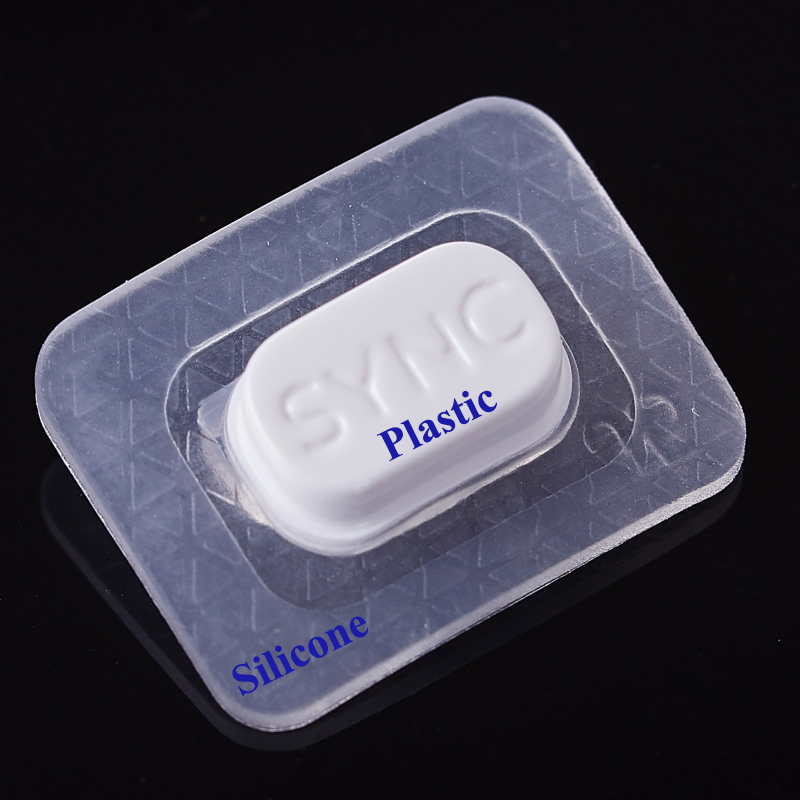 Home beauty products are becoming more and more high-end, and many ultrasonic beauty instruments require a sophisticated appearance. This overmolding plastic holder is made of medical grade liquid silicone and plastic materials, not only it's IP68 waterproof, but also it's requested to be flash free after LSR overmolding injection. If interested, you can check the production process of it.
Scalp Massager Brush for Hair Growth
Made of silicone and stainless steel materials, each stainless steel pin is CNC machined, resulting in large variations in dimensional tolerances that are difficult to position when overmolding, but our professional engineering team solves this problem for our customers and received many compliments.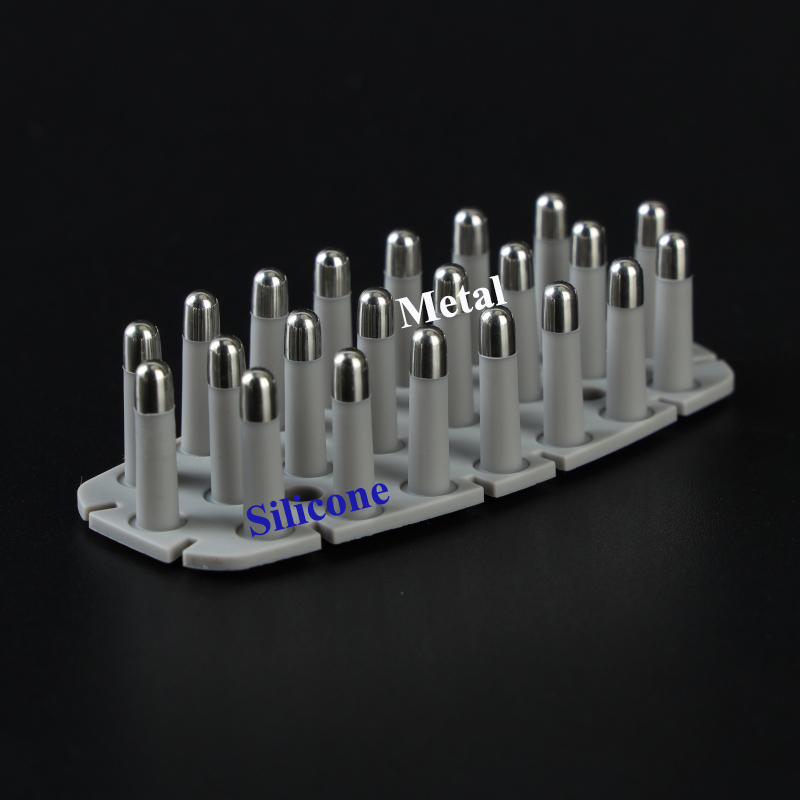 If you're looking for professional silicone overmolding factory, please feel free to contact us. With over 10,000 square meters silicone molding workshops, including class 100,000 clean production workshop, our factory has been certified by ISO9001, ISO14001, ISO13485 and IATF16949 for making custom silicone products.