Insert Molding Silicone Parts Manufacturer
1. Model No.: YJ-145

2. Product Name: Insert Molding Silicone Parts

3. Material: Liquid Silicone+ Plastic

4. Process: Insert Molding

5. Feature: IP68 Waterproof Level

6. Mold: In-house Mold Making
Product Description
IP68 Waterproof Silicone Parts for Mobile Phone| Insert Molding
YEJIA is a highly respected manufacturer of silicone parts, with extensive expertise in silicone molding and insert molding. Our proficiency in overmolding silicone with other materials has enabled us to produce a wide range of waterproof components for electronics. Our commitment to excellence and quality has earned us a reputation as a trusted partner for businesses seeking reliable and top-notch silicone parts. We take pride in our years of experience and remain dedicated to delivering high-quality products that meet the needs of our clients.

Product Information
Our company specializes in insert molding, a manufacturing technique that enables the creation of intricate shapes and designs that are difficult to achieve with other methods. This process involves inserting a preformed metal or plastic component, known as an insert, into a mold cavity before injecting silicone material around it. The end result is a robust and long-lasting part that is both functional and aesthetically pleasing. In addition to insert molding, we also possess expertise in silicone overmolding with other materials, such as plastic and metal. This process involves bonding silicone material to another substrate, resulting in a part that combines the unique properties of both materials. Our team of skilled professionals is committed to delivering high-quality products that meet our clients' specific needs.






Model No.: YJ-145

Product Name: Waterproof Silicone Parts

Material: Liquid Silicone+Plastic

Hardness: 30 Shore A


Color: Pantone Number

Feature: Waterproof

Waterproof Level: IP68

Process: Insert Molding

Certification: ISO9001, ISO14001, ISO13485, IATF16949

Workshop: 10,000 Square Meters Silicone Molding Workshop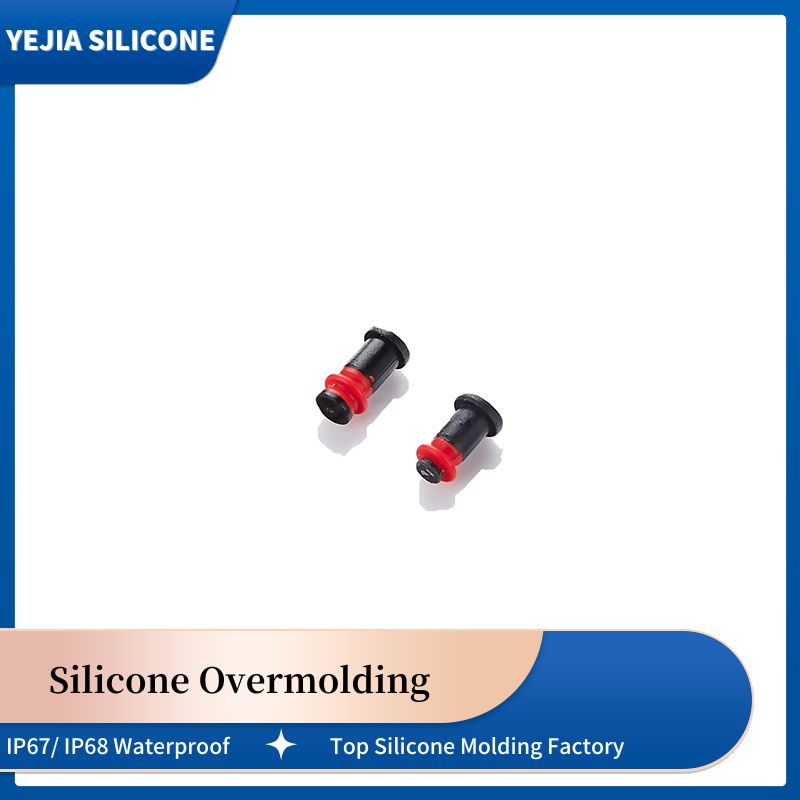 Insert Molding Process
The process of manufacturing insert molded silicone parts involves several stages that require careful attention to detail. The first step is to design the mold, which is typically done using UG or ProE software. During this stage, the shape, size, and complexity of the part being produced are taken into account to ensure that the mold will produce a high-quality product.
Once the mold design is complete, it is moved to mold making and silicone molding or insert molding. The next step is to prepare the insert, which involves cleaning and coating it with a release agent to prevent the silicone material from sticking to it. This is an important step that must be done correctly to ensure the quality of the finished product.
After the insert is prepared, it is placed in the mold cavity, and the silicone material is injected into the cavity under high pressure. This requires precision and expertise to ensure that the material is distributed evenly and that there are no defects in the finished product.
Finally, once the silicone material has cured, the mold is opened, and the finished part is removed. This requires careful handling to avoid any damage to the part and ensure that it meets the required specifications.
Insert Molding Silicone Parts Manufacturer
YEJIA is a reputable manufacturer of insert molding silicone parts. Our commitment to quality is evident in our use of advanced quality control measures to ensure that our products meet the highest standards. We subject each part to rigorous testing, including visual inspection, dimensional measurement, and functional testing, to ensure that it meets the required specifications for its intended use.
One of our areas of expertise is in producing waterproof components for electronics. We understand the importance of creating parts that can withstand exposure to water and other liquids without compromising performance or safety. From gaskets for mobile devices to seals for underwater cameras, YEJIA has the knowledge and experience to create parts that meet the highest standards of quality and reliability.
If you are in need of a reliable silicone parts manufacturer with experience in insert molding, we invite you to contact us. Our team is dedicated to providing exceptional service and delivering products that exceed your expectations.
People Also Ask
Q: What is insert molding?
A: Insert molding is a manufacturing process that involves the injection of silicone material into a pre-formed mold or cavity that contains a pre-placed insert. The insert can be a metal component, a plastic part, or any other material that is used to enhance the functionality or aesthetics of the final product.