Silicone Wristband
1. Model No.: YJ-75

2. Material: High quality food grade silicone

3. Process: Compression overmolding

4. Feature: Soft and BPA free 2-color silicone wristbands

5. Workshop: 100,000 class clean production workshop

6. Certification: ISO13485, ISO14001, ISO9001 and IATF16949

7. Mold: Customized

8. MOQ: 3,000pcs
Product Description
Get Durable and Customizable Overmolded Silicone Wristbands from Top Silicone Overmolding Factory
Silicone wristbands have become a popular choice for companies, organizations, and individuals looking to promote a message or cause. However, it is crucial to note that not all silicone wristbands are created equal. Compression overmolding is a processing technique that results in a superior quality product with two distinct hardness levels and two colors. This method ensures that the wristband is durable and can withstand wear and tear. Additionally, the two-color feature allows for customization and branding opportunities. Therefore, it is highly recommended to opt for silicone wristbands processed through compression overmolding for a high-quality and long-lasting product.

Product Information
Silicone wristbands are an excellent choice for those who prefer eco-friendly materials. Made from high-quality silicone material, these wristbands are known for their flexibility and strength, making them perfect for everyday use. Besides, they are resistant to water and heat, making them suitable for use in various environments, including harsh weather conditions. The manufacturing process involves compression overmolding, where a pre-formed silicone rubber substrate is placed into a mold cavity. The mold is then closed, and the substrate is compressed to the desired shape and size, allowing precise control over the hardness of the final product.






Model No.: YJ-75
Product Name: Silicone Wristband
Process: Compression Overmolding
Material: Silicone+ Silicone
Hardness: 50 Shore A
Color: Black+ Blue (Pantone Number)
Mold: Customized
Size: As 2D& 3D Drawings
Surface Texture: Matt
MOQ: 3,000pcs

Compression overmolding presents an opportunity to optimize the manufacturing of silicone wristbands. By utilizing this technique, wristbands can be produced with two distinct hardness levels. This feature provides the wearer with enhanced comfort and durability. The ability to use two different colors in the same wristband is also a significant benefit of compression overmolding. This allows for the creation of unique designs, such as wristbands with different colors on each side or multi-colored designs.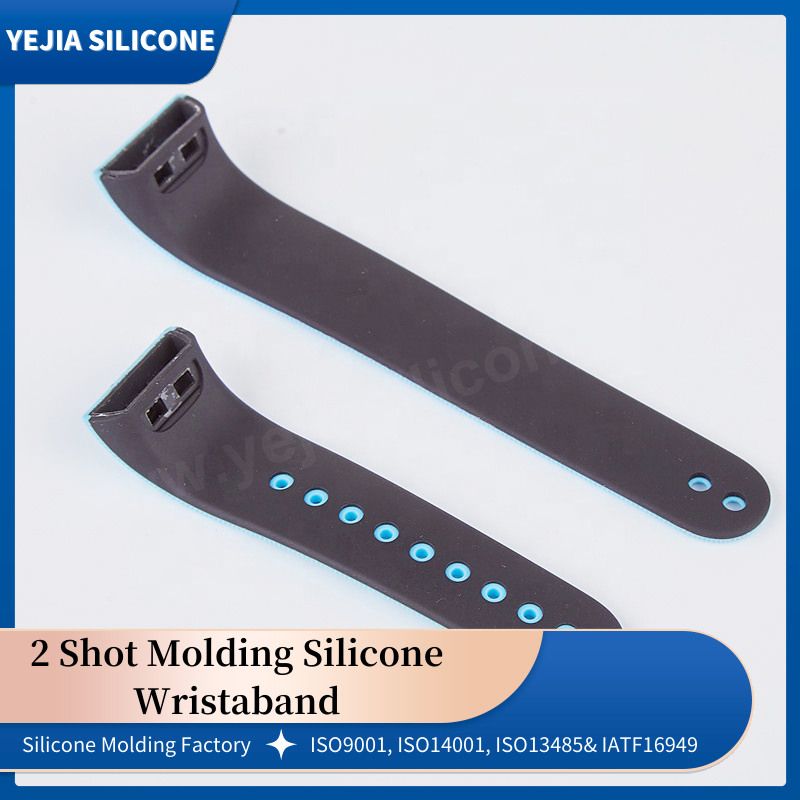 Silicone Wristbands Manufacturer
YEJIA is a highly specialized manufacturer of custom silicone wristbands with extensive experience in compression overmolding. Our silicone wristbands, processed using compression overmolding, offer a superior quality product with exceptional flexibility and durability. With the ability to create two different hardness levels and two different colors in the same wristband, they are an ideal choice for promoting a cause or brand. If you are seeking a premium quality silicone wristband manufacturer, we invite you to contact us to discuss your needs further. Our team of experts is dedicated to delivering the highest level of customer satisfaction and quality products to all our clients.
People Also Ask
Q: What are silicone wristbands made of?
A: Silicone wristbands are made of a flexible, durable, and hypoallergenic material called silicone.
Q: Are silicone wristbands safe to wear?
A: Yes, silicone wristbands are safe to wear. They are non-toxic and hypoallergenic, making them suitable for people with sensitive skin.
Q: Can I customize my silicone wristbands?
A: Yes, you can customize your silicone wristbands with your own design, logo, message, or color.
Q: What are the benefits of compression overmolding silicone wristbands?
A:Compression overmolding allows for a more durable and long-lasting wristband. The process also allows for more intricate designs and the ability to add different textures to the wristband.
Q: Are there any limitations to the design of a compression overmolded silicone wristband?
A: While there are limitations to the size and shape of the mold used in the process, there are many design options available to create a unique and eye-catching wristband.