Silicone Dispensing Valves
1. Model No.: YJ-27

2. Product Name: Silicone Dispensing Valve


3. Material: FDA and NSF Approved Silicone Material

4. Application: Fast Food Sauces Dispensing

5. Certification: ISO9001, ISO14001, IATF16949& ISO13485


6. Advantage: Experienced silicone molding supplier in China

7. MOQ: 30,000pcs
Product Description
Silicone Dispensing Valves for Inverted Squeeze Bottles, Silicone One Way Valves Manufacturer
Silicone dispensing valves have emerged as a popular choice in the food industry, owing to their ability to dispense multiple doses with a single squeeze. The multi-dose silicone dispensing valve enables users to dispense the exact amount of material required without the risk of over-dispensing or under-dispensing. This can help reduce waste and increase efficiency in food production processes. These valves are made of FDA and NSF approved food safe silicone, ensuring their safety for use in food applications. Additionally, these valves are easy to clean and maintain, making them ideal for use in busy food production environments.

Product Information
The compression molding process utilized in the manufacturing of these large-sized valves ensures consistent dimensions and high-quality output. The cross-slit cut design of the silicone dispensing valve enables precise control over the dispensing process, making it effortless to dispense the required amount of product. Additionally, these leak-proof silicone dispensing valves are highly durable and wear-resistant, making them an excellent choice for use in high-volume food production applications where they may be frequently used and handled. Overall, these silicone dispensing valves provide an efficient and reliable solution for dispensing products with accuracy and consistency.






Model No.: YJ-27
Product Name: Silicone Dispensing Valve
Material: Eco-friendly FDA& NSF Approved Silicone
Hardness: 40 Shore A
Color: Transparent
Slit Cut Type: Cross Slit
Slit Size: 3*3mm
Dose/ Squeeze: 3 doses, 4 doses
Process: Compression Molding
Application: Inverted Squeeze Bottles
Silicone Dispensing Valve Manufacturer
When choosing a silicone dispensing valve manufacturer, it is essential to consider several factors. One of the key factors is the experience in compression molding. A manufacturer with extensive experience in compression molding can ensure that their silicone dispensing valves are made with precision dimensions and consistent wall thickness, resulting in fast assembly and a good dispensing experience.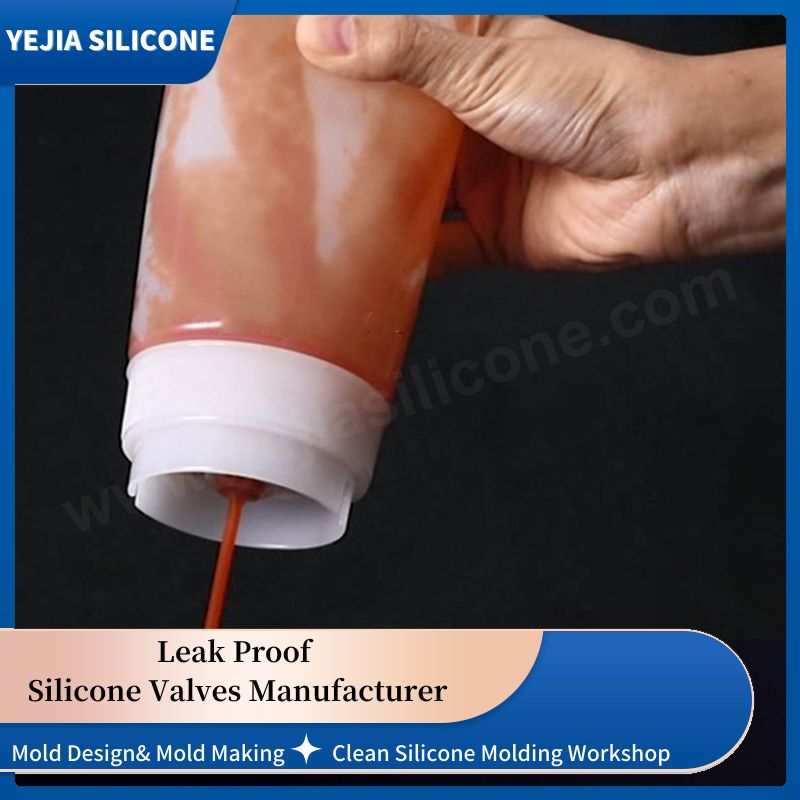 Another critical consideration is leak-proof testing. Silicone dispensing valves must be able to prevent leaks to ensure that they function correctly and do not compromise the safety of end-users. A qualified silicone dispensing valve manufacturer should have rigorous leak-proof testing procedures in place to ensure that their products meet the highest standards of quality and reliability.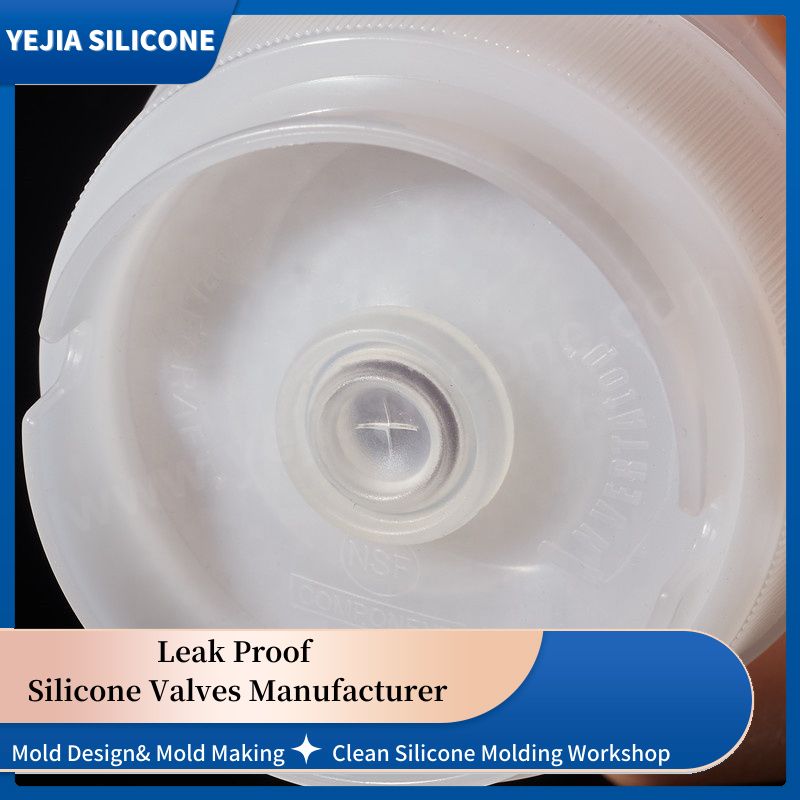 In addition to leak-proof testing, flow rate testing capabilities are also essential. Flow rate testing measures the rate at which a liquid or gas flows through the silicone dispensing valve. This is critical in determining whether the valve is performing as expected. With advanced flow rate testing equipment, YEJIA can ensure that our silicone dispensing valves are functioning correctly and can make any necessary adjustments to improve their performance.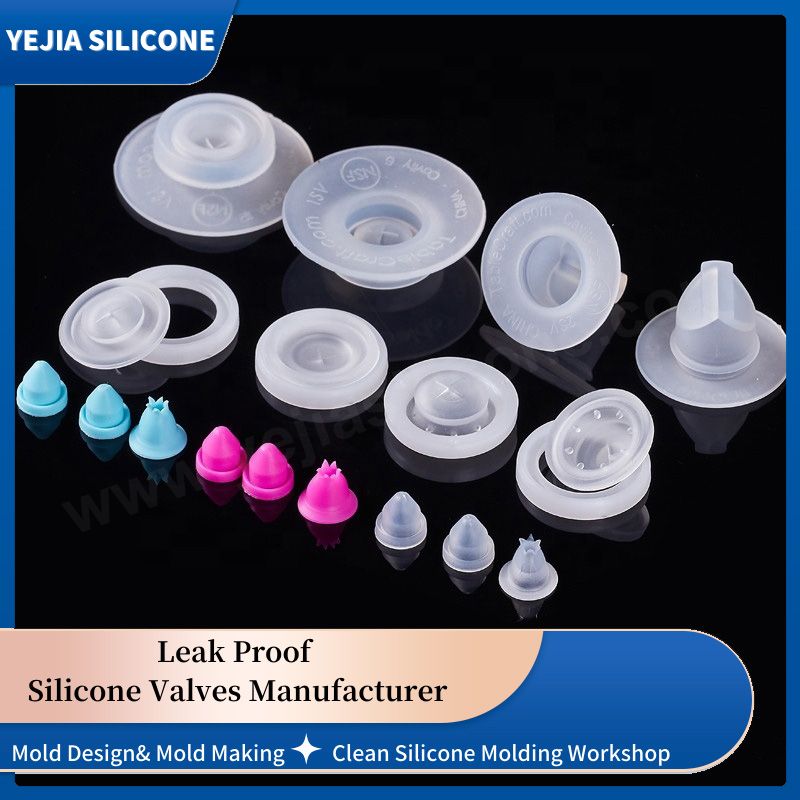 YEJIA has manufactured high-precision silicone valves for over a decade, with fluent experience in silicone molding. We can assist customers in conducting leak-proof tests and flow rate tests. We highly welcome custom silicone dispensing valves and ensure that our products meet the highest standards of quality and reliability.
FAQ
Q: What is silicone dispensing valve?
A: Silicone dispensing valve is a device that controls the flow of liquids in various applications. It is designed to dispense liquids under a certain pressure.
Q: How do silicone dispensing valves work?
A: Silicone dispensing valves work by controlling the flow of liquids through the slit cuts. They use the flexibility of the silicone material to dispense liquids accurately and consistently.
Q: What factors should be considered when selecting a silicone dispensing valve?
A: When selecting a silicone dispensing valve, factors such as material viscosity, flow rate, pressure, accuracy, and repeatability should be considered.
Q: Can silicone dispensing valves be customized?
A: Yes, silicone dispensing valves can be customized to meet specific application requirements. Customization options include material compatibility, flow rate, pressure range, and valve size and shape. Welcome to contact YEJIA for customized silicone dispensing valves.