8mm One Way Rubber Valve
1. Model No.: YJ-22

2. Product Name: One Way Rubber Valve


3. Material: Eco-friendly FDA Food Safe Silicone

4. Slit Type: Asterisk

5. Advantage: Leak Proof Test, Dispensing Angle Test, Flow Rate Test

6. MOQ: 50,000pcs
Product Description
Get Smooth and Precise Eye Cream Dispensing with One Way Rubber Valves
One way rubber valve has excellent sealing properties and durability. This one way rubber valve allows for precise and controlled dispensing of eye cream, ensuring that the right amount is delivered every time. Using the one way rubber valve for eye cream dispensing is simple and easy. The user simply presses the dispenser, and the valve opens to release a precise amount of cream. The valve then immediately closes, preventing any excess cream from escaping. This ensures that the user gets the right amount of product every time, without any waste or mess.

Product Information
The one way rubber valve is made of high-quality silicone material that can withstand repeated use and exposure to various cosmetic ingredients. It is designed to prevent air from entering the container, which can cause contamination and degradation of the product. This ensures that the eye cream remains fresh and effective for longer periods of time.






Model No.: YJ-22
Product Name: One Way Rubber Valve
Material: FDA Food Safe Silicone
Hardness: 30 Shore A
Color: Clear, Blue, Pink (Pantone Number)
Outer Diameter: 8mm
Slit Type: 3mm
Slit Size: Asterisk Slit
Process: Compression Molding
Application: Eye Cream, Lotion, etc.
The one way rubber valve also prevents the cream from leaking or spilling, which can be a common problem with traditional dispensers. This not only saves product but also prevents mess and waste. The one way rubber valve also helps to reduce the risk of bacterial growth, which can lead to eye infections and other skin irritations. With a one way rubber valve, the liquid can only flow in one direction, preventing backflow and ensuring that the system operates smoothly.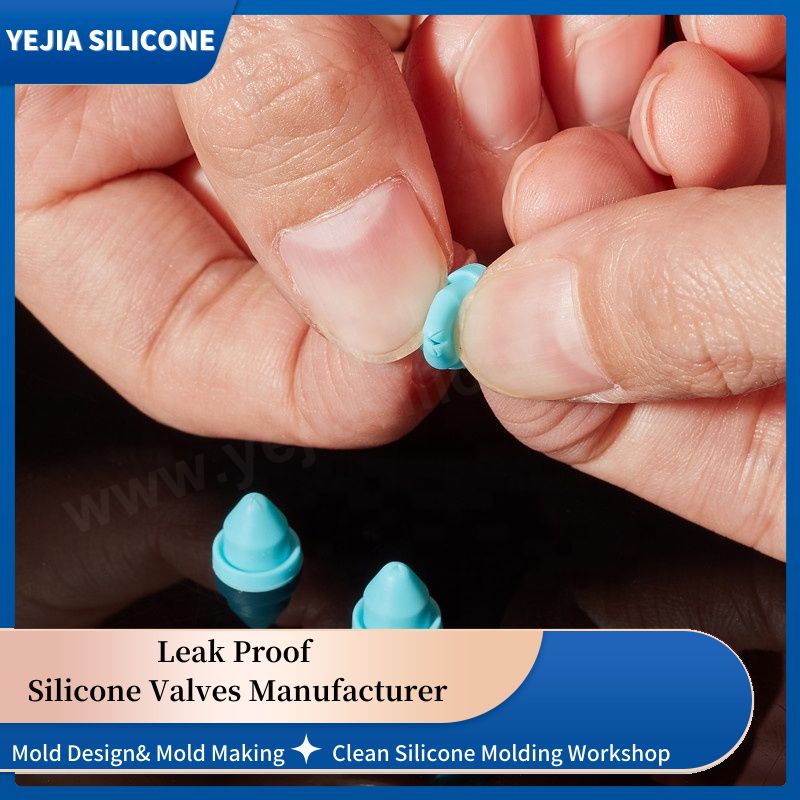 One Way Rubber Valve Manufacturer
YEJIA is experienced in silicone molding and custom slit cuts. Silicone molding is a process that allows for the creation of silicone valves with unique shapes and sizes. This is particularly useful in situations where standard silicone valves are not suitable for the liquid being handled. Regarding to the capability for custom silt cuts, it's important because different liquids have different viscosities and flow rates, and as such, require valves with specific characteristics. By customizing the slit cuts, we can ensure that the one way rubber valves are optimized for the specific liquid customers are intended to handle. This results in a more efficient liquid handling system that minimizes waste and reduces the risk of contamination.
FAQ
Q: What are one way rubber valves?
A: One way rubber valves are devices that allow fluid or gas to flow in one direction only. They are made of silicone rubber material and designed to prevent backflow or contamination.
Q: What are the applications of one way rubber valves?
A: One way rubber valves are used in various applications, including medical devices, food and beverage, personal care, etc.
Q: How do one way rubber valves work?
A: One way rubber valves work by allowing fluid or gas to flow in one direction only. They use a flap or membrane to close off the valve and prevent backflow.
Q: Can one way rubber valves be customized?
A: Yes, one way rubber valves can be customized to meet specific requirements in terms of size, shape, and material.
Q: Where can I customize one way rubber valves?
A: YEJIA manufactures high quality silicone valves, with precision mold design and mold making team, and over 10,000 sqm production workshop, we highly welcome custom one way rubber valves.