In-ear Silicone Buds
1. Model No.: YJ-73

2. Material: High quality eco-friendly silicone

3. Process: Heat Press Molding

4. Feature: Noise free, no-toxic in-ear silicone buds

5. Mold: Customized

6. Workshop: Over 10,000 sqm silicone molding workshops


7. MOQ: 3,000pcs
Product Description
Custom In-ear Silicone Buds for Superior Sound Quality and Comfort- Silicone Molding Factory
In-ear silicone buds are a popular choice for many people who enjoy listening to music or other audio content on the go. These small, flexible earbuds are made from eco-friendly silicone, making them safe and comfortable to wear for extended periods of time. They are also durable and easy to clean, making them a great investment for anyone who wants a reliable and long-lasting pair of earbuds.

Product Information
These silicone buds are made of silicone material, which is an excellent material for in-ear buds because it is soft, flexible, and resistant to moisture. This means that the buds can be worn for extended periods without causing discomfort or irritation. Furthermore, silicone is a non-toxic material that is safe for use in consumer products. The silicone material helps to isolate external noise, which means that users can enjoy their audio content without interference from their surroundings. Additionally, these silicone buds are designed to fit snugly in the ear canal, which helps to enhance bass response and overall sound quality.






Model No.: YJ-73
Product Name: Silicone Buds
Material: Eco-friendly Silicone
Process: Heat Press Molding
Hardness: 40 Shore A

Application: Earphone
Feature: Noise Free, Easy to Clean
Size: XS
Silicone buds are processed using a heat press molding technique. The heat press molding process used to manufacture in-ear silicone buds involves heating the silicone material to a high temperature and then pressing it into a mold. This process ensures that the buds are uniform in shape and size, which is important for achieving a comfortable fit and consistent sound quality.
Silicone Buds Advantages
Silicone buds are a popular choice for those seeking a comfortable and high-quality listening experience. Here are some of the advantages of these silicone buds.
- Noise Cancellation
Silicone buds can effectively block out external noise. This makes them ideal for use in noisy environments, such as when travelling or working in a busy office. By reducing stress and improving concentration, silicone buds can help you to fully immerse yourself in your music or podcast.
- Anti-allergy
Unlike traditional earbuds, which are often made from hard plastic or metal, silicone buds are hypoallergenic and gentle on the skin. This means that they are less likely to cause irritation or discomfort, even when worn for long periods of time.
- Versatility
Silicone buds are also highly versatile, with a range of sizes and styles to suit different activities. Whether you're working out, commuting, or just relaxing at home, there is a pair of silicone buds that will meet your needs.
- Good Sound Quality
Silicone buds are comparable to other types of earbuds. They offer clear, crisp audio and a decent amount of bass, making them suitable for most types of music. However, if you're a serious audiophile, you may prefer to invest in a more high-end pair of earbuds.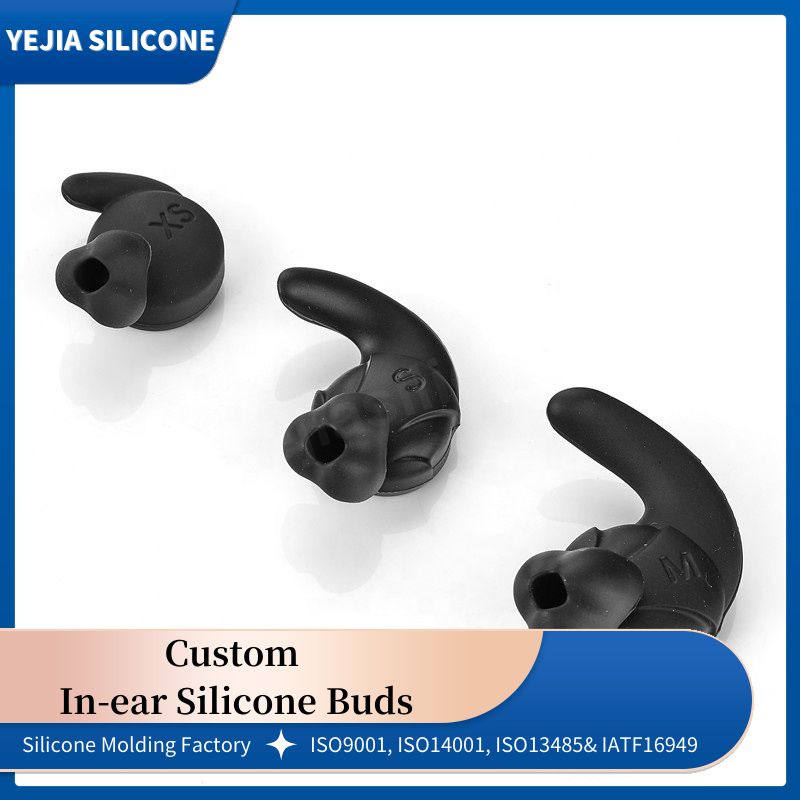 Silicone Buds Manufacturer
At YEJIA, we are experienced in high precision silicone molding technology and have developed many successful acoustics projects. Our heat press molding process ensures that our silicone buds are uniform in shape and size, while the silicone material provides excellent comfort and sound isolation. If you're looking for premium quality silicone buds, please don't hesitate to contact us.
People Also Ask
Q: What are in-ear silicone buds?
A: In-ear silicone buds are a type of earbud that fits snugly into your ear canal. They are designed to provide a secure and comfortable fit while blocking out external noise.
Q: What are the benefits of using in-ear silicone buds?
A: In-ear silicone buds offer several benefits, including improved sound quality, noise isolation, and a comfortable fit. They are also more discreet than over-ear headphones and are easier to carry around.
Q: How do I know if my in-ear silicone buds are the right size for me?
A: Your in-ear silicone buds should feel comfortable and secure without causing any discomfort or pain. If they feel too loose or too tight, try adjusting the ear tips or trying a different size.