BBQ Silicone Basting Brush
1. Model No.: YJ-126

2. Material: NSF, FDA& LFGB food grade approved

3. Applicaton: Perfect suitable for squeeze bottles and inverted bottles

4. Feature: Dishwasher safe and easy to clean

5. Mold: Customized

6. MOQ: 3,000pcs
Product Description
Custom Best Silicone Basting Brush, Compression Molding Factory
Silicone basting brushes have become an essential tool in the kitchen for cooking enthusiasts and professionals alike. They are durable, easy to clean, and offer a wide range of benefits over traditional basting brushes. YEJIA has recently produced a custom BBQ silicone basting brush that is designed to fit perfectly with an inverted squeeze bottle. This innovative design allows you to easily apply your favorite marinade or sauce to your meats without any mess or fuss.






Model No.: YJ-126
Product Name: Silicone Basting Brush
Material: Eco-friendly FDA& LFGB Food Safe Silicone
Process: Compression Molding
Hardness: 50 Shore A

Application: BBQ Squeeze Bottles or Inverted Bottles
Feature: One Squeeze, One Dispensing, Leak Proof
Temperature Resistant: -40 to 150 ℃
Factors to Consider for Custom Silicone Basting Brushes
Silicone basting brushes are an essential tool for any cook or chef, and customizing them to meet your specific needs is a great way to enhance their functionality and usability. If you are a designer or engineer looking to custom silicone basting brushes, there are a few things you need to consider.
Silicone is the preferred material for basting brushes due to its heat resistance, flexibility, and non-stick properties. It is also non-toxic and safe for use with food, making it an ideal choice for kitchen utensils. When selecting silicone for your basting brush, it is important to choose a high-quality material that is FDA-approved and food-grade.
The design of silicone basting brush should be functional and ergonomic, allowing for easy use and control. The shape and size of the brush head should be designed to fit the contours of the food being basted, ensuring that the sauce or marinade is evenly distributed. The handle should be comfortable to hold and easy to grip, reducing the risk of slipping or dropping the brush during use.
Silicone bristles are available in different shapes and sizes, depending on the intended use of the brush. For example, flat bristles are ideal for spreading marinades and sauces, while round bristles are better suited for basting meat and poultry. The length and density of the bristles should also be considered, as this will affect how much sauce or marinade is picked up by the brush.
It is important to work with a reputable manufacturer when customizing silicone basting brushes. A good manufacturer will work closely with you to ensure that your design specifications are met, and will provide you with a product that meets your exact requirements. And if you want a basting brush that is custom-made to your specifications, look no further than Yejia, a leading manufacturer of custom silicone products.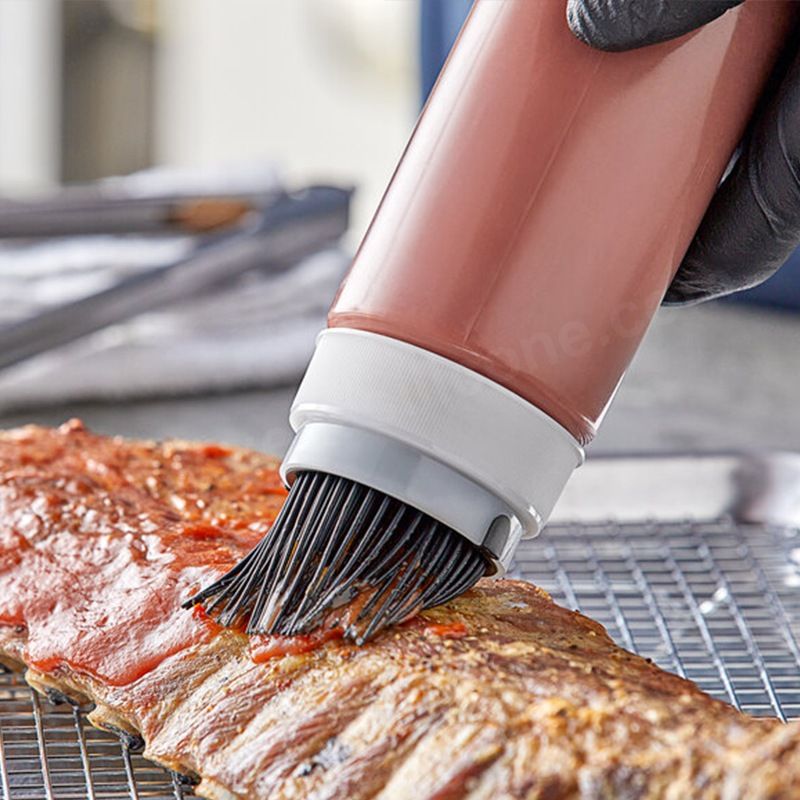 Why Choose YEJIA as Your Supplier for Custom Silicone Basting Brush?
- Experience:
YEJIA has been in the silicone products manufacturing business for many years, and has built up a wealth of experience and expertise. We know how to create high-quality custom silicone products that meet the needs of yours.
- Customization:
YEJIA specializes in creating custom silicone products, which means we can tailor silicone products to meet your exact specifications. Whether you need a certain size, shape, or color, YEJIA can deliver.
- Quality:
YEJIA uses only the highest-quality and branded silicone materials in custom silicone products, ensuring that they are durable, long-lasting, and safe to use.
- Competitive pricing:
Despite the high level of expertise and quality, YEJIA offers competitive pricing on all custom silicone products. This means you can get the custom silicone basting brush you need without breaking the bank.
So if you're in the market for a custom silicone basting brush, YEJIA is the perfect choice for all your silicone product needs.

People Also Ask
Q: What is a silicone basting brush for squeeze bottle?
A: It is a kitchen tool that attaches to a squeeze bottle and is used to apply sauces, oils, or marinades to food.
Q: Is the brush head detachable?
A: Yes, the silicone basting brushes for squeeze bottles have detachable brush heads for easy cleaning and replacement.
Q: Can it be used for hot liquids?
A: Yes, silicone basting brushes are heat-resistant and can be used for hot liquids.
Q: Is it safe for food?
A: Yes, silicone is a food-grade material and is safe for use with food
Q: Can I use it for baking?
A: Yes, silicone basting brushes can be used for applying egg washes, butter, or oil to baked goods.
Q: How long does it last?
A: With proper care and cleaning, a silicone basting brush can last for several years.