Custom Silicone Buttons
1. Model No.: YJ-117

2. Material: FDA& LFGB food grade silicone

3. Hardness: 70 Shore A


4. Process: Compression molding

5. Feature: Matt finish and no stick custom silicone buttons

6. MOQ: 3,000pcs
Product Description
Custom Silicone Buttons Manufacturer-Your One-Stop Solution for High-Quality Silicone Buttons
Silicone buttons are a popular choice for a wide range of applications, from consumer electronics to medical devices. With their tactile feel, durability, and resistance to extreme temperatures and harsh environments, silicone buttons are an excellent choice for any product that requires reliable and intuitive user input.

Product Information
Custom silicone buttons are made from eco-friendly silicone material, and they are highly durable and can withstand repeated use without cracking or breaking, and are easy to clean and maintain, which helps to prevent contamination and ensures product safety. Custom silicone buttons can provide tactile feedback when pressed, which makes them ideal for use in applications where the user needs to know that the button has been pressed. However, not all silicone buttons are created equal. To get the best results for your product, you need to work with a supplier that can provide custom solutions tailored to your specific needs. YEJIA, as a leading supplier of custom silicone buttons, is the best choice for your project.






Model No.: YJ-117
Product Name: Custom Silicone Buttons
Material: Eco-friendly Silicone
Process: Compression Molding
Hardness: 70 Shore A

Size: As 3D Drawing
Finish: Matt
Temperature Resistant: -40 to 150 ℃
Compression Molding Custom Silicone Buttons Manufacturer- YEJIA
YEJIA can provide customized solutions for every customer. Whether you need a specific shape, size, color, or texture for your silicone buttons, YEJIA can deliver the exact specifications you require. Our experienced engineers and designers can work closely with you to create a custom silicone button that meets your unique requirements. They can provide 3D modeling and prototyping services to ensure that the final product will meet your expectations before mass production.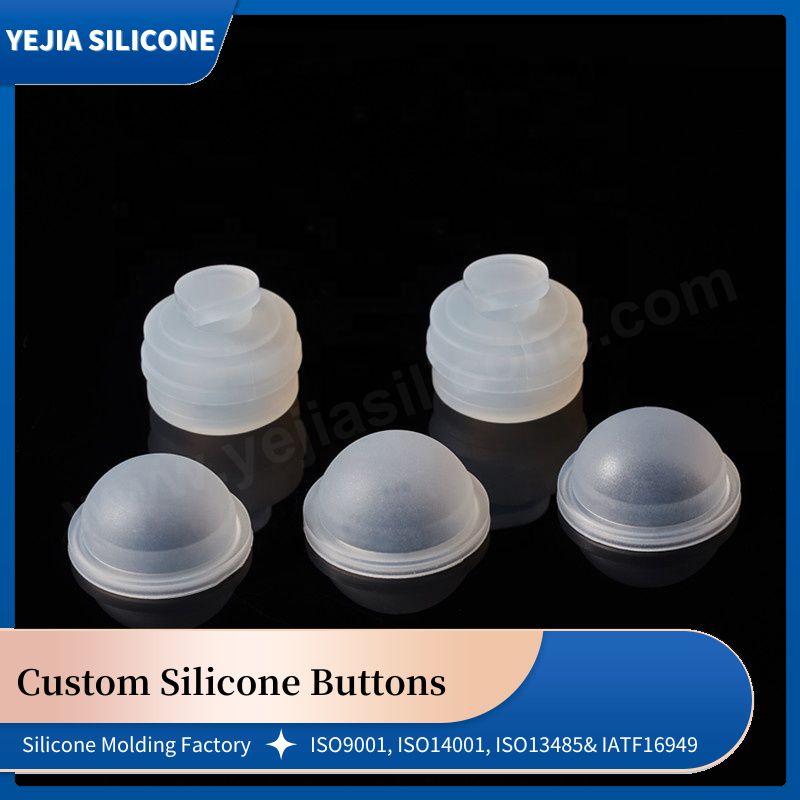 With a streamlined manufacturing process that allows us to produce custom silicone buttons quickly and efficiently, and our quality control procedures ensure that every product is thoroughly tested before shipment. With advanced testing equipment and techniques to check for factors such as button actuation force, contact resistance, and lifespan, this ensures that our products are consistent and reliable, and that we will meet your expectations every time. We offer competitive pricing for custom silicone buttons, we also offer flexible order quantities, so you can order as many or as few buttons as you need.

If you are looking for a reliable supplier of custom silicone buttons, which should be with high-quality, competitive pricing, fast delivery and excellent customer service, contact us today to learn more. Get started on your custom silicone button project.

People Also Ask
Q: How do I choose the right type of silicone for my custom rubber buttons?
A: The right type of silicone depends on your specific application requirements. A reputable manufacturer can help you choose the right type of silicone based on factors like temperature range, chemical resistance, and durability.
Q: What industries commonly use custom silicone buttons?
A: Custom silicone buttons are used in a wide range of industries, including medical, automotive, industrial, and consumer products.
Q: Are custom silicone buttons waterproof?
A: Yes, silicone is waterproof and resistant to moisture and humidity.
Q: What is the lead time for manufacturing custom silicone buttons?
A: The lead time can vary depending on the complexity of the design and the quantity ordered, but it's typically around 2-3 weeks.
Q: What is the minimum order quantity for custom silicone buttons?
A: The minimum order quantity for custom silicone buttons can vary depending on the manufacturer, but it's usually around 3000pcs.
Q: Can you add a logo or text to custom silicone buttons?
A: Yes, logos and text can be added to custom silicone buttons using silk-screen printing, pad printing or laser engraving techniques.