33mm Squeeze Bottle Valve
1. Model No.: YJ-07

2. Product Name: Squeeze Bottle Valve


3. Material: Food grade solid silicone, FDA& NSF certified

4. Appication: For thin/thick sauces dispensing

5. Feature: One squeeze, one dispensing, no leakage

6. MOQ: 30,000pcs
Product Description
No Leaking Squeeze Bottle Valve for Ketchup Dispensing, One Way Silicone Valve Manufacturer
Squeeze bottle valve is a great investment for any food service establishment that requires fast and efficient sauce dispensing. Whether you are running a busy fast food restaurant or a catering business, this valve can help you save time and money while ensuring that your customers receive the best possible service. With its high-quality construction and reliable performance, the squeeze bottle valve is an essential tool for any modern food service operation.

Product Information
Made from FDA and NSF food grade silicone, this squeeze bottle valve is processed by compression molding to ensure its durability and reliability. It is designed specifically for dispensing fast food sauces, such as ketchup, mayonnaise and BBQ sauces, quickly and easily. One of the key features of the squeeze bottle valve is its leak-proof design. With just one squeeze, the valve dispenses the perfect amount of sauce without any leakage, making it an ideal choice for busy kitchens and food service environments. This innovative squeeze bottle valve is also easy to clean and maintain, ensuring that it remains hygienic and safe for use with food products.






Model No.: YJ-07
Product Name: Squeeze Bottle Valve
Material: FDA& NSF Approved Food Safe Silicone
Outer Diameter: 33mm
Slit Type: Cross Slit
Slit Size: 5*5mm
Hardness: 40 Shore A
Process: Compression Molding
Color: Clear
Usage: Thin/Thick Sauces (Ketchup, Mayonnaise, Honey, Syrup, Salad sauces, BBQ Sauces, etc.)
Squeeze bottle valve is a must-have tool for fast food restaurants and other food service establishments. Whether you are dispensing ketchup, mayonnaise, or BBQ sauces, the squeeze bottle valve is the perfect tool for the job.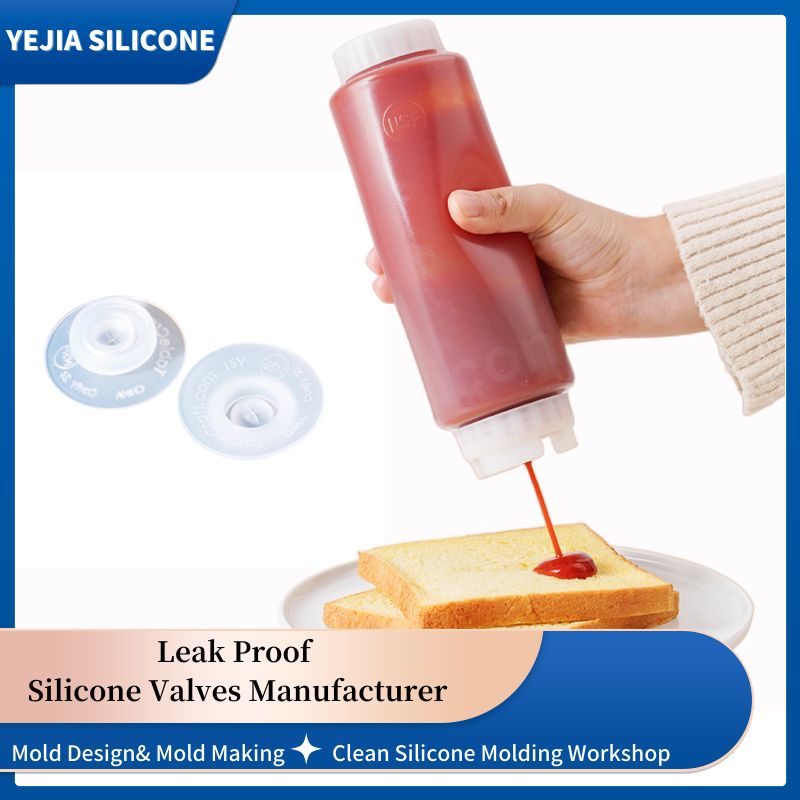 Inverted Squeeze Bottle Valve Manufacturer
Manufacturers of squeeze bottle valves for fast food dispensing equipment must prioritize mold precision, compression molding experience, and leak-proof testing to produce high-quality silicone valves that are safe, efficient, and reliable. The valve's snug fit into the bottle's opening is crucial to prevent leakage and ensure smooth condiment flow. Any deviation in the mold can result in a poorly fitting valve that will cause problems during dispensing. Leak-proof testing is vital to ensure that the squeeze bottle valve works correctly, preventing unsanitary conditions, wasted product, and unhappy customers. YEJIA is an experienced silicone molding manufacturer for food-grade squeeze bottle valves with in-house precision mold design and mold making capabilities. We highly welcome custom squeeze bottle valve orders and guarantee exceptional quality and reliability.
FAQ
Q: What is squeeze bottle valve?
A: Squeeze bottle valve is a small silicone rubber piece that sits inside the cap of a inverted plastic bottle. It controls the flow of the liquids and prevents leakage.
Q: How does a squeeze bottle valve work?
A: The valve works by creating a seal between the bottle and the cap. When pressure is applied to the bottle, the valve opens and allows the liquids to flow out. When pressure is released, the valve closes to prevent leakage.
Q: Can squeeze bottle valves be reused?
A: Squeeze bottle valves can be reused if they are still in good condition. However, it's important to make sure they are thoroughly cleaned before reuse.
Q: Can squeeze bottle valves be used with thick products?
A: Yes, some squeeze bottle valves are designed to work with thicker products like ketchup or mayonnaise. These valves typically have larger openings or special designs to accommodate thicker consistencies.
Q: Can squeeze bottle valves be customized?
A: Yes, YEJIA offers custom squeeze bottle valves with different flow rates or designs. This can be useful for products that require precise dispensing or have unique packaging requirements.