Apr. 17, 2023
Ultimate Guide for LSR Molding Silicon Lens
In this article, we'll introduce to you what is silicon lens, the applications, advantages, mold processing, raw material costs and other information related to silicon lens. If you want to know more about LSR molding silicon lens, you can contact us.
1. What is Silicon Lens?
Silicon lens is a kind of high-transmission optical lens that made of optical silicone material instead of traditional glass PC or PMMA, to achieve reflection and refraction of light. The silicone material is injection molded liquid optical silicone, which is different from encapsulated silicone material.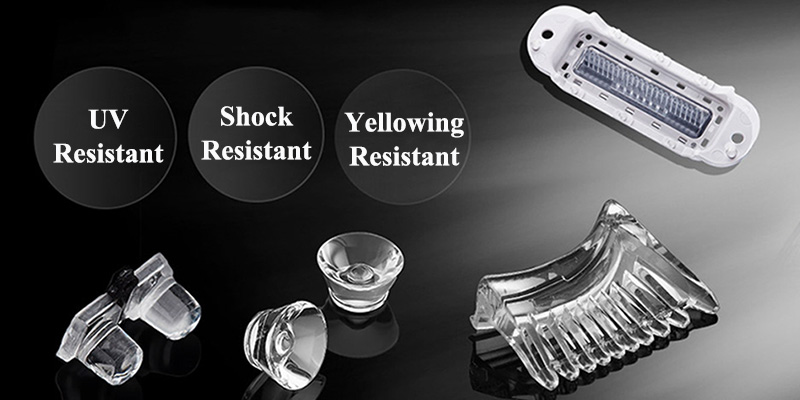 2. What are the raw materials of optical silicone?
There are imported materials, such as, Dow Corning( MS4002, 84A, for automotive industry) and MS1002 (74A, for LED lighting), Momentive (LSR7180 series), Wacker (LR 7601 series), and domestic material, like Doneson ( DSA7000 series).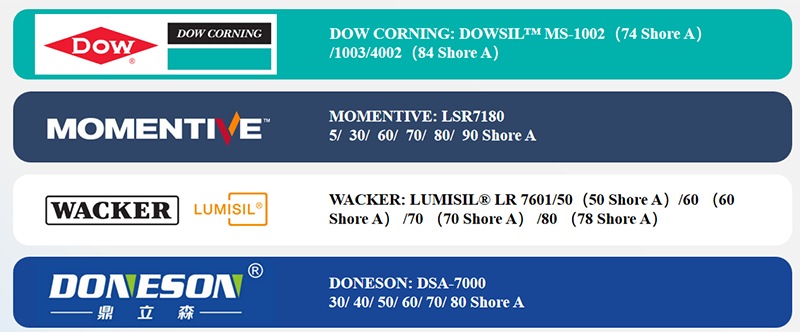 3. What is the current market price for silicone lens raw materials, i.e, optical silicone?
For imported optical liquid silicone, the price is about USD38~USD55/KG, while the optical liquid silicone that made in China is about USD23~USD27.5/KG.
4. What about the properties of silicon lens?
1. Light transmittance: 94%, higher than plastic optical lenses

2. Temperature resistance: -40 to 200℃ (LED use temperature, generally 80 Celsius degrees for TVs, 150 Celsius degrees for headlights)

3. Good resistance to yellowing: 3000 hours double 85 ageing test, no changing

4. UV resistance: PMMA cracks under UV light, while silicon lens is anti-Ultra Violet lights

5. Self-sealing and waterproof design: silicon lens can be designed with waterproof silicone ring for integral design

6. Low density: optical silicone density is around 1.05 to 1.08, the weight is lighter than PMMA and glass, the lightweight design can reduce energy consumption

7. Explosion proof and shock resistant: optical silicon lens is flexible and soft

8. High fluidity: silicone has better molding fluidity than plastic, with same gate, under same pressure and temperature, silicone flows faster than plastic, which makes optical lens achieve the sharp corners, sharp angles and other angular designs.
Optical Property

Dow Corning

MS4002

Momentive

LSR7180

Wacker

LR7601/80

Doneson

DSA-7180

PC
PMMA
Glass
Light Transmittance (%)

94

94

94

94

86-89
89-92
92
Refractive Index

1.41

1.41

1.41

1.41

1.59
1.49
1.5-1.6
ABBE

48

50

50

49-51

34
57
35-59
Yellowing Index

-

<1

-

-

1-3
1-3
-
Temperature Resistance

-40~200℃

-40~200℃

-40~200℃

-40~200℃

-40~120℃
-40~90℃
-40~200℃
※Above values are testing data offered by material suppliers, for reference only.
5. What are the specific scenarios in which silicone lenses are used?
1. Automotive ADB high beam headlights

2. Indoor and outdoor LED lighting (Grow lights, Street lights, Tunnel lights, Mining lights, Stadium lights, Harbour lights, High power LED lights, Explosion proof& impact resistant first aid lights, high temperature resistant lights, UV resistant lights, etc.)

3. Mini LED Backlight lens (LED screen, HUD, TV, etc.)

6. In which industries or products are silicone lenses not suitable for use?
1. Since silicon lens is soft, can be deformed easily, which needs support parts, therefore silicone lens is not suitable for products with high requirements of profile.

2. Silicone lenses are mainly used in light guiding and light transmitting, due to the flexibility, it's not suitable for imaging lenses as well.
7. What are the advantages of silicon lenses?
i: Complex structures, undercut design for demoulding

ii: High temperature resistant (The temperature inside the lamp is about 150 Celsius degrees)

iii: High light transmittance to 94%

iv: Yellowing resistant
i: High temperature resistant

ii: Yellowing resistant

iii: Lighter in weight than glass

iv: Waterproof, self-sealing ring design

v: The optical silicone material is low static and does not absorb much dust, the silicone lens can be used directly, no need plastic or glass cover.
i: Can be produced in smaller sizes (PMMA not possible)

ii: High temperature resistant
8. What are the assembly options for silicone lenses?
1. By assembling (Structural Positioning): Positioning bracket + Silicon lens + Positioning cover.

2. By assembling (Hot-melting): Silicon lens+ Fixed bracket (Fixed by jigs).

3. By over-molding: Make the plastic part at first, then place it into the LSR mold to be overmolded with silicon lens.
9. How to inspect the product quality of silicon lens?
1. Surface Roughness (Since silicon lens is soft, the surface finish can be inspected by non-contact measuring instrument, for now, the light in area of silicon lens, we can make the surface finish reaches to RA0.02, which equals to RZ0.2.)

2. Air Bubbles (Can be inspected by using 50 times magnified CCD instrument)

3. Light Performance, including light type, luminance value, etc. (Can be inspected by EVERFINE Goniophotometer)

4. Other Tests (Such as, UV Resistant Test, High and Low Temperature Test, RoHs and so on)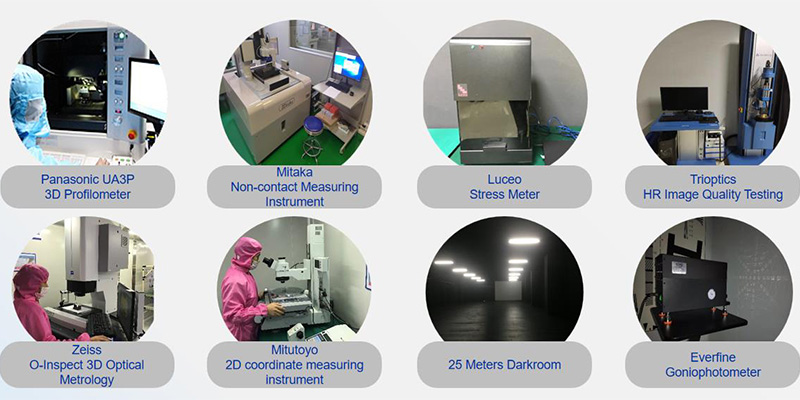 10. How can I tell if an optical lens material is silicone?
Mainly by feeling the softness of the product with your hands, or after burning with fire, there is no irritating smell and the residue will be white powder. If it's plastic material, it gets melting and has a pungent smell.
11. Why is the mold cost of silicone lens so expensive?
1. The fluidity of silicone is better than plastic, and the processing precision of the mold is almost 2 levels higher than the precision plastic injection mold.

2. The products need high transparency, therefore the requirements for surface polishing is higher. High precision LSR injection mold processing is 2 levels higher than plastic injection mold processing. The precision size of plastic injection mold is 0.01mm, at same size, for LSR injection molding, it'll be 2-5um,the precision is 5 times higher.
12. What's the mold processing process of silicone lens?
The mold processing processes are all basically the same as follows:
Mold design - Mold material ordering - Drilling - Grinding - CNC rough machining - Heat treatment - CNC finishing - Wire cutting - EDM -Polishing - Mould Assembly - Assembly - T0 (Trial Molding)
The main difference is the polishing process, Yejia adopts ultra-high speed CNC processing, the processing is already very even after completion, only need to use polishing cotton for a short time polishing.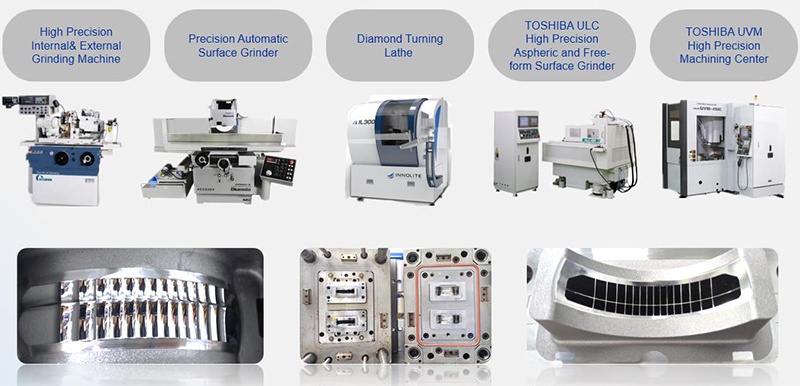 13. What are the factors, other than dimensions, that determine whether a silicone lens can be processed?
At present, the largest size of light guide silicon lens that Yejia can do is 400*550mm. The smallest size is 4mm diameter silicon lens, 4mm lens is mainly used for mini LED (minimum size for plastic lens is 6mm diameter). In addition to dimensions, there are structural requirements, assembly requirements, we'll require 3D for analysis.
14. For silicone lens production, what's the different between horizontal LSR injection molding machine and vertical LSR injection molding machine?

1. Vertical LSR injection molding machine is more suitable for larger and heavier parts, as it's easier for silicone material to flow.

2. Horizontal LSR injection molding machine is more suitable for precision parts, because the equipment is more accurate in controlling the amount of material injection.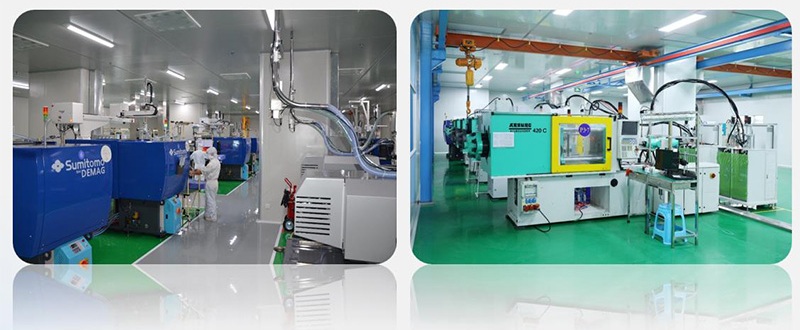 Till now, there are only 3-4 manufacturers of LSR injection molding optical silicone lenses in China, but Yejia has an advanced level of production precision, mould design, mould manufacturing and processing and silicone product manufacturing capabilities in the production of liquid injection molded silicone lenses.For customized silicone lenses, Yejia Silicone is your best supplier in China.