Negative Pressure Ball
1. Model No.: YJ-64

2. Material: ISO10993 certified medical grade silicone with biocompatilicity testing report

3. Product Name: Medical silicone negative pressure ball

4. Advantage: ISO13485& ISO9001 Certificated silicone molding factory

5. Workshop: Class 100,000 clean silicone molding production workshop

6. Mold: Customized

7. MOQ: 10,000pcs

Product Description
Compression Molded Silicone Negative Pressure Ball, ISO13485 Medical Silicone Negative Pressure Ball Factory
The necessary qualifications for the production of medical silicone negative pressure ball are must have ISO13485 system certification, 100,000 clean dust free workshop and must use corresponding medical grade materials, Yejia Silicone has produced premium quality and high precision silicone molding products for over two decades, we've set up over 10,000 square meters silicone molding workshop for custom silicone products, various class 100,000 clean workshop, if you're looking for customized negative pressure ball, welcome to contact us.
Product Specification
The negative pressure ball is made of ISO10993 certified medical grade solid silicone raw material, processed by compression molded in100,000 class clean production workshop. The requirements of this medical silicone negative pressure ball should be transparent or translucent, and the surface should be smooth and clean, no obvious ripples, no silica gel, no pitting and no mechanical damage. With over 10 years experiences in compression molding and LSR injection molding, we highly welcome custom silicone negative pressure balls.
Model No.
YJ-64
Product Name
Negative Pressure Ball
Material
Medical Solid Silicone
Color
Original Clear
Hardness
50 Shore A
Length
77.5mm (Customized)
Process
Materials Preparing- Compression Molding- Deflashing- Post Curing- Inspection-Packaging- Warehouse- Shipping
Application
Surgery Operation
MOQ
5000pcs
Packaging
100pcs/ Bag, 2 Bags/ Carton

Carton Size: 41*31*30CM

G.W.: 4.5KGS
The medical silicone negative pressure ball is designed to prevent and reduce postoperative infections and to allow smooth flow of various drainage fluids. The negative pressure ball is disposable, this kind of device can help drainage, mainly used in the surgical process and post-operative or other wounds generated by the fluid, gas, thick blood suction and drainage or human tissue or body cavity accumulation of pus, blood, body fluids to guide outside the body. Welcome custom negative pressure balls.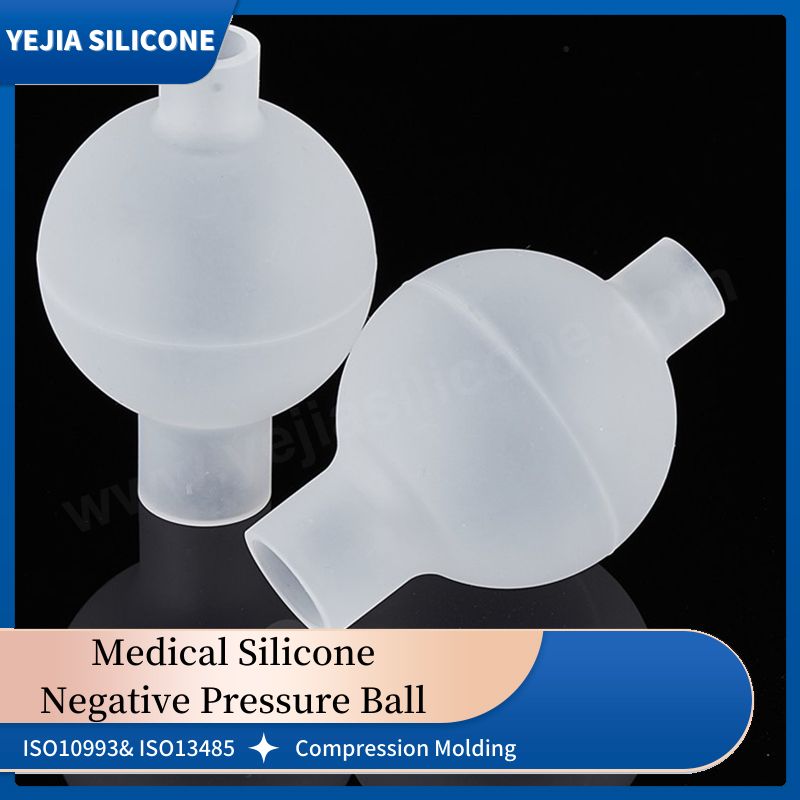 Silicone Negative Pressure Ball Production Process
In the production of mixing, if raw materials are not mixing evenly, it will lead to medical negative pressure ball with white dots or white lines, then another is the environment, if there are static electricity or hairs in the air, dots or hairs will be easy attached to the product. our factory has taken efficient measures to solve these problems, firstly, increase the time of mixing raw materials more than once to ensure that the raw materials are fully mixed evenly before production, then, add a humidifier in the production environment, which can reduce the electrostatic lint in the environment, therefore keeps the product clean and smooth. The production processed are as follows:
Materials Mixing- Compression Molding- Deflahsing- Post Curing- Cutting- Inspection- Packaging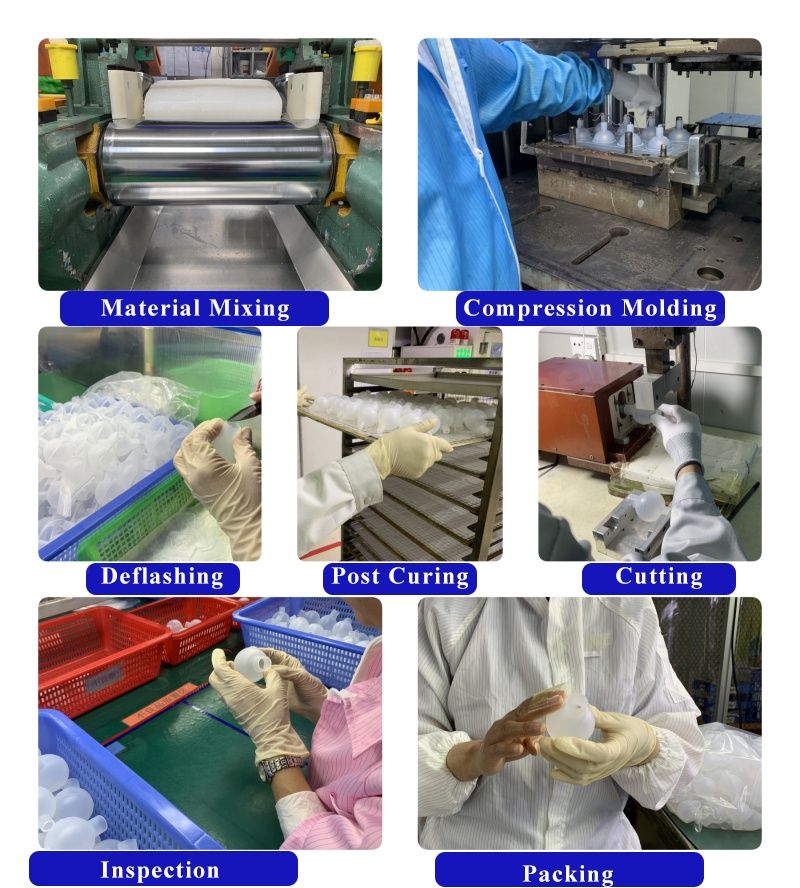 Our Advantage
Yejia Silicone is founded in 2009, for over a decade, we mainly focus on R&D and production for silicone molding products, including the technics of compression molding, LSR injection molding and silicone overmolding. For now, we have been certified by ISO9001, ISO13485, IATF16949& ISO14001. To meet the requirements of different products, we have set up different workshops for different products, such as, class 100,000 clean optical production workshops for silicon lens, silicone valves and medical silicone components. We've supplied many custom silicone products to Fortune 500 enterprises.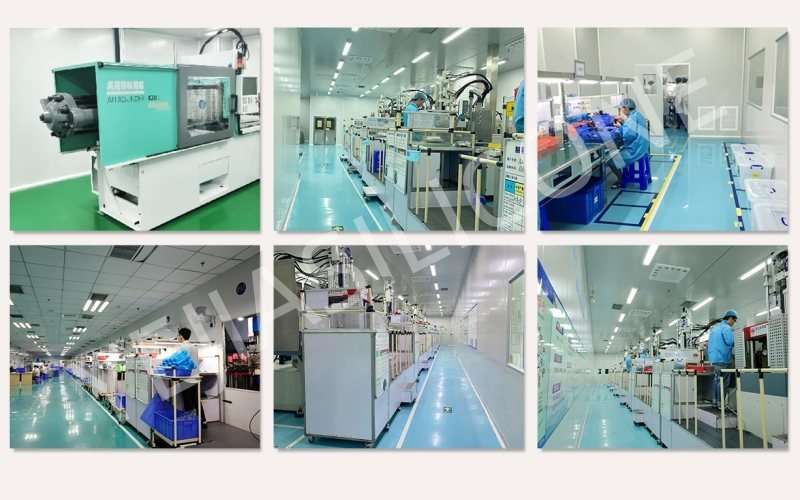 Quality Control
With completed testing instruments and qualified quality control persons, we've received many compliments from customers all over the world. Not only because we're supplying quality products, but also the quality is very stable. For custom medical silicone negative pressure balls, welcome to contact us.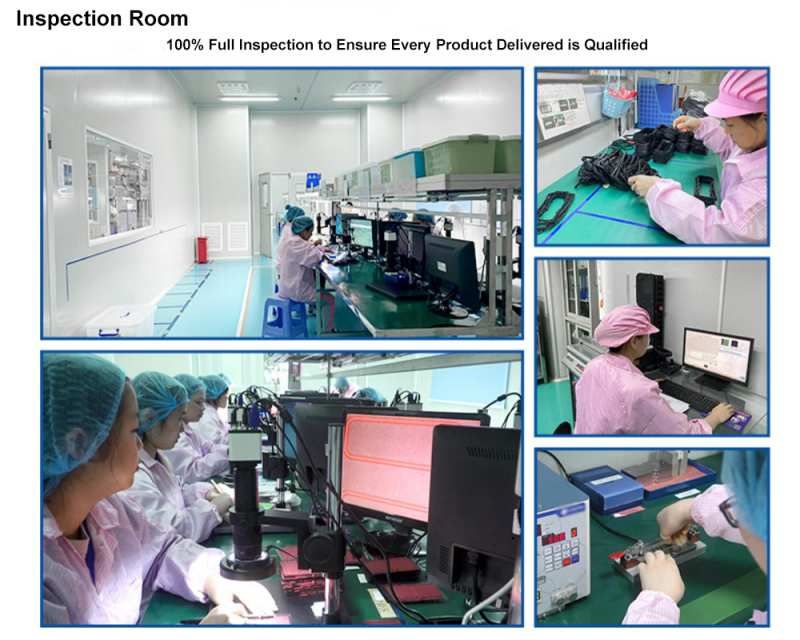 FAQ
Can I get samples?
Yes, free samples can be provided, shipping costs to be freight collect.
Can I use the mold of the medical silicone negative pressure ball?
No, we regret this product is customized, if needed, please develop your own production mold.
Can I specify the medial silicone material supplier?
Yes, if you prefer the specified material model, kindly offer us the material information. We can change the material accordingly.
Can I customize the color?
Yes, colors can be customized per Pantone number.
What shall I offer to start a custom medical silicone negative pressure ball?
For custom negative pressure balls, please offer us the 3D drawing or real samples, we'll be able to evaluate for you.
Can I visit your factory?
Yes, highly welcome to visit us, contact us to arrange the visiting.