Aug. 21, 2020
Silicone Watch Band Top Manufacturer in China
Smart watches are the latest trend in smart wearable technology. Not only do they provide the basic functions of time display and countdown, but they also help us understand our physiological data during exercise and assist us in achieving the best exercise status. With the market becoming more diverse in terms of style and function, smart watches are now used to better understand our physical conditions in our daily lives. One of the critical components of a watch is the watchband. The watchband is responsible for holding the watch in place on your wrist, and it also adds to the overall aesthetic appeal of the timepiece. Silicone watch bands are becoming increasingly popular, and for good reason.
YEJIA specializes in the customization and design of silicone watch bands. As a long-term supplier of the world's top 500 enterprises, we have a strong development ability and a first-class production environment and scale in the industry, which can meet all of our customer's customized demands. Our silicone watch bands are made of eco-friendly food-safe silicone raw materials, making them non-toxic, tasteless, flexible, easy to clean, and have passed the human skin allergy test.
The silicone watch band is processed by compression overmolding, and with over 10 years of experience in producing silicone products, we are experts in LSR molding and LSR overmolding. Our cooperation with the brand Finland watch has resulted in many excellent functions that are widely appreciated in Europe, the United States, Southeast Asia, and Hong Kong.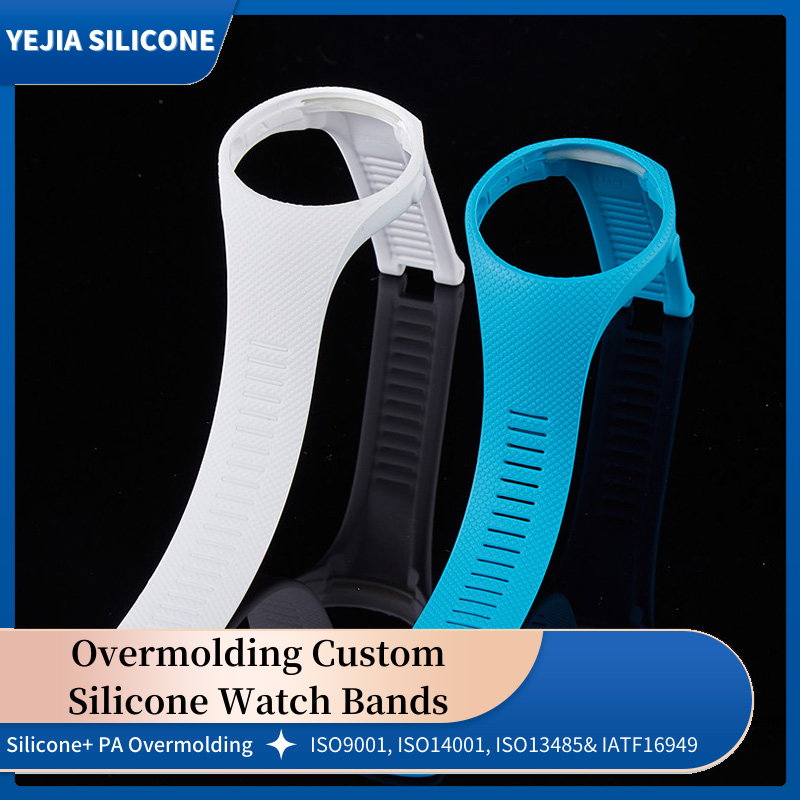 We take pride in our company's certifications, having passed ISO9001, ISO14001, ISO13485, and IATF16949 system certification. We have also obtained national high-tech enterprise certification and more than 10 invention patents. Our company has become a precision technology manufacturer in the silicone manufacturing industry.
At YEJIA, we strive to be your ideal partner in the field of customized silicone parts. We take great care in producing high-quality silicone watch straps that are not only aesthetically pleasing but also functional and durable. Our team is dedicated to providing excellent customer service and ensuring complete customer satisfaction.
Smart watches have become an essential part of our daily lives, providing us with valuable information about our physical health and helping us achieve our fitness goals. Silicone watch bands are an excellent choice for anyone looking for a durable, comfortable, and affordable watchband. They are versatile and easy to maintain, making them a popular choice among watch enthusiasts. Whether you're into outdoor activities or prefer a more casual look, a silicone watch band is a must-have accessory. YEJIA is committed to providing our customers with the highest quality silicone watch bands that are both fashionable and functional. Contact us today to learn more about our products and services!