16.5mm Bottle Cap Valve
1. Model No.: YJ-05

2. Material: FDA& LFGB Liquid Silicone Rubber

3. Process: Liquid Silicone Rubber Injection Molding

4. Punching: Automatic Punching Productione Lines

5. Outer Diameter: 16.5mm


6. Daily Capacity: 200,000pcs/ Day

7. Applications: Honey, Syrup, Ketchup, Mayonnaise& Thick Sauces
Product Description
No Spill LSR Injection Molding Bottle Cap Valve, Leak Proof Bottle Cap Valves Manufacturer
Bottle cap valve is a game-changer for those who love to use squeeze bottles. It is a versatile product that can be used for dispensing ketchup, mayonnaise, mustard, sauces, water, sports drinks, and many other liquids. If you're looking for a simple and effective solution to control the flow of liquids in your bottles, then a bottle cap valve might be just what you need. These innovative valves are designed to fit onto the top of your bottles, allowing you to easily regulate the amount of liquid that comes out.
Product Information
The bottle cap valve is made of high-quality liquid silicone, processed by liquid silicone rubber injection molding, which makes it durable and long-lasting. The bottle cap valve fits perfectly on most squeeze bottles, it is designed to prevent leaks and spills, which means that you can use it without worrying about spills or messes. Whether you're using a bottle for cooking oils, cleaning solutions, or other liquids, a valve can help to keep the contents inside the bottle where they belong. This can save you time and money on cleaning up messes, and it can also help to prevent accidents from occurring.






Item No.: YJ-05
Item Name: Bottle Cap Valve
Material: Eco-friendly Food Grade Liquid Silicone
Hardness: 30 Shore A
Outer Diameter: 16.5mm
Cross Slit Size: 3*3mm/ 5*5mm/ 6.5*6.5mm/ 7.8*7.8mm
Process: Liquid Silicone Rubber Injection Molding
Product Feature: No Spill, Leak Proof
Certification: FDA, LFGB, ROHS, ISO9001, ISO14001, ISO13485

Product Viscosities: Body Lotion, Sun Cream, Ketchup, Honey, Mayonnaise, Syrup, Sauces and other liquids
Bottle cap valves can help to extend the shelf life of your liquids. By controlling the flow of liquid, you can minimize exposure to air and other contaminants, which can help to keep your liquids fresh for longer. This is particularly important for products that are sensitive to oxidation or other forms of degradation.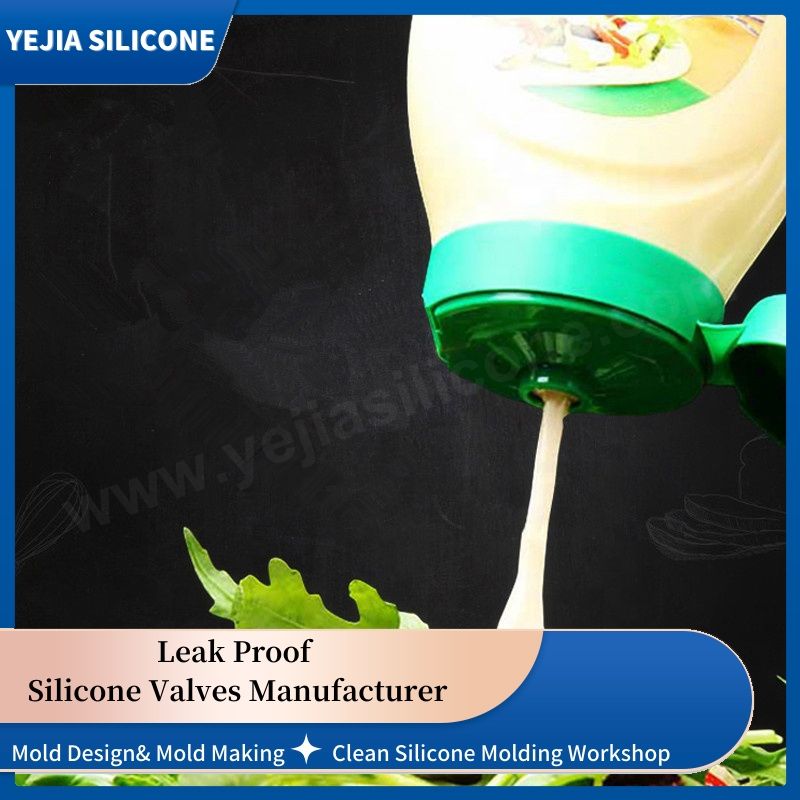 Bottle cap valves are easy to install and use, and they can be used with a wide range of different bottles and liquids. Whether you're looking for a way to dispense condiments at a picnic or you need a way to control the flow of paint in your workshop, a bottle cap valve can help.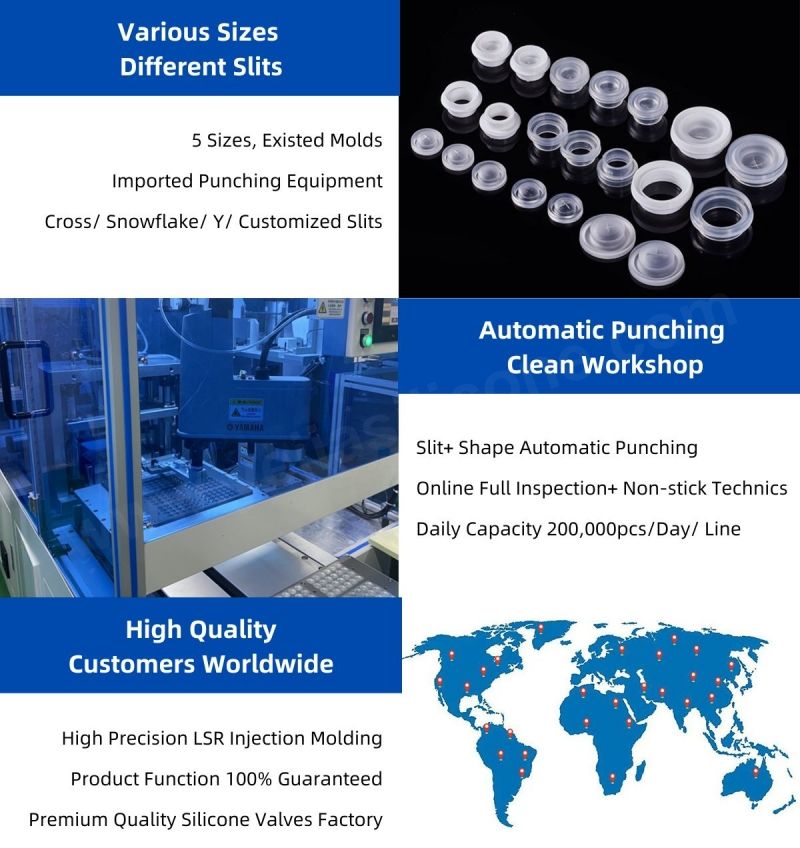 Bottle Cap Valve 2D Drawing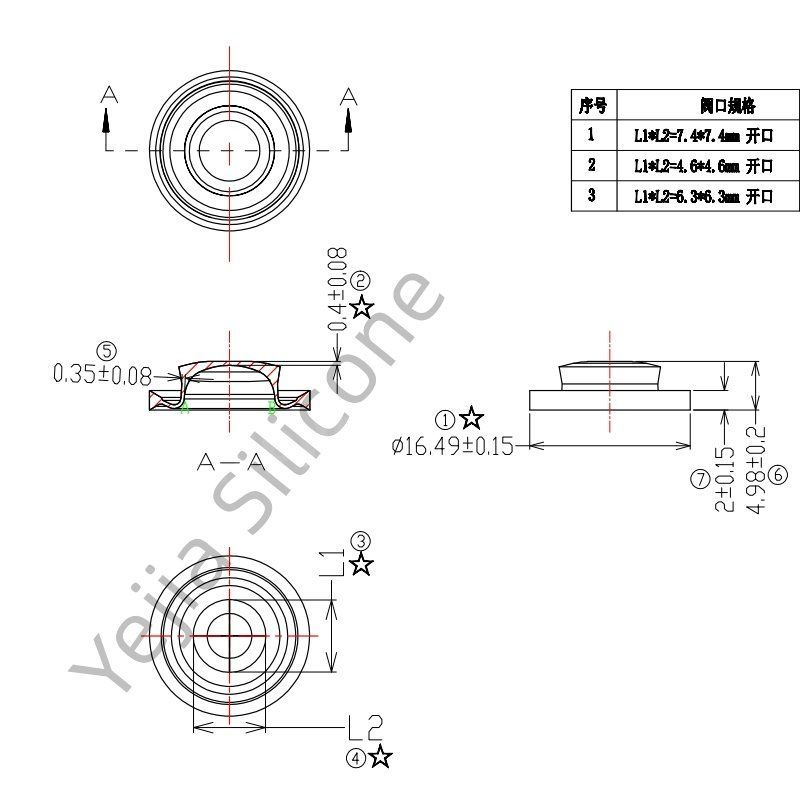 Bottle Cap Valves Manufacturer
YEJIA is a leading bottle cap valve manufacturer with extensive experience in silicone injection molding. With over 10,000 sqm of silicone molding workshop, YEJIA has supplied silicone valves to numerous brands. YEJIA's commitment to quality and innovation has made us a trusted partner in the industry of custom silicone valves. If you are looking for a reliable and experienced bottle cap valve manufacturer, look no further than YEJIA. With our advanced silicone injection molding technology, commitment to quality, and exceptional customer service, YEJIA is the perfect choice for your next project. Contact us today to learn more about our products and services.
FAQ
Q: What is bottle cap valve?
A: Bottle cap valve is a small, one-way valve that is typically used in beverage and food packaging to prevent leaks and spills.
Q: How does a bottle cap valve work?
A: Bottle cap valve works by allowing air to enter the container when the contents are poured out, but preventing liquid from flowing back out of the container.
Q: Are bottle cap valves safe for use with food and beverages?
A: Yes, bottle cap valves are generally considered safe for use with food and beverages. However, it is important to ensure that the valve material is approved for use with food products.
Q: Can bottle cap valves be customized for specific applications?
A: Yes, bottle cap valves can be customized to meet the specific needs of different products and applications.
Q: How do I choose the right bottle cap valve for my product?
A: The right bottle cap valve will depend on a variety of factors, including the viscosity of the product, the size of the container, and the desired flow rate. Consulting with a valve manufacturer YEJIA, it can help ensure that you choose the right valve for your needs.