16.5mm Silicone Slit Valve
1. Model No.: YJ-05

2. Material: LFGB and FDA food grade liquid silicone

3. Process: Liquid Injection Molding

4. O.D.: 16.5mm

5. Slit Size: 7.8*7.8mm

6. Feature: Water Bottle Dispensing Silicone Slit Valve

Product Description
Sports Water Bottle Dispensing Silicone Slit Valve, 16.5mm Silicone Slit Valves Manufacturer in China
Our factory produces high quality and factory prices silicone slit valves for over a decade, with professional engineering team, in-house mold making team and various silicone molding workshops, we highly welcome custom bottle dispensing silicone slit valves.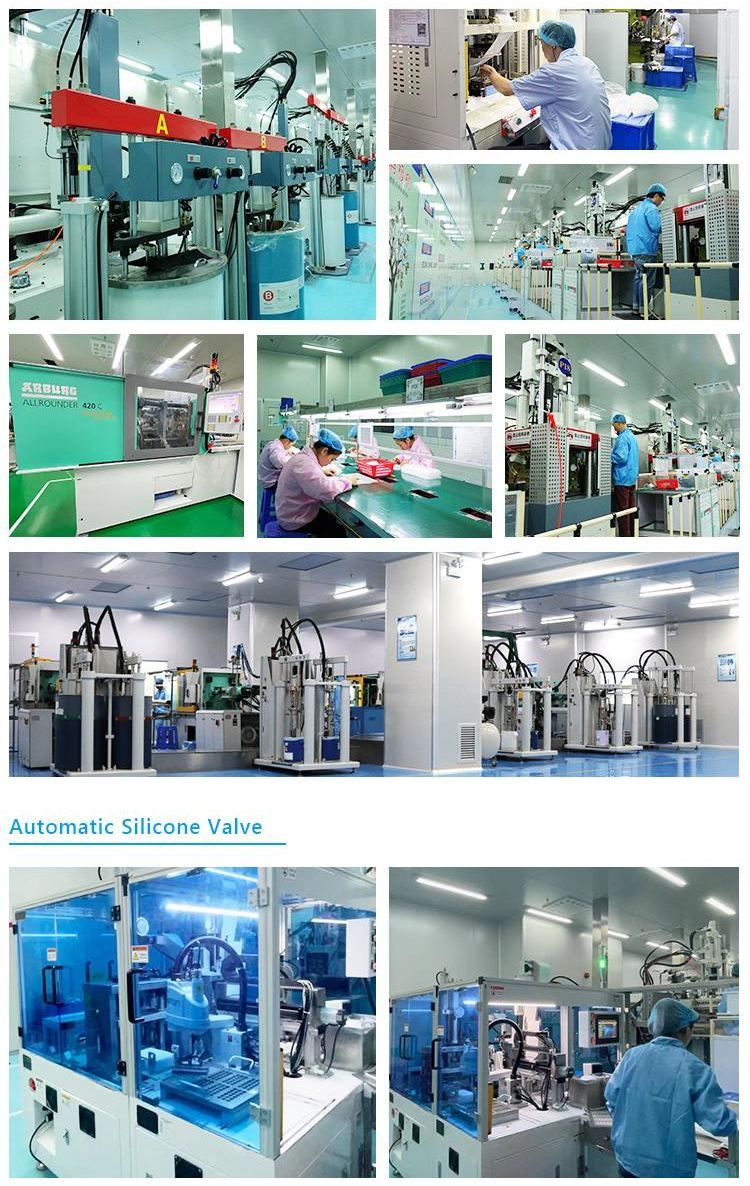 Product Specification
The leak proof silicone slit valve is made of eco-friendly and food grade liquid silicone with LFGB and FDA certifications, processed by liquid injection molding, and the cross slit cut is done by high precision punching, therefore the slit type and slit size can be customized. One squeeze, one dispensing, no leakage after 7/24 hours leak proof test, and the dispensing angle is within ±15 degrees. Welcome custom water bottle silicone slit valves.
| | |
| --- | --- |
| Item No.: | YJ-05 |
| Item Name: | 16.5mm Silicone Slit Valve |
| Material: | Liquid Silicone (FDA& LFGB Approved) |
| Color: | Transparent |
| Hardness: | 30 Shore A |
| Outer Diameter: | 16.5mm |
| Slit Type: | Cross Slit Cut |
| Slit Size: | 7.8*7.8mm |
| Process: | Liquid Injection Molding- Precision Punching- Inspection- Packing- Delivering |
| Application | Water Bottle, Ketchup, Mayonnaise, Syrup, Disinfections, Liquid Soap, Body Lotion, Cleanser, etc. |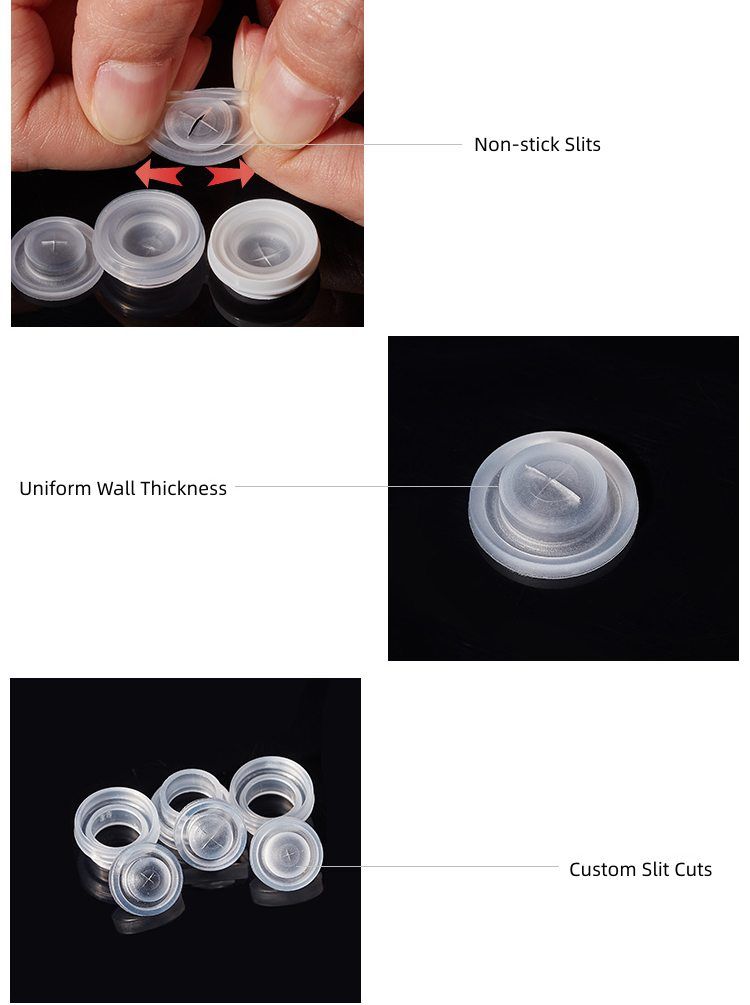 16.5mm Silicone Slit Valve 2D Drawing
Here is the 2D drawing for your reference, if needed, free samples can be provided for testing.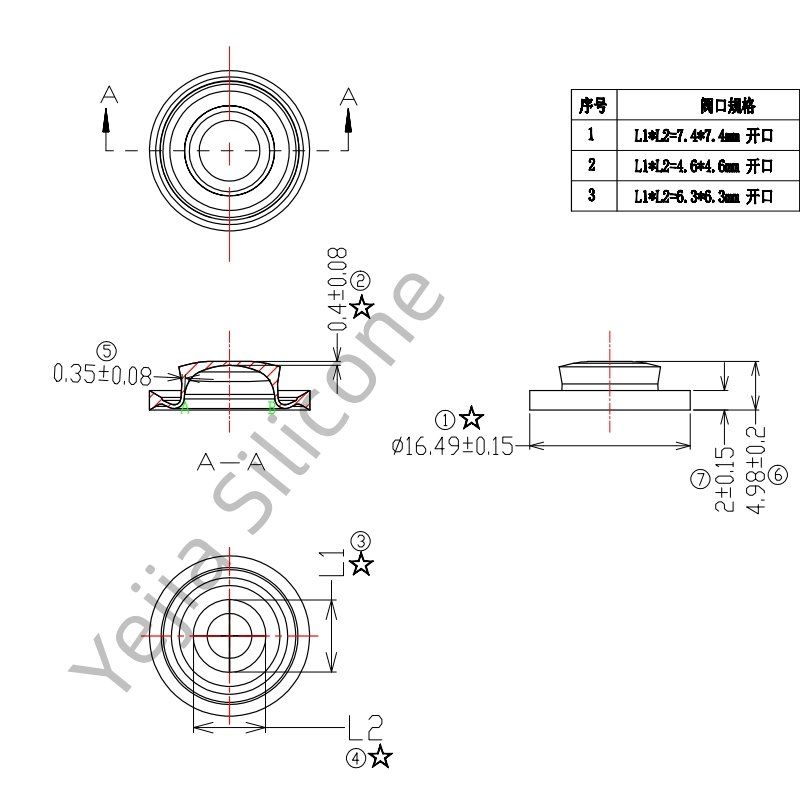 No Drip Silicone Slit Valve Production Process
To have a better understanding, we've taken the video for the production of this 16.5mm silicone slit valve. Should any chance, highly welcome to visit our factory.
Our Advantage
Yejia Silicone has produced high precision silicone molded products for over 13 years, for now, we have over 10,000 square meters production workshops for silicone molding, including compression molding, LSR injection molding and overmolding. Not only we can produce custom silicone slit valves, but also we can produce ISO10993 approved medical silicone components and highly transparent optical silicon lens, if you're looking for custom molded silicone products, welcome to contact us.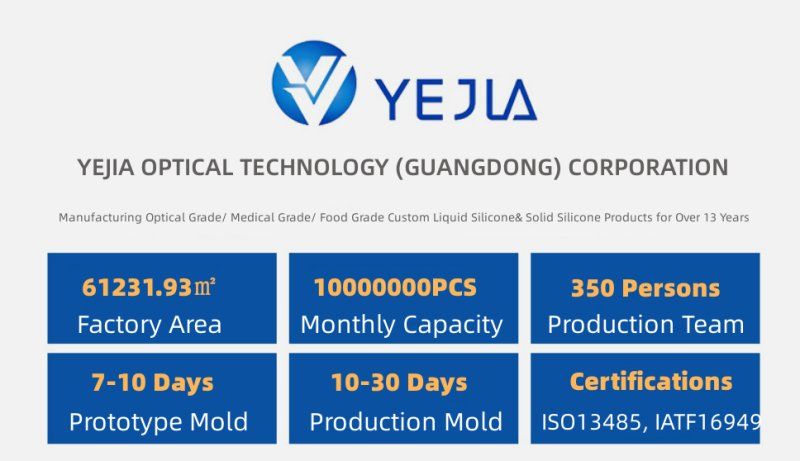 Mold Making Team
Our mold making team has 5 Japanese engineers, focusing on mold design and mold making for over 30 years, which help us manufacture high-level and tight tolerance silicone molded products.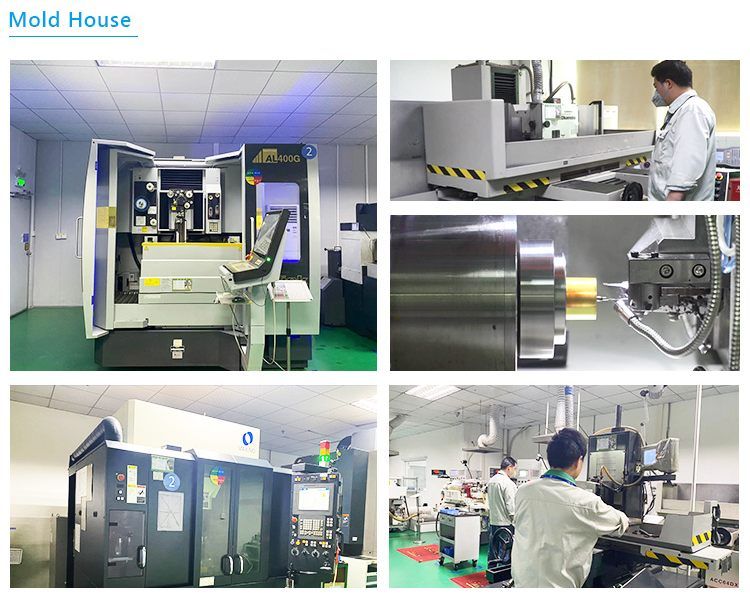 Silicone Molding Workshop
To ensure product quality, we have set up different class 100,000 clean production workshops for silicone rubber valves, medical silicone components, smart wearable silicone parts and optical silicon lens. Welcome to visit our factory at your convenience.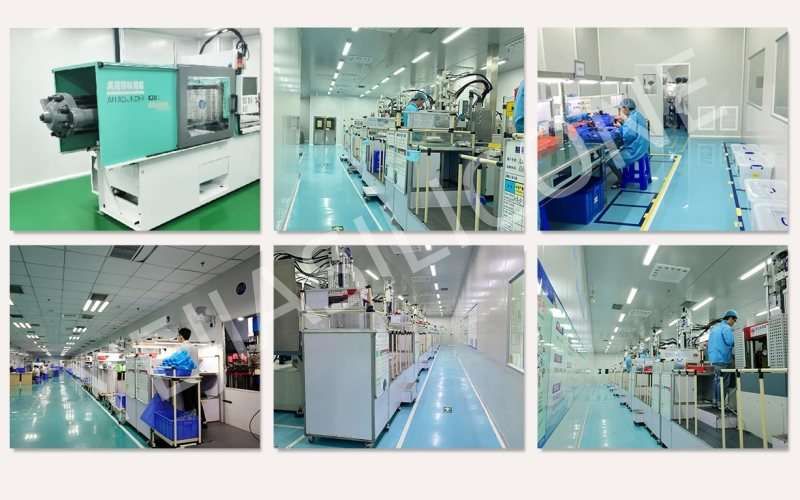 Quality Control
Our factory has been certified by ISO9001, ISO14001, ISO13485& IATF16949, also we've been authorized as SONY Green Partner for supplying the silicone protective covers for PS VR. Highly welcome custom silicone molded products.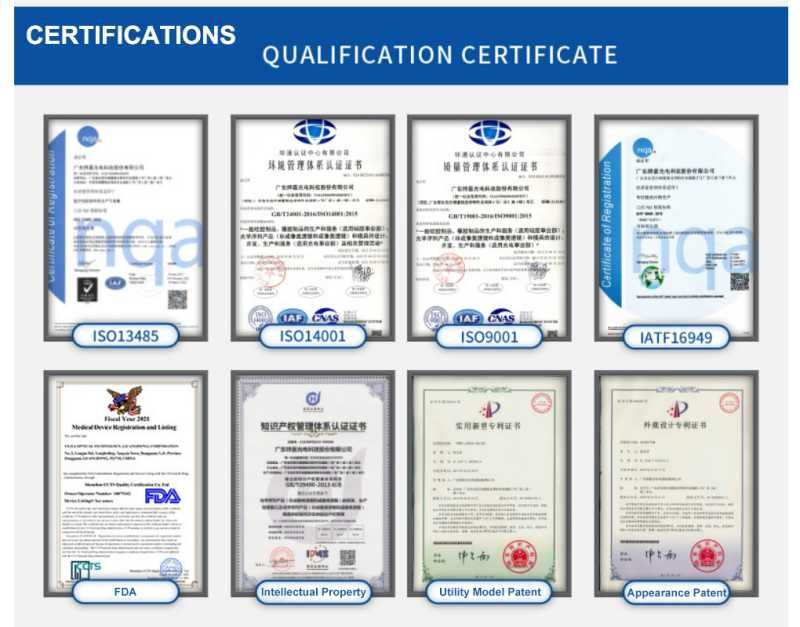 Customer Feedbacks
Here are some feedbacks from part of our customers, if you're looking for silicon slit valves, please feel free to contact us, we'll offer the best price for checking.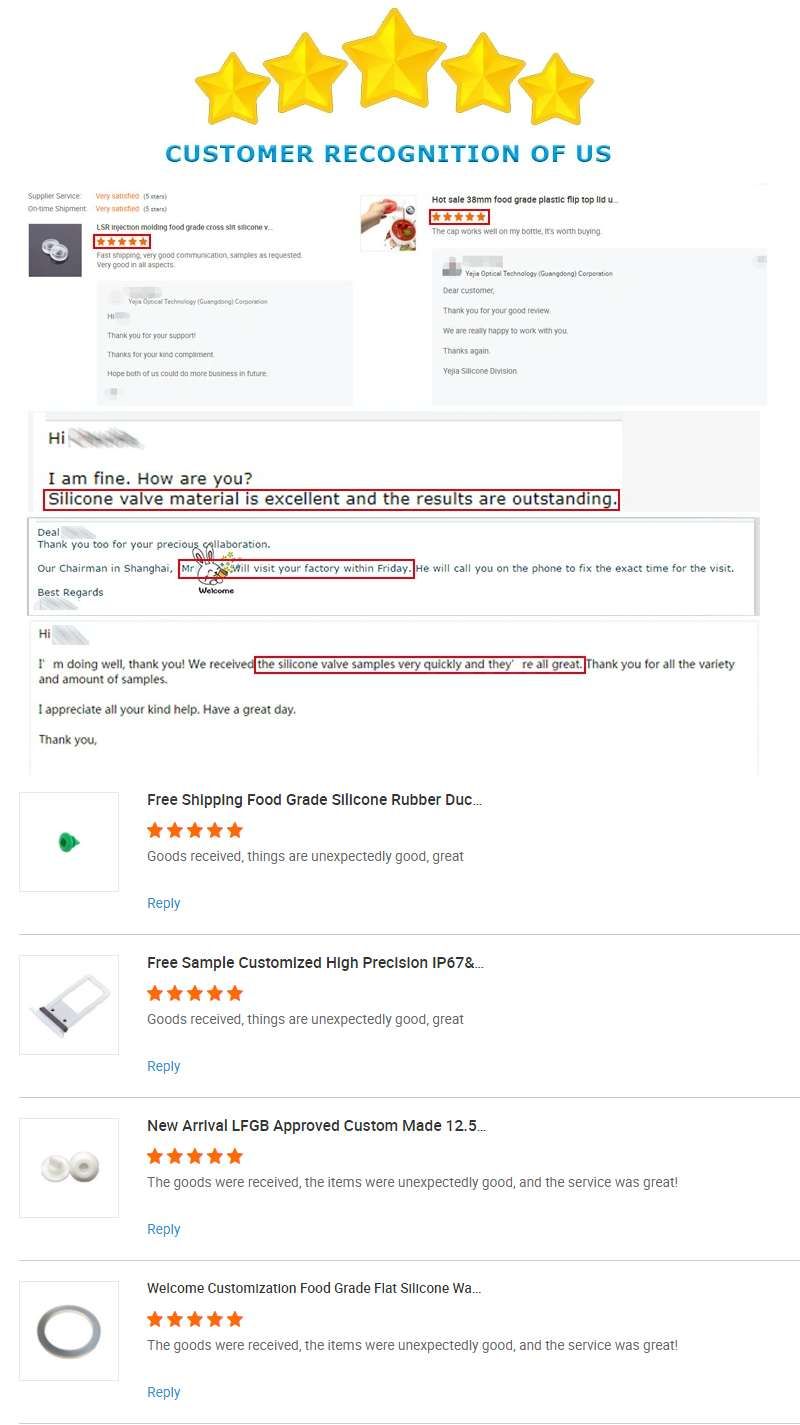 FAQ
Q: What's the flow rate and opening pressure of 16.5mm silicone slit valve?
A: We regret that we only do leak proof test, the other tests are done by customers themselves.
Q: What's the lead time for customized silicone slit valves?
A: For prototype mold, it's 7-10 working days. For mass production mold, it's 15-25 working days.
Q: What should provide for custom leakproof silicone slit valve?
A: Please offer us the 2D and 3D drawing for evaluation.
Q: Can you design bottle dispensing silicon slit valve?
A: For now, we mainly do OEM service, we regret that we can't do product design.
Q: Can I talk to your engineers?
A: Yes, we can set us a meeting through Google Meet or Teams, so you can discuss with them directly.
Application