FDA approved no drip silicone check valve
1. Made of food safe platinum liquid silicone

2. Slit can be custom made

3. No leakage silicone check valve

4. Over 10,000 square meters clean production workshop

5. Welcome custom silicone valves

Product Description
Model No.: YJ-11
Item Name: LFGB& FDA Approved No Drip Silicone Check Valve, Custom Mayonnaise Dispensing Silicone Check Valves Manufacturer
Material: Food Grade Liquid Silicone
Color: Original
Slit: Cross Slit, Snowflake, Asterisk, etc.
Feature: One Way Silicone Valve

Process: LSR Injection Molding- Second Curing- Punching- Inspection- Packing- Shipping
Application: Food& Beverage, Medical Device, Househould Cleaning, Personal Care, etc.
Description:
1. Made of environment friendly food grade liquid silicone, with certifications of FDA and LFGB.
2. Colors can be custom made, small orders accepted.
3. Customized one way silicone check valve, no drip, no leaking, no spill, welcome custom silicone valves.
4. 100,000 class clean production workshop, 39 sets LSR injection molding machines and 6 sets compression molding machines.
5. Over 13 years of experience in producing silicone products, highly welcome to visit our factory.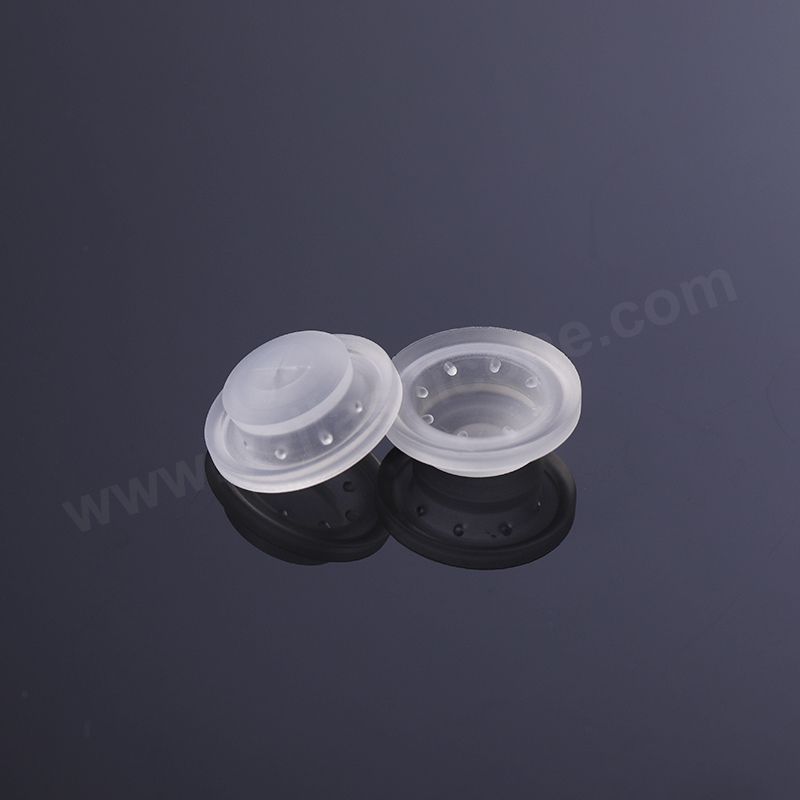 This kind of cross slit silicone check valves are mainly used for food and beverage dispensing, such as, sports water bottle, ketchup, mayonnaise, syrup or musturd sauces. Usually, it's made of food grade liquid silicone, processed by liquid injection molding, the cross slit size can be customized according to product viscocity. With over a decade in R&D for the punching process, we've achieved the automated production for cross slit punching, the daily capacity has increased from 50,000pcs to 200,000pcs per line, almost 4 times higher than before.
Silicone Valve Production Flow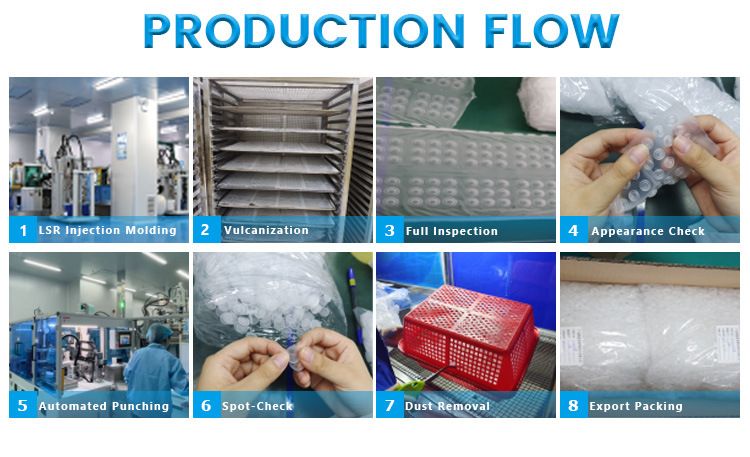 Certifications
Yejia silicone has been certified by ISO9001, ISO14001, ISO13485 and IATF16949, every department follows strictly on the corresponding management system. Also, we've set up different production workshops for different silicone rubber products, for example, silicone valve punching clean room for silicone check valves. Welcome to visit our factory.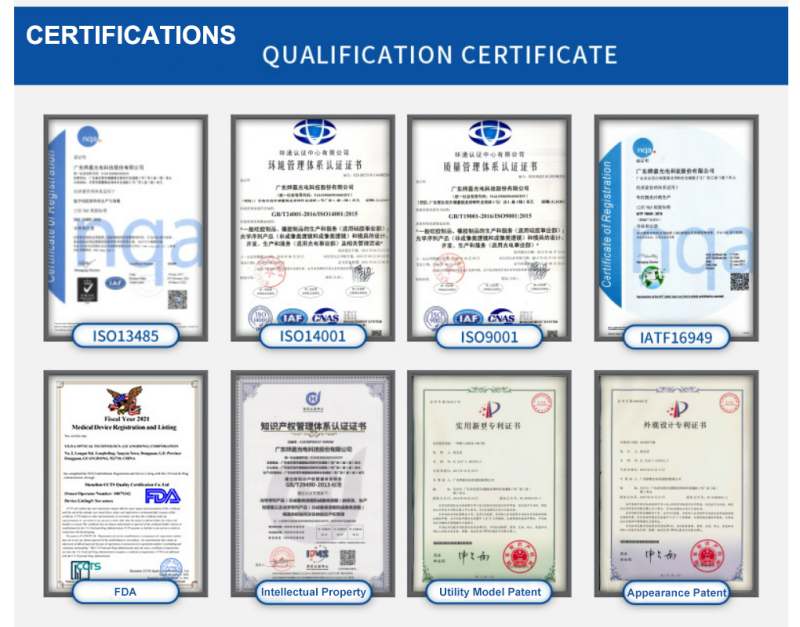 FAQ
1. Q: What is silicone valve?
A: Silicone valve is a kind of elastic valve, made of silicone material, mainly processed by LSR injection molding, is designed to better control the flow of fluid under preset pressure and vacuum.
2. Q: What types of silicone valves are there?

A: Types of silicone valves include silicone check valve, silicone duckbill valve, silicone umbrella valve, silicone flapper valve, silicone cross slit valve, silicone dome valve, silicone vent and relief valve, silicone dispensing valve and other flow control valves.
3. Q: What's the application of silicone valves?
A: Silicone valves can be used in various applications, such as, Food& Beverage dispensing closure, medical device, automotive, home appliance and so on.
4. Q: What's the function of silicone control valves?
A: Silicone valves are designed to open and close at a certain pressure, typically, for dispensing liquids, powders or gases.
5. Q: What materials available for silicone check valves?
A: Due to the different applications, the raw materials can be divided into food grade silicone, medical grade silicone, Fluorosilicone (FVMQ) and rubber.
6. Q: What are the advantages of silicone materials?
A: Silicone rubber is perfect for weathering, ageing, chemical, temperature and UV resistant products, with excellent elasticity, great tear and tensile strength, silicone is the ideal material for flow control valves.
7. Q: How is the silicone valve assembled?
A: The silicone valve can be assembled directly with dispensing closure or combined with plastic valve seat, then fixed into the dispensing closure.
8. Q: What slit cut options are available for silicone valves?
A: At present, we have produced various slit cuts, such as cross slit, snowflake, I shape, Y shape, highly welcome custom slit cuts.
9. Q: What hardness are available for silicone valves?
A: Silicone hardness range from 5 to 80 Shore, and we usually recommend to choose 30, 40 or 50 Shore A.
10. Q: Can I visit your factory?
A: Yes, highly welcome to visit us, contact us to arrange the visiting.
Application