Liquid injection molding silicone cross slit valve
1. Made of food grade and high flexible liquid silicone

2. Liquid injection molding cross slit silicone valves

3. Slits can be custom made

4. MOQ50K per lot

5. Free samples available

Product Description
Product Name: Food Grade Liquid Injection Molding Silicone Cross Slit Valve Factory, Cross Slit Silicone Valve Manufacturer
Material: Food Grade Liquid Silicone
Hardness: 30 Shore A
Process: Liquid Injection Molding
Color: Transparent
Diameter: 9.8mm, 10.5mm, 16.5mm
Slit Options: Cross, Snowflake, Asterisk, etc.
Slit Size: 1.7*1.7mm, 2.7*2.7mm, 4.7*4.7mm, 7.4*7.4mm
Product Viscosities: Ketchup, Honey, Mayonnaise, Syrup, Sauces and other liquids
Application: Food& Beverage

Description:
1. Made of high elastic and super transparent liquid silicone materials, with LFGB and FDA certifications.
2. Processed by LSR injection molding, with high precision punching toolings, daily capacity reaches to 200,000pcs per day per line.
3. One squeeze, one dispensing, no leakage, no extra slits.
4. 7 days/ 24 hours upside-down leak proof testing.
5. Flow control angle within 30 degrees.
6. Over 10 years of experiences in liquid injection molding, LSR injection molding and overmolding, highly welcome custom made silicone valves.

Public Size Silicone Valve and Valve Seat Specifications:
| | | | |
| --- | --- | --- | --- |
| O.D. of Silicone Valve | Slit Option | Cross Slit Size | O.D. of Valve Seat (PP Ring) |
| 9.8mm | Cross Slit, Snowflake, Asterisk, Duckbill, etc. | 2.7*2.7mm, 4.7*4.7mm | 11.85mm |
| 10.5mm | Cross Slit, Snowflake, Asterisk, Duckbill, etc. | 1.7*1.7mm, 4.7*4.7mm, 7.4*7.4mm | 12.2mm |
| 16.5mm | Cross Slit, Snowflake, Asterisk, Duckbill, etc. | 4.7*4.7mm, 7.4*7.4mm | 18.4mm |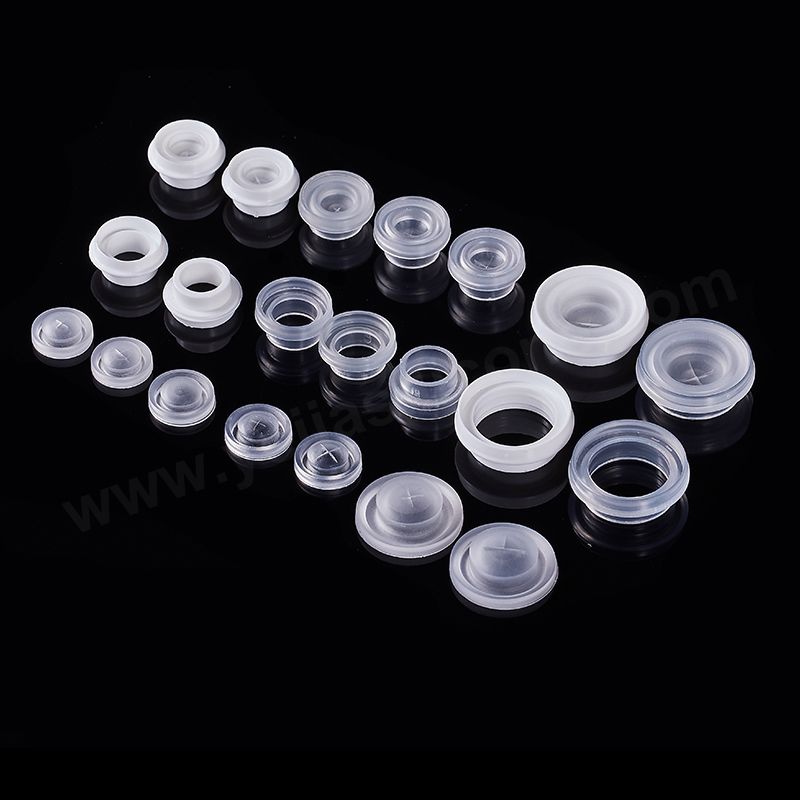 Cross Slit Valves 2D Drawings
For below 3 sizes, we've developed the silicone injection molds and cross slit punching tools, if choosing the SKUs, there will no toolings costs. For different sizes of customized slit cuts, we'll have to develop new liquid injection mold or slit punching tool, there will be extra costs. Contact us to get the best quotation.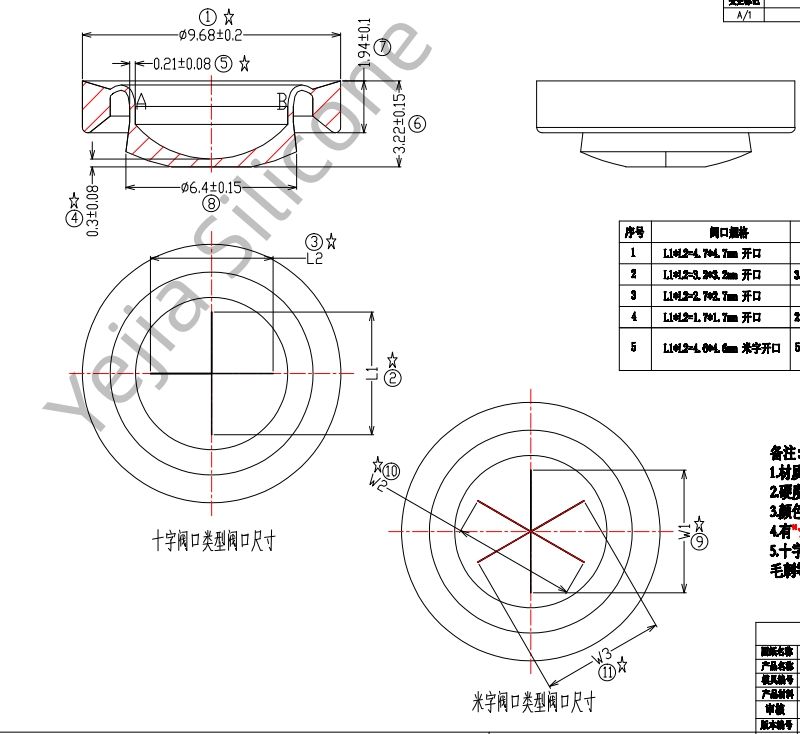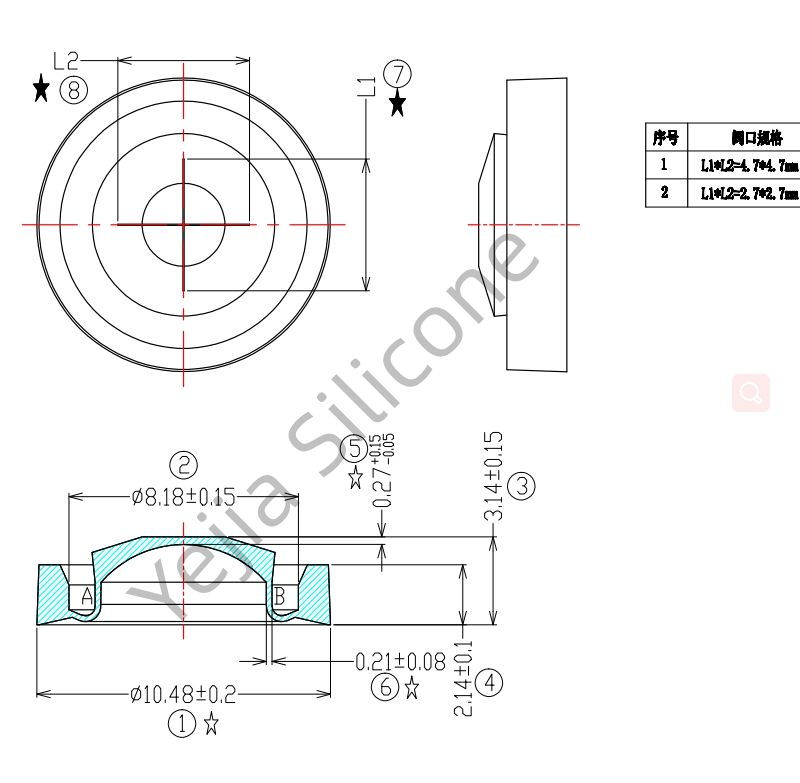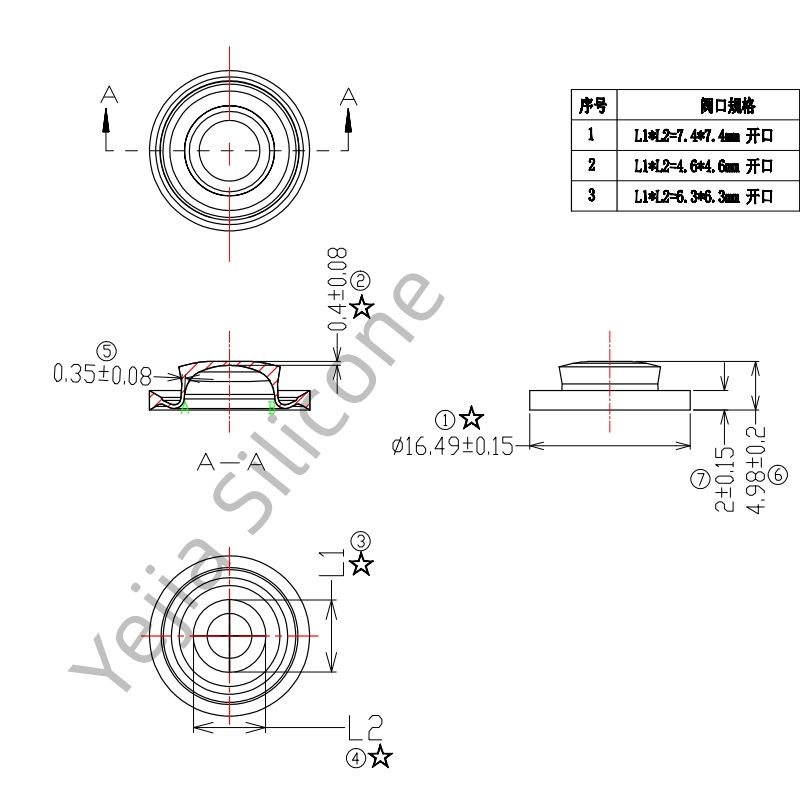 Silicone valves are getting popular in different applications, because of it's unique advantage comparing to silicone sealing rings. Not only, it can be used for sealing, but also, the silicon valves can be used to control the liquid or air flow. As, the silicone valve is designed to prevent the back flow of air or fluid. Dividing by different raw materials, there are food grade silicone dispensing valve, medical grade silicone check valve, industrial rubber duckbill valve, fluorosilicone oil-resistant valve and so on. Yejia silicone as a professional manufacturer of liquid injection molding silicone valves, for these cross slit silicone valves, we've built the automatic punching production lines, which increase the daily capacity for each line to 200,000pcs, which is 4 times higher than before, so to meet large volumes requirements.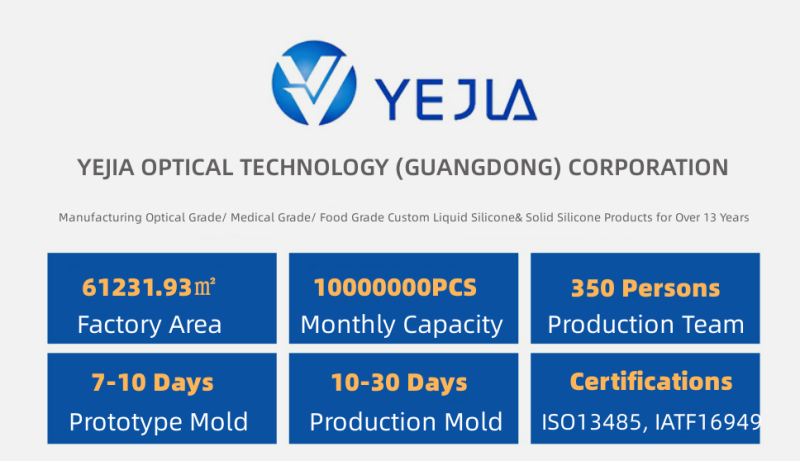 Silicone Valves Production Flow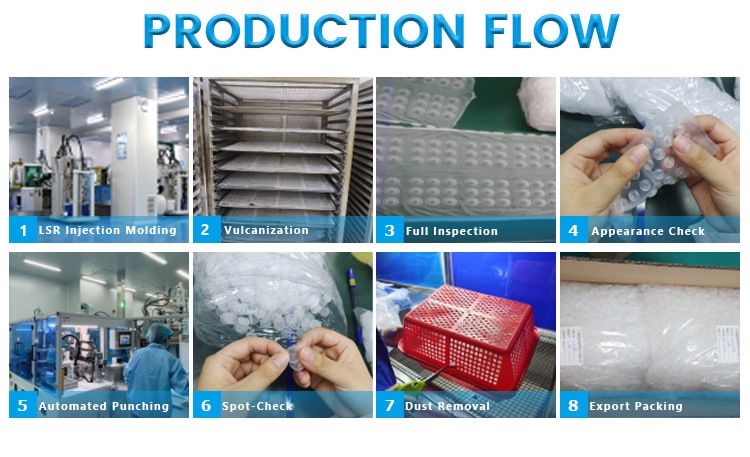 FAQ
Q: Can I get free samples of these cross slit valves?
A: Yes, pls. let us know the specifications needed, we'll check the SKUs and provide free samples for checking. Kindly noted that shipping costs to be freight collect.
Q: Can I change the slit size of silicone valve:
A: Yes, slit size and slit cut can be customized.
Q: Does the silicone valve come with assembled valve seat?
A: Since the silicone valve is just put into the valve seat, it's not fixed, and might fall off while in transportation. Therefore, the silicone valve and valve seat are shipped separately.
Q: What's the flow rate and opening pressure of these cross slit silicone valves?
A: We regret that these data are tested by our customers.
Q: Can I customize my own silicone check valve?
A: Yes, as an OEM silicone injection molding manufacturer, we highly welcome custom silicone control valves.
Q: Can I visit your factory?
A: Yes, highly welcome to visit us, contact us to arrange the visiting.
Application