Ketchup Fluid Dispensing Silicone Valve
1. Liquid injection molding silicone dispensing valves

2. Existed sizes available (O.D.: 9.8mm, 10.5mm and 16.5mm)

3. Welcome custom Silicone fluid flow control valves for ketchup dispensing

4. Free samples available
Product Description
Item No.: YJSV
Item Name: Liquid Injection Molding Ketchup Fluid Dispensing Silicone Valve Supplier, Custom Silicone Dispensing Valves
Material: Food Grade Liquid Silicone
Process: Liquid Injection Molding- High Precision Punching- Inspection- Packing- Shipping
Color: Transparent
O.D.: 9.8mm, 10.5mm, 16.5mm
Slit Option: Cross Slit

Cross Slit Size: 2.7*2.7mm, 4.7*4.7mm
Usage: Ketchup dispensing, fluid flow control

Application: Food& Beverage
Description:
1. Made of ultra clear and super elastic liquid silicone, with LFGB and FDA certifications.
2. Liquid injection molding kethcup dispensing fluid flow control valves.
3. Existed mold, existed size, no need to open new mold.
4. Small orders accepted, MOQ50K per lot.
5. Leak proof testing, 7 days* 24 hours, no leakage.
6. One squeeze, one dispensing, the dispensing angle is within +/- 15 degrees.
7. Over 10 years of experience, with over 10,000 square meters production workshop, 39 sets LSR injection molding machines and 6 sets compression molding machines, welcome custom made silicone dispensing valves.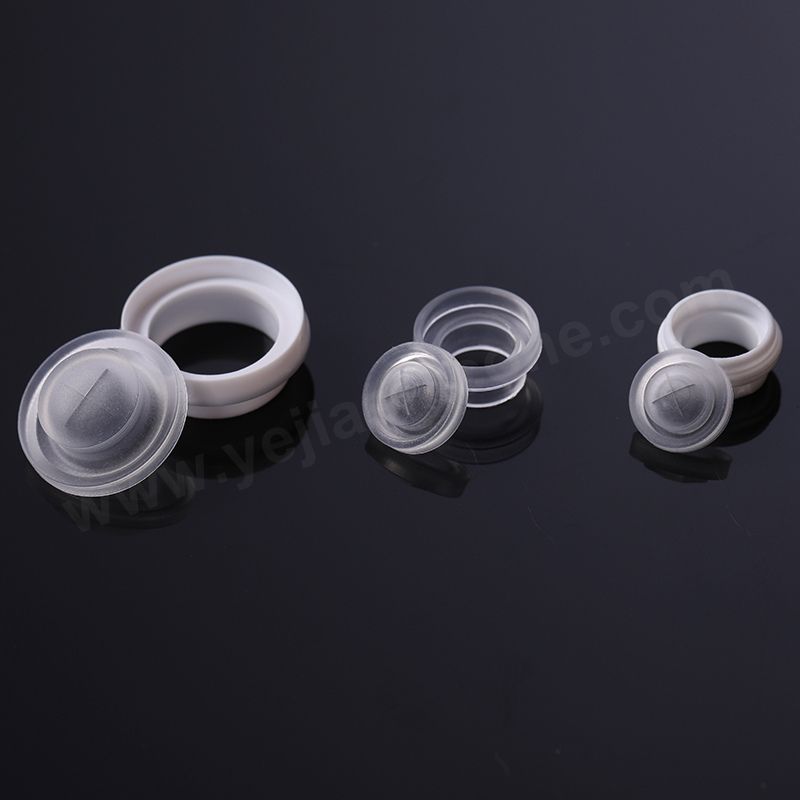 | | | | |
| --- | --- | --- | --- |
| Item Name | O.D. | Cross Slit Size | Valve Seat O.D. |
| 9.8mm Silicone Dispensing Valve | 9.8mm | 3*3mm/5*5mm | 11.85mm |
| 10.5mm Silicone Control Valve | 10.5mm | 3*3mm/5*5mm | 12.3mm |
| 16.5mm Silicone Check Valve | 16.5mm | 3*3mm/5*5mm/ 6.5*6.5mm/ 7.8*7.8mm | 18.6mm |
2D Drawings
Here we've listed the 2D drawings for silicone dispensing valves, if 3D drawings needed for designing, please contact us.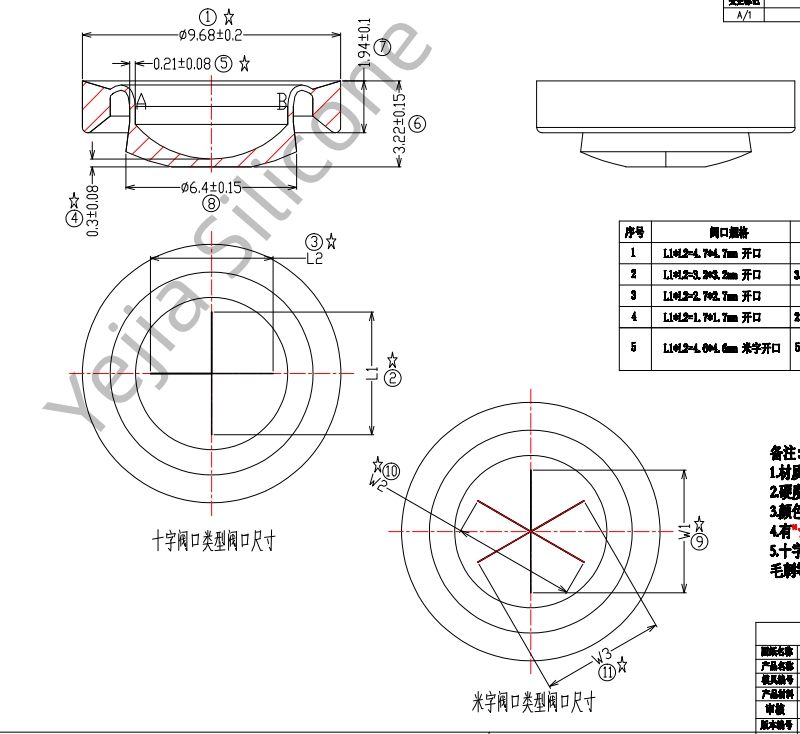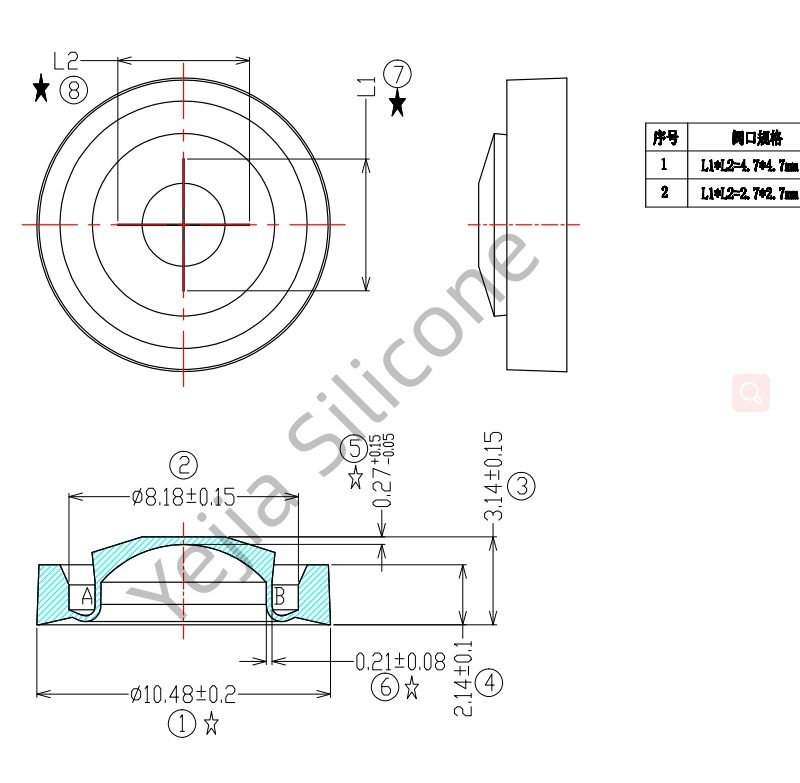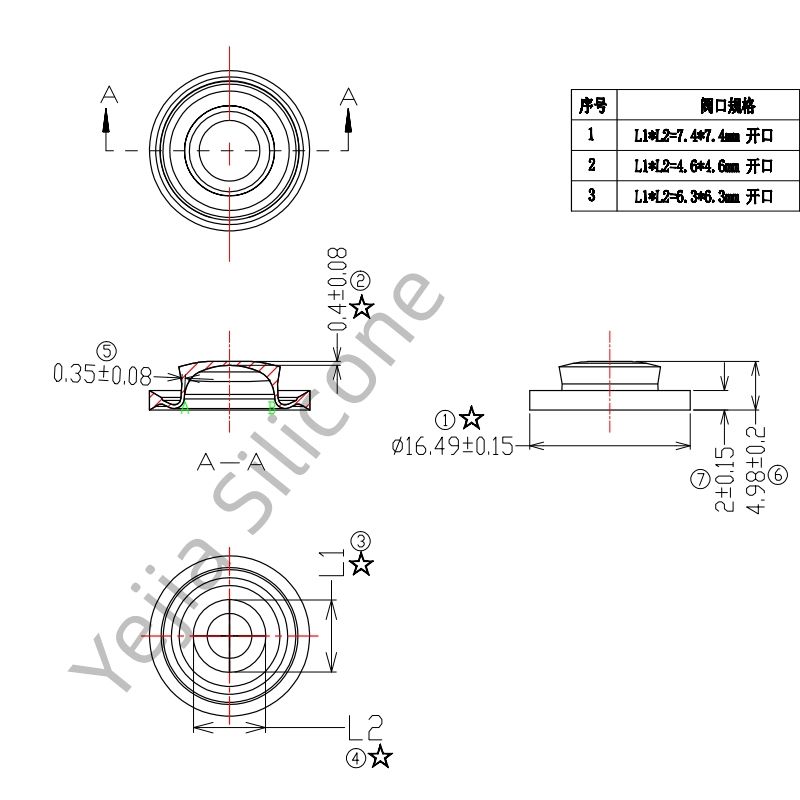 Silicone Valve Production Flow

Yejia silicone has been producing custom silicone valves for over a decade, and has achieved the automatic punching production and online CCD full inspection for slit cuts. We can produce various silicone control valves by LSR injection molding and compression molding, depends on the product structure, order quantities and applications. If you're looking for customized silicone check valves for your dispensing systems, please contact us.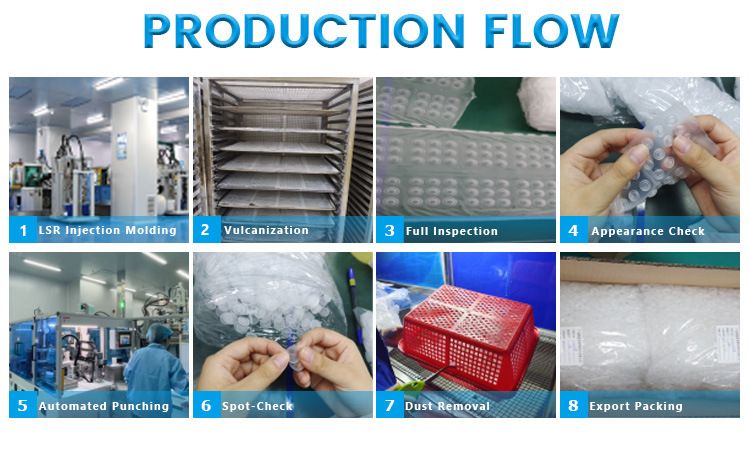 Our Advantage
Yejia silicone as the professional manufacturer of silicone molded products, for over 13 years, we focus on R&D and production for LSR injection molding and compression molding food grade, medical grade and optical grade silicone molding products. Our factory has been certified by ISO9001, ISO14001, IATF16949 and ISO13485.
To meet different requirements, we've set up different class 100,000 clean production workshop for silicone molding products, such as, medical clean workshop, optical clean workshop, silicone valves punching clean workshop and so on. Welcome to visit our factory.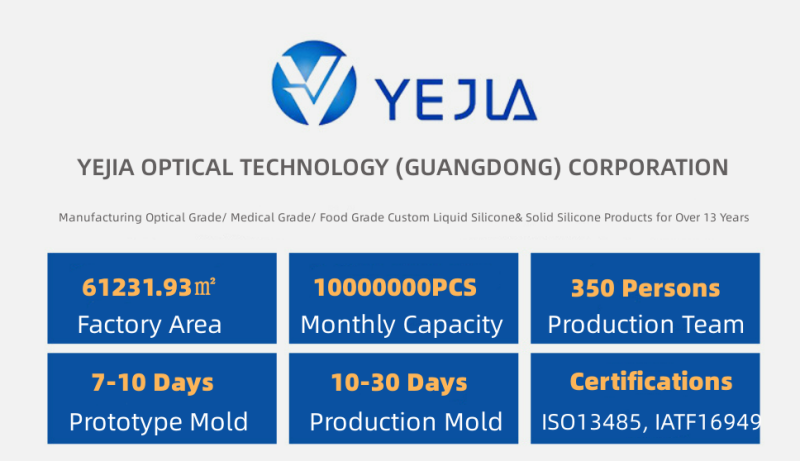 FAQ
What is silicone valve?
Silicone valve is an elastomeric valve, made of silicone materials and mainly processed by liquid injection molding (LIM), designed to better control flow fluids at preset forces and vacuums.
What are the types of silicone valve?

The silicone valve types include one way, duckbill, umbrella, flapper, cross-slit, dome, vent and relief, dispensing and many other valves.
What are the applications of silicone valves?

The silicone valve can be used in different applications, such as, food& beverage packaging, health care, automotive, appliance and so on.
What's the function of the silicone valve?
The silicone valve is designed to open and close at a certain pressure, usually, to be used to dispense liquids, powders or gases.
What' s your advantage to produce silicone valves?
From mold design& making, prototype, production molding construction, liquid injection molding and plastic injection molding manufacturing, quality control and customer support, we're able to handle all these processes in-house. With completed quality control systems, our flexible production line can satisfy both small and large orders.
What's the difference for silicone valves processed by compression molding and liquid injection molding?

If the mold tolerance is the same, by choosing the same level material, there is no difference for finished silicone valves. Comparing from capacity, for large volumes, we'd suggest to choose LIM, for small volumes, it would be better to start with compression molding.
Application