Ketchup Silicone Dispenser Valve
1. Model No.: YJ-01

2. Material: FDA& LFGB food safe liquid silicone rubber


3. Outer Diameter: 9.8mm

4. Slit Size: 5*5mm

5. MOQ: 50,000pcs/ lot

6. Application: Food& Beverage Liquids Dispensing

7. Feature: No Drip Silicone Dispenser Valve

Product Description
Liquid Injection Molding Ketchup Silicone Dispenser Valve, No Drip Liquid Silicone Dispenser Valves
As high quality silicone valves factory in China, we've produced various custom silicone dispenser valves, such as, silicone no drip valve, umbrella valve, silicone duckbill valve, etc. Certified by ISO9001, ISO14001, ISO13485& IATF16949, also, we've been authorized as SONY Green Partner for supplying silicone VR covers. For over 13 years, we focus on R&D& production for silicone molding products, welcome custom no drip silicone dispenser valves.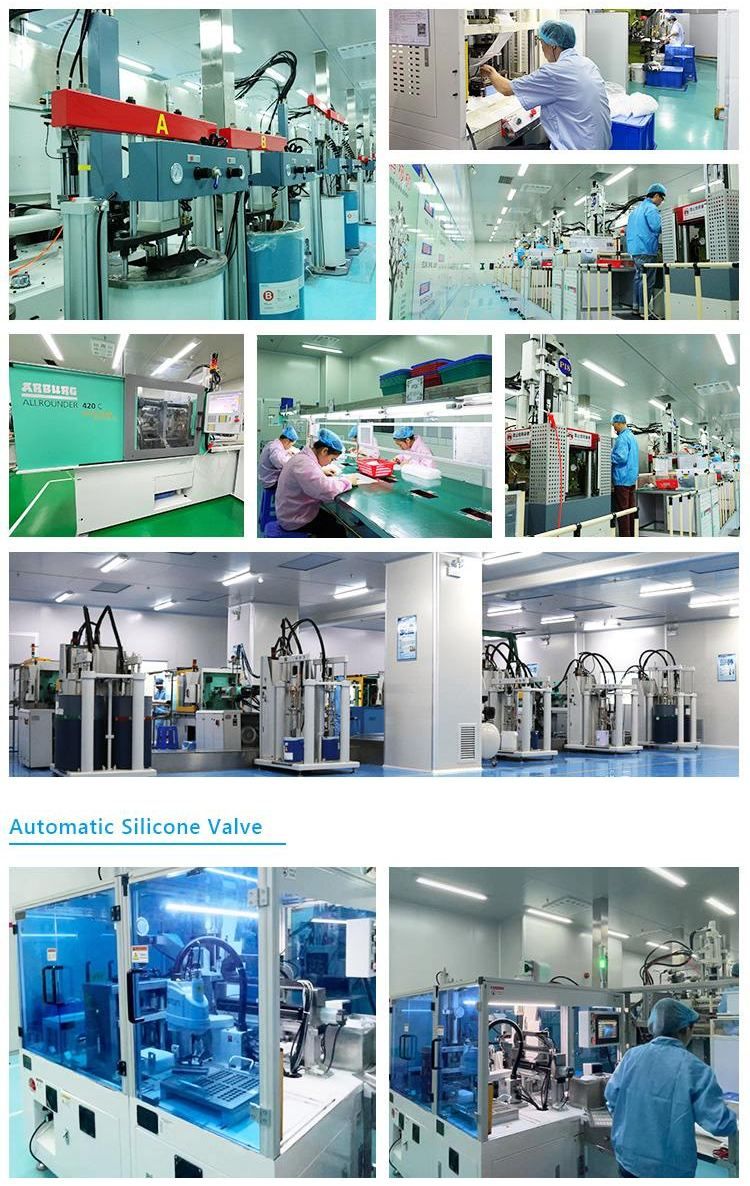 Product Specification
The 9.8mm silicone dispenser valve is made of ultra clear and super elastic liquid silicone, with LFGB and FDA certifications, and processed by liquid injection molding, can pass the leak proof testing. The liquid silicone dispenser valve is developed by our factory, mold is existed, no need to open new mold. One squeeze, one dispensing, the dispensing angle is within +/- 15 degrees. Small orders accepted, welcome to contact us to get free samples for testing.
| | |
| --- | --- |
| Item No.: | YJ-01 |
| Item Name: | 9.8mm Ketchup Silicone Dispenser Valve |
| Material: | Food Grade Liquid Silicone |
| Color: | Transparent |
| O.D.: | 9.8mm |
| Slit Option: | Cross Slit, Snowflake, etc. |
| Cross Slit Size: | 3*3mm, 5*5mm |
| Usage: | Ketchup, Syrup, Mayonnaise, BBQ sauce, musturd and other thin/ thick sauces |
| Packaging: | Standard Export Packaging |
| MOQ: | 50,000pcs |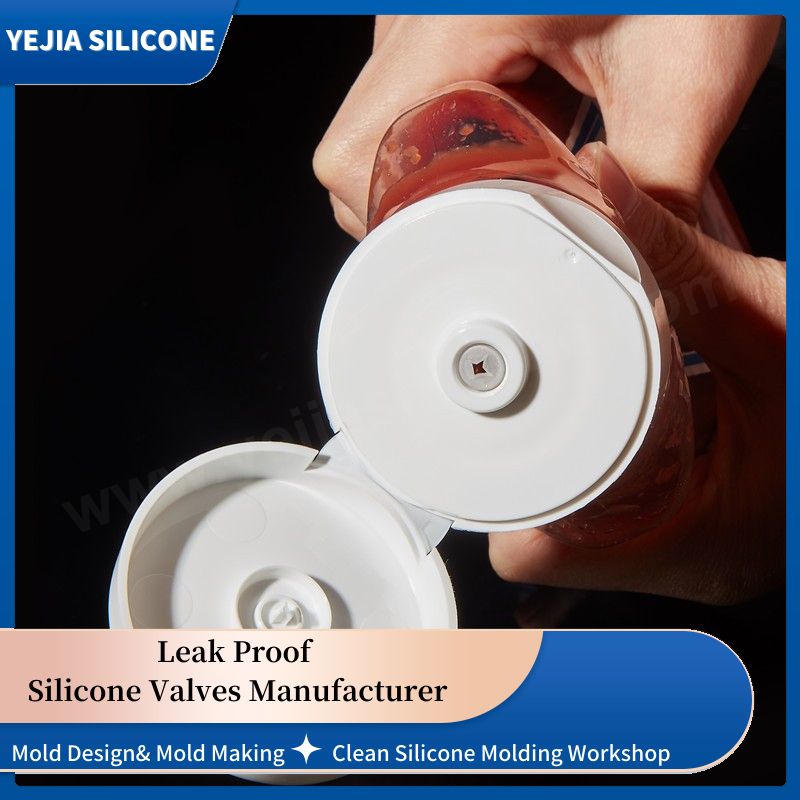 Public Silicone Valves& Plastic Seats Specification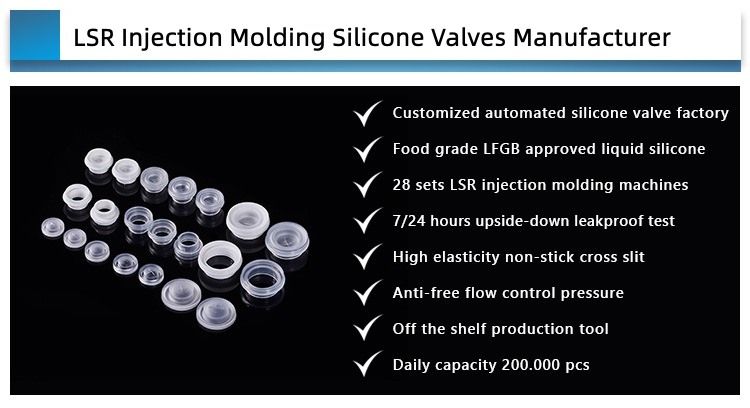 9.8mm Silicone Dispenser Valves 2D Drawings
Here we've listed the 2D drawings for silicone dispenser valves, 3D drawings can be provided if needed.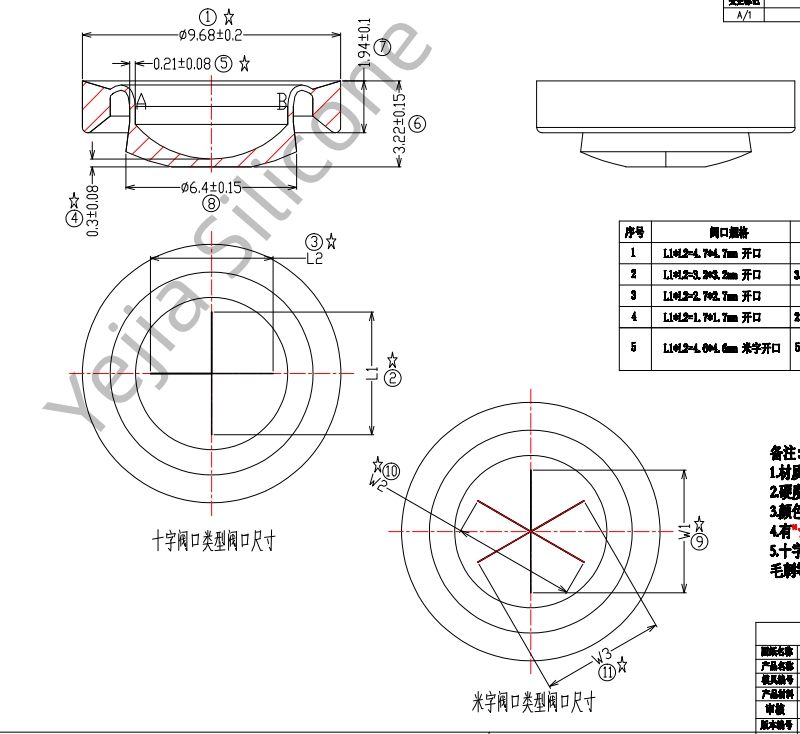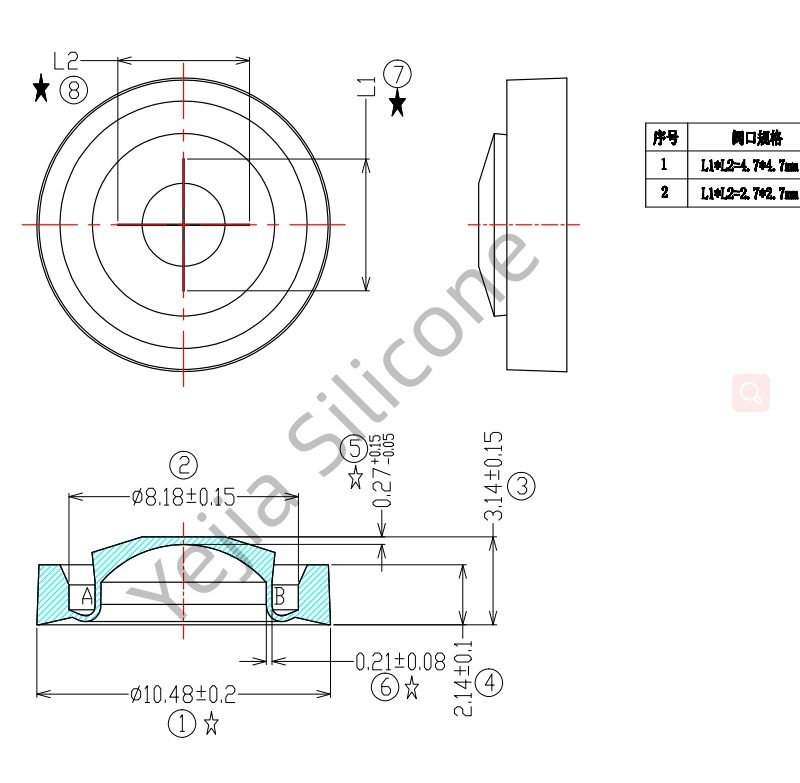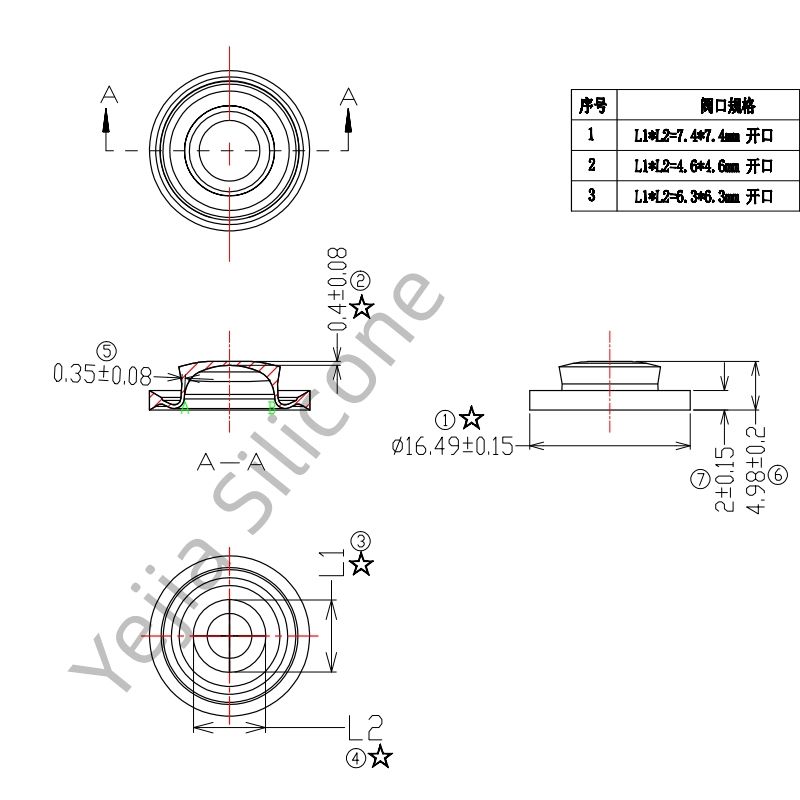 Liquid Silicone Dispenser Valve Production Flow
Yejia silicone has been producing custom silicone dispenser valves for over a decade, and has achieved the automatic punching production and online CCD full inspection for slit cuts. We can produce various silicone dispensing valves by LSR injection molding and compression molding, depends on the product structures, order quantities and applications. If you're looking for customized silicone dispenser valves for your dispensing systems, please contact us.

Our Advantage
To meet different requirements, we've set up different class 100,000 clean production workshop for silicone molding products, such as, medical clean workshop, optical clean workshop, silicone valves punching clean workshop and so on. Welcome to visit our factory.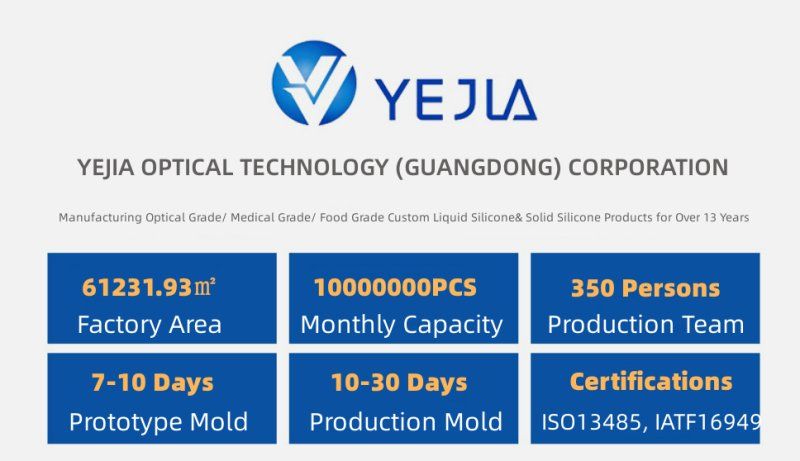 Customer Feedbacks
Our factory has helped many startup companies to grow-up rapidly, also has cooperated with many Fortune 500 enterprises.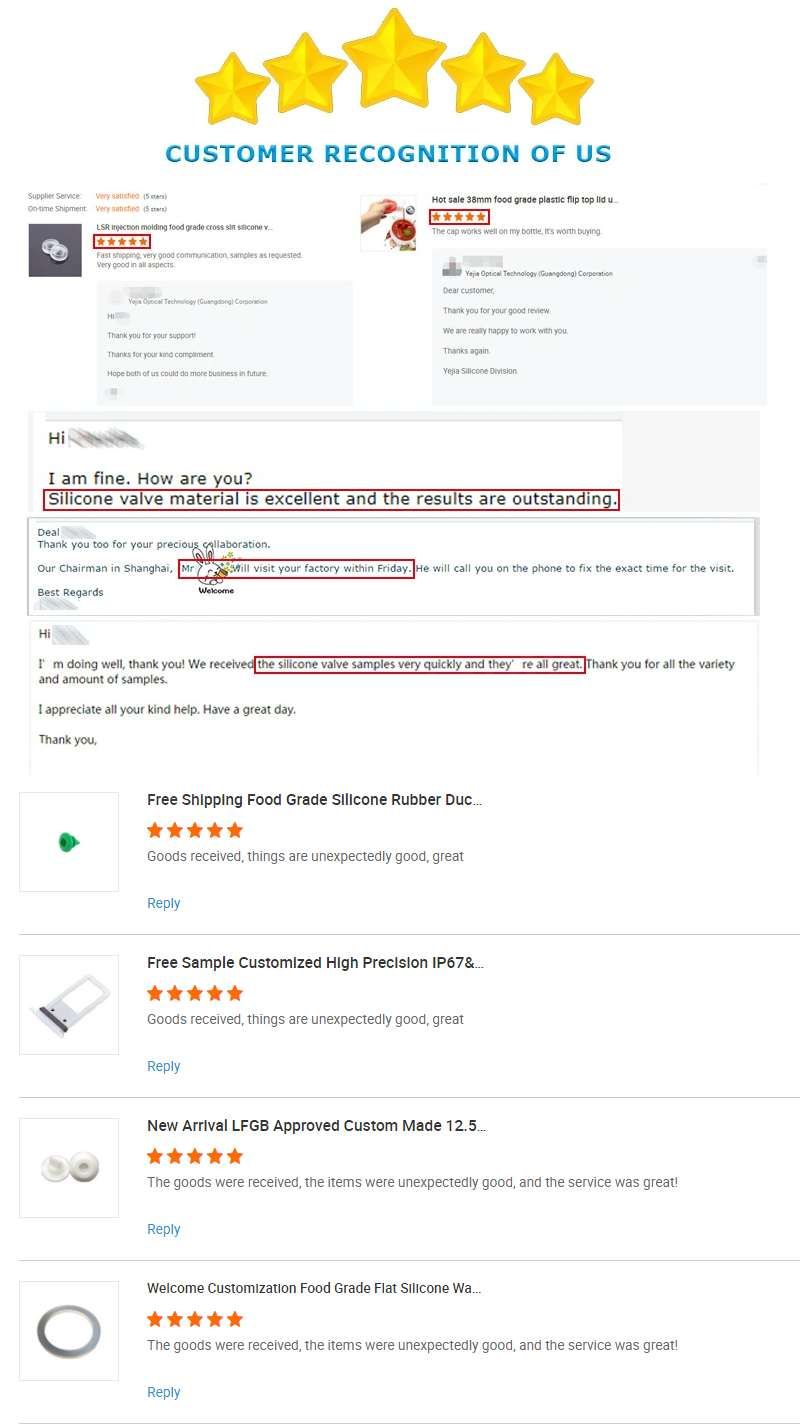 FAQ
What is silicone dispenser valve?
Silicone dispenser valve is an elastomeric valve, made of silicone materials and mainly processed by liquid injection molding (LIM), can be divided into cross slit valve, silicone check valve, silicone one way valve and so no. It's designed to better control flow fluids at preset forces and vacuums.
What are the types of silicone valve?
The silicone valve types include one way, duckbill, umbrella, flapper, cross-slit, dome, vent and relief, dispensing and many other valves.
What are the applications of silicone dispenser valves?
The silicone valve can be used in different applications, such as, food& beverage packaging, health care, automotive, appliance and so on.
What's the function of the silicone dispenser valve?
It is designed to open and close at a certain pressure, usually, to be used to dispense liquids, powders or gases.
What's your advantage to produce silicone dispenser valves?
From mold design& making, prototype, production molding construction, liquid injection molding and plastic injection molding manufacturing, quality control and customer support, we're able to handle all these processes in-house. With completed quality control systems, our flexible production line can satisfy both small and large orders.
What's the difference for silicone dispenser valves processed by compression molding and liquid injection molding?
If the mold tolerance is the same, by choosing the same level material, there is no difference for finished silicone valves. Comparing from capacity, for large volumes, we'd suggest to choose LIM, for small volumes, it would be better to start with compression molding.
Application