Jun. 22, 2020
The Advancements of Smart Wearable VR Accessories
The utilization of smart wearable devices has become increasingly popular in recent times. These devices incorporate wearable technology into daily wear, including glasses, gloves, watches, and clothing. With the assistance of sensors, RFID, and GPS, these devices can access the mobile internet and facilitate the exchange of information between individuals and objects, regardless of their location.
Among the various smart wearable devices available in the market, VR glasses have gained significant traction. These head-mounted electronic devices enable users to immerse themselves in a virtual world and experience novel sensations. With the emergence of VR products with fashionable designs and innovative technology, VR is no longer limited to being a simple IT product.
Efficient production of VR accessories is crucial for the success of the virtual reality industry. Among these accessories, the VR lightproof silicone cover plays a vital role in ensuring an immersive and comfortable experience for users. To achieve this, the production process of VR lightproof silicone cover involves the use of high-quality and super-elastic liquid silicone raw materials.
The VR lightproof silicone cover production process has been optimized to ensure the highest quality and meet all necessary standards. The main process involves LSR injection molding, edging, full inspection, washing, drying, dusting, coating, inspection, dusting, packaging, and shipment. This meticulous process guarantees that our VR lightproof silicone cover is of superior quality.
We use FDA and LFGB food grade LSR material for injection molding, which is of the highest quality. This material ensures that our VR lightproof silicone cover is soft as baby's skin and easy to clean. Our production process is highly efficient, allowing us to produce high-quality VR lightproof silicone covers in large quantities.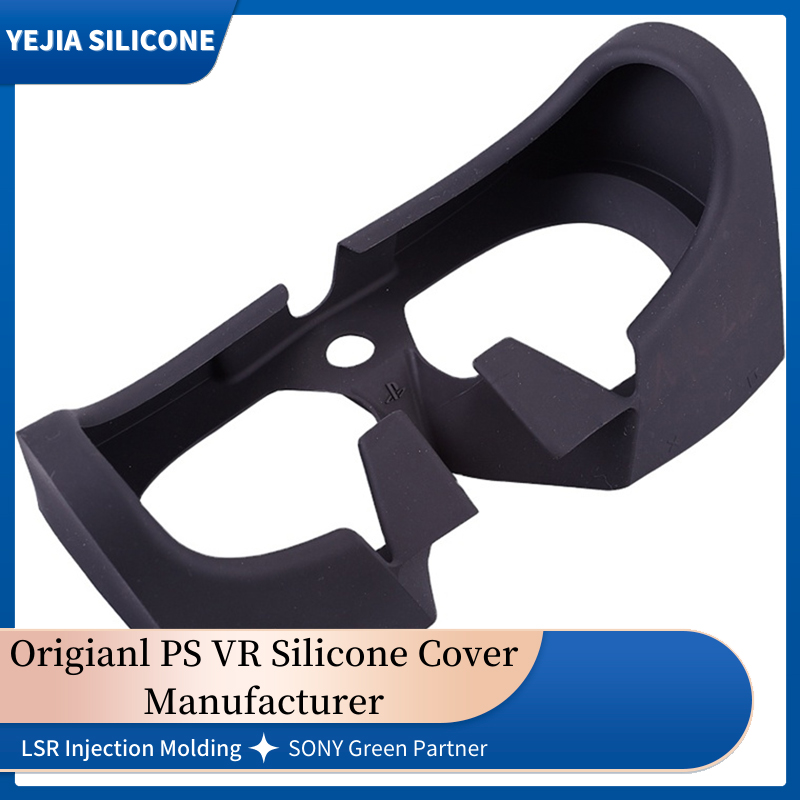 The use of high-quality liquid silicone raw materials ensures that the VR lightproof silicone covers are durable and long-lasting. The super-elastic properties of the material allow it to withstand repeated use without losing its shape or effectiveness. This is essential in ensuring that users can enjoy a comfortable and immersive experience without any distractions.
In addition to its functional benefits, the VR lightproof silicone cover also has aesthetic advantages. The material has a smooth and sleek finish that enhances the overall appearance of the accessory. This is important in creating a positive impression on users and contributing to the overall success of the virtual reality industry.
At YEJIA, we take pride in our commitment to producing top-notch VR lightproof silicone covers that meet the highest standards of quality. Our process is designed to optimize every step of the way, from injection molding to shipment. You can trust that our VR lightproof silicone cover will provide the best experience for your virtual reality needs.
We are dedicated to delivering unparalleled products and services to our valued customers. Our commitment to quality is reflected in our ISO9001, ISO14001, ISO13485, and IATF16949 system certifications. Our technical team possesses exceptional design, mold development, manufacturing, and inspection capabilities, which, when combined with our collaborative approach, enable us to offer the very best products and services to our customers. If you're looking for a reliable manufacturer of custom silicone products, look no further than YEJIA.